When and how to squeeze the budget
The next government has to decide how to squeeze the budget, but as we all know, there's also the crucial question of when. As I reveal in a second film for the news bulletins tonight, in our BBC poll we asked people about that too (see yesterday's post for the first part).
In order to see this content you need to have both Javascript enabled and Flash installed. Visit BBC Webwise for full instructions. If you're reading via RSS, you'll need to visit the blog to access this content. var emp = new bbc.Emp(); emp.setWidth("512"); emp.setHeight("323"); emp.setDomId("steph_1711"); emp.setPlaylist("http://news.bbc.co.uk/media/emp/8360000/8365400/8365431.xml"); emp.write();
Interestingly, 38% agreed with Labour and the Liberal Democrats that the economy was too weak to risk deeper cuts in spending next year. But more - 44% - agreed with the Conservatives, that not taking action posed even greater risks. An honest 18% said they didn't know. If asked, I suspect a lot of economists would be in that last camp as well.
On the question of timing, I suspect the difference in practice between a Labour and a Conservative government would be smaller than the difference in rhetoric suggests (see April's post "Spending slowing doing the work"). Both parties would expect to announce tough budget plans if elected - and both would tend to delay most of the pain until 2011 or 2012, when the economy is more firmly on the mend.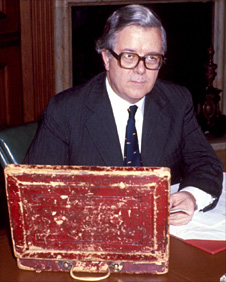 But if a new Conservative chancellor did want to act more quickly, he'd have to face the irony that it's hard to cut spending in a hurry - especially in a recession. As Geoffrey Howe discovered in 1981, the fastest way to cut borrowing is almost always to raise taxes.
The big moves in that famous - or infamous - budget were all tax rises. He froze personal allowances - a big tax rise with inflation running at more than 15% - and put a windfall tax on North Sea oil profits, and the banks. All told, he raised £4bn - around £12bn in today's money.
You might remember that 364 economists wrote to the Times protesting the Budget. I made a film about it for Newsnight in March 2006.
If you'd polled voters in advance, I doubt you'd have found many in favour of Howe's tax rises. And the same is true today.
As I revealed yesterday, a clear majority in our poll wanted spending cuts to take most of the burden. But 69% did say they would support the Liberal Democrat idea of a "mansion tax" on houses worth more than £1m. It didn't go down very well when Vince Cable announced it - to the surprise of many of his colleagues - at the Liberal Democrat party conference. But housing is relatively under-taxed in Britain today - Martin Wolf is one of several economists who have since supported Cable's idea.
The political downside of that kind of tax is you'd be handing a relatively small number of households - less than 250,000 - with a very large bill. The economic downside is that you wouldn't raise very much cash: the Liberal Democrats' initial estimate was that it would bring in £1.1bn, but there are a lot fewer £1m houses around than there were.
As the Howe example suggests, to raise a lot of money you have to raise a tax that lots of people pay or bring in something entirely new. Right now, that has some suggesting a carbon tax.
In our poll, 39% were willing to sign up to a carbon tax. The ABs were most keen, with 46% supporting the idea. Others were less keen, possibly because we reminded them that a carbon tax would raise the cost of heating and fuel.
Others, perhaps remembering Howe's first budget of 1979, tell us to expect the Conservatives to raise VAT, or, say, remove the zero-rating for books and newspapers, or the reduced rate for domestic fuel.
That was the least popular option in our poll. Only 31% would be willing to support a VAT rise to 20%, which would raise nearly £5bn a year. There was an interesting age difference here, with 37% of 16-24-year-olds in the poll coming out in favour, versus 29% of over-65s. If anything, you might have expected the reverse, given that VAT is the tax that younger people are most likely to pay.
As the Liberal Democrats have shown, the idea of a windfall tax on banks is unlikely to go away. Nor will the debate over the timing of deep budget cuts. But with borrowing so high, there aren't many either/ors. The answer may end up being "all of the above" - and a longer working life as well. But not quite yet.