Home Sale Pace Up, Inventories Falling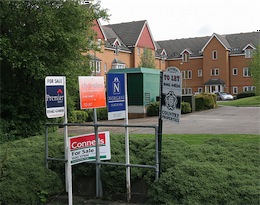 (cc photo by I See Modern Britain)
For all the talk about how the current economic crisis started in the housing market, taken on its own terms the ups-and-downs of the real estate industry are pretty straightforward. New households are formed at a certain rate. And homes become obsolete at a certain rate. When you have a prolonged period of time when homes are being built faster than they're needed you get a crash in prices and construction activity. But after a fallow period of construction, the excess supply should eventually get bought and people will want to buy homes again. Thus it shouldn't come as much of a surprise to see the National Association of Realtors reporting that inventories are shrinking on rising sales. It'll be a while until there's a lot of new demand for residential construction, but the arrival of that day is fairly inevitable—the population is growing.
The problem, however, is that we've got much bigger economic problems now than the decline in employment in the construction industry. In particular, we're facing the prospect of an extended period in which widespread joblessness leads to a general lack of demand for goods and services, which itself leads to joblessness and low levels of investment, leading to more joblessness.