State Budget Deficits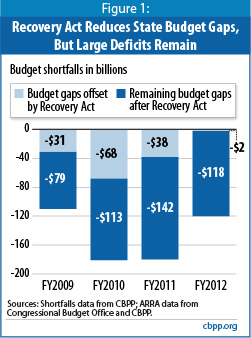 I'm not really sure how the view that ARRA is somehow causing a malign delay in necessary and beneficial structural adjustments can really survive contact with this analysis of federal aid to state budgets from the Center on Budget and Policy Priorities. As you can see here, there's pretty clearly an awful lot of adjusting taking place even with the ARRA money pouring in. Looking at this it's pretty clear that we should have provided a lot more money for FY 2009 and FY 2010 in order to forestall the need for mid-crisis fiscal contractions from state government. That still would have left states facing massive FY 2011 and FY 2012 shortfalls in which any positive things that you may think follow from state budget cuts could have happened.
These details aside, I can't help but think that it would be really nice to see some work done on clever things the federal government could do on a systematic basis to prevent (or discourage) the boom/bust cycle in state budgeting. I'm not really sure what kind of constitutional limits may exist, but this poor budgetary behavior is a perennial macroeconomic problem. It's also a kind of serious political problem, since the tendency of boom/bust budgeting is to make anyone who happens to be governor during a boom (see George Pataki or George W. Bush or Charlie Crist) look like a brilliant innovative governor while anyone who governs through a bust (see John Corzine, David Patterson) looks like a fool. The reality is that it's easy to be a successful pragmatist as long as economic growth lets you cut taxes, hike spending, and then stick someone else with the structural imbalance when the next recession hits.