Does health-care reform do enough on cost control?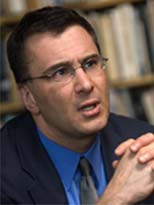 Jon Gruber is a health economist at MIT. But that understates his influence in the field. He was one of the architects of the Massachusetts reforms. In 2005, he was elected a member of the Institute of Medicine. In 2006, he received the American Society of Health Economists Inaugural Medal for the best health economist in the nation aged 40 and under. He's unabashedly pro-reform, but he's from the camp of reformers that worry incessantly about the economics of the plan. So I asked him: Are the economics of the plan sound?
Does this bill bend the proverbial cost curve?
One confusion we've had is between lowering the level of costs and bending the curve. The difference is the following: Let's say I had a magic Newt Gingrich pill that got rid of all fraud and waste and abuse in health-care spending tomorrow. Let's say that dropped health-care costs by 12 percent. With health-care costs going up by 8 percent a year, we're back where we were in a year and a half. If health-care costs were going to bankrupt us in 100 years, now it's 101 years.
What we need to do is to have health-care costs stop growing at GDP plus three percentage points and move them to GDP or GDP plus one percent. We don't need to do it today or tomorrow or even in the next decade. But we need to do it. That doesn't mean the level stuff isn't incredibly important. Lowering health-care costs by 7 percent would be $150 billion in consumer's pockets. But for our ultimate fiscal burden, it's about getting the growth down.
And does it?
What we know for sure the bill will do is that it will lower the cost of buying non-group health insurance. We know the Senate bill will significantly reduce the amount of money employers spend on health-care insurance for so-called "Cadillac" plans and increase the amount they spend on wages. The Joint Committee on Taxation's numbers show that workers will make $300 billion more in wages due to the Cadillac Tax. By 2019, it's $1,000 per household.
If you think of the social cost of this bill it's well below $900 billion. If we could collect in tax revenues all the dollars in savings and new wages that people will get because of this bill, it would bring the cost well below $900 billion.
Is that enough long-term?
In terms of the curve, I think that here there is more uncertainty. We know we will be closer to bending the curve with this bill than without it. But we can't promise this bill alone will bend the curve. This bill moves us towards that. First is the Cadillac tax. Then comes more research on comparative effectiveness. We need to be able to stop paying for things that don't work. This bill doesn't do that, but it sets us up to have the information to do that. Then there's MedPAC on steroids. You need someone with the political ability to set rates to controls costs.
Finally, this bill has pilot programs for a lot of things that we think will control costs, but that haven't been proven. Things like accountable care organizations, bundling and all the rest. We're at the stage where we know in theory what to do. But we don't quite know how to set it up, so we're collecting that evidence.
I think this is as much as you can do politically. It's as much as you can do without sinking the whole bill, which is what happened to every other health-care reform. It's a lot more than what Massachusetts did.
One of the peculiarities of the bill is that it actually "does" coverage. If the bill succeeds, then pretty much every American will have insurance. But it really only starts cost control. Coverage is more of an event. Cost control seems more like a process.
That's exactly right. We know what happens if we don't do this. The science of coverage is ahead of the science of cost control. We know how to do coverage. But we don't know how to bend the curve with research yet. Are we going to hold 46 million uninsured Americans hostage to figuring that out?
My view is, even if the bill did no cost control it would be an incredible thing for this country. But politically, it sets the stage for cost control in two senses. First, it puts in place all the things we can do now. It does comparative effectiveness and pilots and all the rest. But second, once you get coverage off the table, the conversation gets more focused on cost control.
That's also because the people who mainly care about coverage now have something they need to protect from health-care costs, right? If costs aren't controlled, you can't keep the coverage.
The same thing happened in Massachusetts. We passed our bill. The lobbying group Health Care for All was incredibly important in that. But they were primarily about coverage. But then they realized that they would lose all this coverage they'd gained if it didn't control costs. So they got behind real cost-control measures. A global budget, even.
People say you can't do coverage without cost control. I think it's the opposite. You can't do cost control before coverage. We would do a huge amount for the cause of cost control just by covering people.
Are we doing the right cost control, though? For instance: America pays more than any other country for medical goods and services. And we're really not doing anything to equalize that.
You're asking two different questions. One is are we doing enough? Well, relative to what? Relative to a world where we can do whatever we want? No, we're not. Relative to what I thought was politically possible? We're doing more than we ever hoped. As for whether this is the right thing to do, I'm not a big price guy. I'm a guy who thinks the problem is we treat people too intensely. And this bill goes towards that approach.
One of my frustrations with the cost-control discussion is that people set this up like a choice between this bill and a bill with more cost control. In reality, it seems more like a choice between this bill and nothing. And this bill does a lot more cost control than nothing.
Here's how I think about this: Do you know Pascal's wager? Why not believe in God? I think of health-care reform similarly. We don't know if we'll really bend the cost curve. But if we do this and we don't do anything, we still go bankrupt in 100 years. We don't lose much. But if we do it and it works, then it's a savior.
It also moves the conversation on cost control in a way that's impossible without this bill. It does real things on cost control, and then it does real things to make cost control more politically viable. It lays the groundwork for doing more. To kill this bill for not doing enough on cost control would be like criticizing the Yankees for not winning the Super Bowl. They won the World Series! They did what they could do!
Photo credit: MIT