How fast should Obama be moving?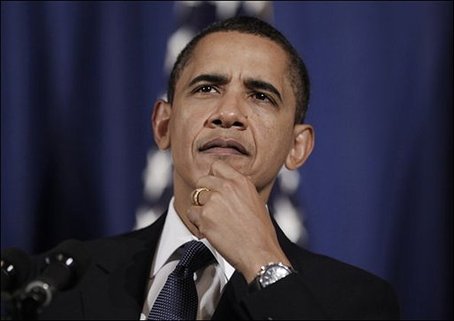 In today's column, David Brooks echoes the conservative conventional wisdom that President Obama "is moving too fast," though he attributes the sentiment to independent voters as opposed to himself. As Tim Fernholz notes, however, it's not clear that Obama's moving all that fast. "Since the passage of the American Recovery and Reinvestment Act last winter, the president hasn't convinced Congress to pass a major piece of legislation." Obama signed the stimulus bill into law Feb. 17. Expectations are that he'll sign health-care reform sometime near, or maybe after, December 2009. It's hardly breakneck stuff.
But just as some people like planes and some people like trains, opinions can differ on that. It would be good, however, if people were clear about how fact the political system should be moving.
Take health-care reform. Putting aside the fact that Congress has been intermittently debating this issue since the early 20th century, Ron Wyden introduced his legislation in January 2007. Barack Obama released his campaign health-care plan, which looks a lot like the plans Congress is considering now, May 29, 2007. The Senate Finance Committee officially began examining the issue in June 2008.
Different people could start the clock at different points. If you're tracking Obama, then he's been moving on health-care reform for 29 months. If you're tracking the congressional process, then it's 17 months. If you're tracking the first new bill introduced in this round, then it's 33 months. And of course, you could simply argue that America has been doing this for decades, across the presidencies of Bill Clinton, Richard Nixon, Harry Truman and many others.
Which begs the question: What would an appropriately slow process look like? Be specific.
Photo credit: By Pablo Martinez Monsivais/Associated Press