Weekly Standard Prepping for War With Russia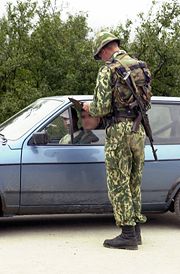 Russian soldier in Kosovo
Justin Logan observes that The Weekly Standard seems to have spun its Great Wheel of Enemies again and today we're supposed to be getting ready to fight not Iran or North Korea but Russia.
After three paragraphs of suggesting that we should be doing more to get involved in military confrontations with Russia, John Noonan tosses off "No one wants to be drawn into conflict with the Russians" but then comes the inevitable "but":
But it's useful to remember that time after time, we've extended our hand to Moscow only to have it slapped away. Putin clearly has grand aspirations for his burgeoning CSTO, with Poland shaping up to be the new Germany in another round of US-Russian geo-political chess. If Moscow only understands the stern language of action and resolve, then the Obama administration must atone for shabby treatment of our key Polish allies and move quickly to strengthen defensive ties between our two nations.
The part about Moscow only understanding the stern language of action and resolve appears to have been generated by a crude computer program of some sort. Stripping away Noonan's oodles of overheated rhetoric, however, it appears that rather than "grand aspirations," Putin has just about the most banal aspirations of all—under his rule Russia will seek to influence events in much smaller and weaker countries that are in its immediate geographic vicinity.
Meanwhile Michael Goldfarb appears to be coming out against the civil rights movement in this post, perhaps under the influence of Max Boot's trenchant critique of Brown v Board of Education.