Climate change vs. American politics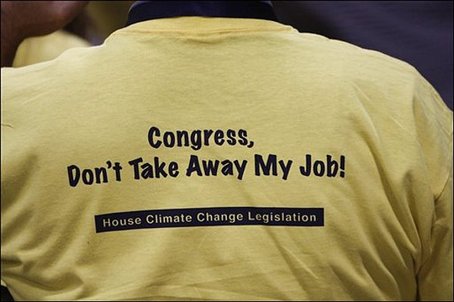 David Roberts wrote a smart post a few days ago explaining why the climate bill is going to suck. The answer, in short, is the Senate. Cap and trade, like every other bill, will face "a supermajority requirement coupled with an extreme, unified minority," Roberts says. "Everything else — and I mean pretty much every lamentable feature of American politics — flows out of that."
That's usually my analysis of policy failure, too. But with cap and trade, I'd go further than that.
First, the mechanics of the policy collides with the quirks of both our political process and of our politics. For one thing, the solution requires a tax, which is never where you want to start when you're dealing with the American electorate. For another, the burden falls disproportionately on specific states and districts, which is poison in a system where the national legislature is organized around, well, states and districts. The benefits of the policy, meanwhile, accrue mainly to future generations, and worse than that, to future generations that live in other countries.
Cap and trade would be well suited to a nationally elected legislature in a cosmopolitan country that's attuned to the benefits of wise forms of taxation and accustomed to thinking on a long time frame. That does not describe our Congress.
Second, climate change is uncommonly resistant to the incrementalism favored by our -- and most -- political systems. Health-care reform is a good counter-example. Dramatic as the policy is, it's an incremental improvement from the current situation. That's okay: Do a bit now, and you can do a bit more later. If you don't do enough, you can still reform the system at the point of fiscal crisis. That's not ideal, but it's doable.
Not so for climate change. If you don't do enough, the problem spins out of control, with glaciers melting and carbon sinks opening and permafrost thawing. Worse, the viscerally detectable consequences come long after the point when reform could still avert their damage. It's not like health care, where we can fix the problem after international bondholders decide to stop buying treasuries. By the time the earth's temperature has risen three degrees Celsius, the game is pretty much up, and our only options are endless geo-engineering, with all the unintended consequences and techno-political difficulties that entails, or some massive technological breakthrough that allows us to actually absorb the carbon in the atmosphere. I wouldn't bet my planet on the success of either, though.
Photo credit: By Ed Andrieski/Associated Press