If Best Buy sold health care ...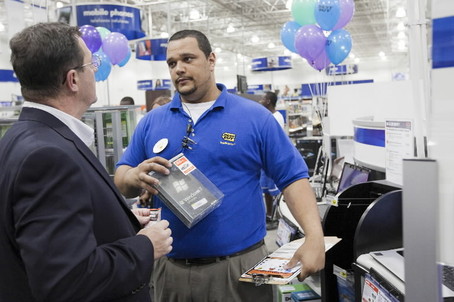 It's a pretty safe bet that I'm going to be interested in any post entitled: "Health Care Costs: A Market-Theoretic View." And economist Austin Frakt delivers: His argument, essentially, is that a more competitive insurance market could lead to higher costs for consumers. The reason is simple enough: The relevant driver of costs is not the efficiency of the insurers but the prices charged by hospitals, doctors and other health-care providers. A really efficient insurer is still going to pay more for an MRI than the lumbering behemoth that is Medicare. Competitive insurance markets might save us if the driver of costs was an inefficient insurance market, but they're not going to save us when the driver of costs is the provider market.
At about this point, the conversation is usually interrupted by shouts of "socialist!" After all, this logic could also suggest that the government nationalize the nation's electronic retailers in order to lower television costs. But the market for health care is different than the market for televisions in important ways. In particular, insurers really can't say "no."
An insurer covering people in Redlands, Calif., cannot decide to stop paying for services at the local hospitals and instead demand that people travel to Intermountain Health Care in Utah. That is the fundamental difference between health care and other goods. In health care, we can't say "no." In television sales, we can. The fact that we don't care whether flat-screen televisions are too expensive for people means that Best Buy has to figure out how to make them affordable. The fact that we believe all people should receive health care -- even though we don't always make that possible -- means that hospitals don't need to make it affordable.
Indeed, their job is to make health care better. Imagine if Best Buy's job was simply to make TVs maximally awesome, and their business model relied on salesmen telling customers what they need, with the costs then being paid by a third party who mostly bills the customer's employer. How do you think the television market would change?
That's the health-care market, at least as currently composed. That isn't to say insurers totally lack the power to force lower prices. But they've been taught not to use it. In the 1990s, insurers pushed their market power as far as it could go. This was the period when serious HMOs ruled the world, when networks were tightened and care was reviewed. Spending growth dropped from double digits to 4 percent. But consumers rebelled. People hated HMOs. They yelled at their employers, they screamed at their insurers, and everyone decided to end the experiment. Costs shot back up, insurers learned that they were safer simply paying what providers asked and letting employers worry about where the money is coming from, and workers got a lot less money than they otherwise would have.
So what do you do about high provider costs? A couple of things, I guess. One is to move towards a single-payer system where the government simply sets payment rates. Another is to break the employer-based system that keeps people ignorant and insulated from the price of their own health-care coverage. But we're not doing either of those things. We're hopefully creating more competitive insurance markets, and that might save us some money, but it's not getting at the root of the problem.
Photo credit: By Matt Stroshane/Getty Images