A John Hannah Blog Post I'd Read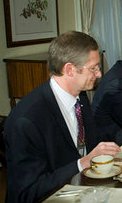 Ever since they launched it, I've been pretty baffled by Foreign Policy magazine's "shadow government" blog. The idea of a website dedicated to criticizing the Obama administration's foreign policy from the right makes a fair amount of editorial sense. But why on earth would you staff such a blog so heavily with discredited members of the discredited Bush administration's discredited national security team? It's almost as if FP is taking orders directly from Anita Dunn—"make sure the critical perspectives your audience is exposed to are all presented by the most laughably easy-to-dismiss people you can find."
That, I suppose, would be a good reason to hire former Dick Cheney national security aide John Hannah as one of your writers.
That said, buried amidst this extremely longwinded Hannah post is a germ of a post I'd like to read. First, the discredited aide to the discredited vice president offers 1,100 words of criticism of the Obama administration. Then there's an interesting sentence, "None of this, of course, should obfuscate the fact that the Afghan war effort was in dire shape by the close of the Bush administration" followed by 288 more words of material that can—and should!—be dismissed out of hand since they were, after all, written by former Dick Cheney national security aide John Hannah.
That said, since it seems Hannah is prepared to admit that the administration he was part of completely and utterly botched the military response to 9/11—creating a situation in which over seven (!) years after the attacks the situation "was in dire shape"—wouldn't it be interesting to hear something about why and how that happened? Maybe they should have listened and not invaded Iraq in 2003? Maybe they should have listened and not doubled-down on Iraq in 2007? Maybe better, smarter people wouldn't have bungled this whole thing?