Reading Material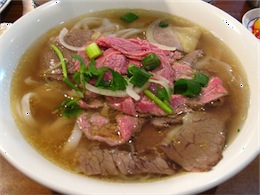 No pho in Afgnanistan
I find the idea that senior military and civilian policymakers are debating what to do in Afghanistan primarily by reading different books about Vietnam depressingly plausible. But there's really something quite perverse about the American tendency to want to turn every conversation about every military engagement into a rehash of debates about Vietnam.
I'll note in particular that hawks' obsession with Lewis Sorley's A Better War is pretty pathological. Whether or not you buy what Sorley is saying about military operations in Vietnam, you can understand the war on a strategic level without ever worrying about Creighton Abrams. Vietnam wasn't, after all, an abstract exercise in U.S. military prowess. It was part of the Cold War. The hawks' claim was that Communist victory in Vietnam would imperil the credibility of US commitment to key allies in Europe and Japan and set off a "domino effect" that threatened US national security. The doves said that was dumb, and Communist victory in Vietnam would have no dire geopolitical consequences.
We left Vietnam, and the doves were proven utterly and completely right about the main strategic issue.
Meanwhile, it's really not clear that thinking about Vietnam can tell us anything at all about Afghanistan. And not just because the countries are different but because the situations are so different. I've been reading about the Soviet war in Afghanistan, which is at least the same country, but the presence or absence of superpower competition makes an enormous difference.