George Will And Global Warming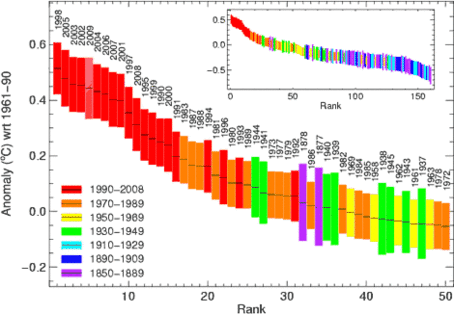 George Will's latest column questioning the science of global warming is, tellingly, not about an interview he conducted with a respected climate scientist or about a peer-reviewed piece of research he read. It's about an article someone else published in the New York Times. That brings with it certain dangers. For instance, Will, whether he knows it or not, is relying on temperature measurements out of the U.K. Met's office. Will thinks they show a "plateau" in global warming. Here's what the Met says:
The rise in global surface temperature has averaged more than 0.15 °C per decade since the mid-1970s. Warming has been unprecedented in at least the last 50 years, and the 17 warmest years have all occurred in the last 20 years. This does not mean that next year will necessarily be warmer than last year, but the long-term trend is for rising temperatures.
Brad Johnson, a climate blogger who does spend his days immersed in this stuff, writes that Will's thesis is "pinned on an ambiguity of the English language. Just as the Yankees are a winning team but did not win their last game, global warming is terribly real even if 2008, one of the hottest years in recorded history, was cooler than 2007." As Johnson explains, global warming is not shorthand for "every day will be hotter than the next everywhere on the planet." It is shorthand for for the observation that an "anthropogenic increase in greenhouse gases into the atmosphere is amplifying the natural radiative forcing of the troposphere's temperature," thus creating a general trend toward higher temperatures. The year-to-year variability that forms the basis of Will's column is not a challenge to this theory. It is built into it.
If Will is aware of this, he does not show it. There is not a line rebutting this thinking, much less a paragraph. Given that, it is perhaps no surprise that more technical disputes are not aired, either. Will, for instance, is using the Met's measurements. But because he is not using them firsthand, he is relying on a report that arguably understated the Met's conclusions. Their data actually show that the 2000s were the hottest decade on record, much hotter than the 1990s. Indeed, if you look at the 10 hottest years on record, eight were in the 2000s. Two were in the '90s. Those two were in 1997 and 1998, which the Met says was a function of the weather event El Niño. They explain their data at length here. Will gives no airing to their explanation.
Nor does he explain why he's using the Met's data. After all, NASA's Goddard Institute for Space Studies thinks that the 2000s have seen triple the warming that the Met estimates. Joe Romm, an actual climate scientist, is more impressed with NASA's methodology. I have no idea who's right. If Will has a considered take on this question, he's not yet published it.
All this might be fine, if not for the credibility Will has by virtue of his column. But people who are reading Will's column at their breakfast table and are not otherwise immersed in this debate might find Will's thinking convincing, unaware that the points he's raising have been continually and convincingly rebutted, and that his read of the evidence sharply differs from those of the scientists who are actually collecting and analyzing the evidence. That would be a shame.