Presidential Approval and Unemployment
John Judis believes that President Obama's fortunes, along with those of the congressional Democrats, are lashed to pretty much one thing and one thing only: job numbers. And he's got some graphs to prove it. Here are Ronald Reagan's approval numbers, plotted against unemployment.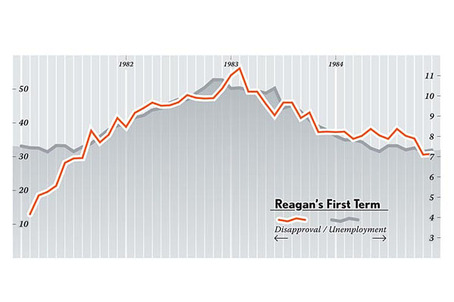 Bill Clinton's fortunes: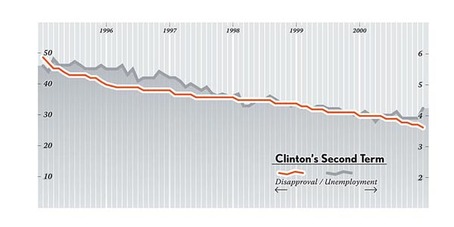 The trends match, for the most part, perfectly. The implication is that Obama and the Democrats need to do whatever they can, as quickly as they can, to get jobs moving in a positive direction. If that means adding a bit to the deficit in order to pump much more money into the economy, then so be it. The deficit is an abstract concern that mainly represents fears about the economy. The best way to handle it is not to worry about the deficit, but to worry about the economy.
Speaking of the deficit, Brad DeLong and Paul Krugman made an interesting argument at a lunchtime event for the Economic Policy Institute. Accepting a much worse recession in the short term in order to slightly reduce deficits over the long term is a very expensive way to cut the deficit. For one thing, you lose a massive amount of economic activity. The deficit, of course, represents the government's finances. Adding one more employed worker to the nation's rolls does a bit for the government in terms of tax revenues, but it does a lot for GDP in terms of increased productivity. Multiply that by 5 million workers and you're talking about a major difference in aggregate economic performance for a minor change in long-term deficits.
Second, this is a good time to deficit spend. The government can borrow money at uncommonly low interest rates and pay it back in the future, when that money represents a much smaller portion of our total economy, and total tax revenues.The bang for the buck, both in terms of the price of borrowed funds and the economic impact those funds can make, is hugely favorable.