Schumer: 'We Don't Have 60 Votes.'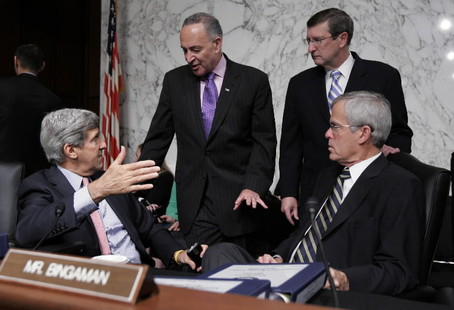 Sen. Chuck Schumer's public option amendment failed, 13 to 10. Kent Conrad, Max Baucus and Mary Landrieu opposed it. Moments before the roll call, Baucus explained that he was going to vote no, but not because he opposed the measure. Rather, he said, he believed it didn't have 60 votes on the floor, and his top priority was a bill that could pass.
To my surprise, Schumer readily accepted that analysis. "We don't have the 60 votes on the floor for the public option," he agreed. "I will be the first to admit that." He thought some smart deal making and horse-trading might get them to 60. But they weren't there yet.
There are two questions here. The first is "60 votes for what?" Do they not have 60 votes in favor of a health-care plan that includes a public option? Or do they not have 60 votes against a filibuster of a health-care plan that includes a public option? If it's the former, that's okay: You only need 51. If it's the latter, that's a bigger problem. But I'd be interested to hear which Democrats will publicly commit to filibustering Barack Obama's health-care reform bill. If that's such a popular position back home, why aren't more Democrats voicing it loudly?
Second, why give up the public option now? If these moderates want to kill the measure, let them get full credit for doing so on the floor. They can sponsor an amendment to strip it out of the final legislation and go home to their districts having played a clear and undeniable role in the elimination of the public option.
Instead, Baucus and Conrad did the work for them, all the while protesting that they didn't oppose the public option. Now the moderate bloc will need to extract something else in an eleventh-hour bargain to show that they applied their centrist convictions to the legislation. Baucus makes it sound as though he's attempting to ensure a deal. But in reality, he's just depriving the centrists of the ability to make their deal. That means they'll have to make a different one, and the bill will get worse twice rather than once.
Photo credit: By Susan Walsh — Associated Press