The G-20 and Rebalancing
According to news accounts [0], rebalancing is going to be a central topic. Brad Setser, now in his official capacity as NEC/NSC director of international economics, blogs:
We will press the G-20 to agree on a framework for strong, balanced and sustainable growth. As the U.S. starts to act more responsibility, it will borrow less and spend a bit less on the rest of the world's goods. That means borrowing by U.S. households cannot be the main source of global demand growth in the future.
Olivier Blanchard has observed that the world will need to transition from public to private sources of demand and rebalance the global pattern of growth in demand, "with a shift from domestic to foreign demand in the United States and a reverse shift from foreign to domestic demand in the rest of the world, particularly in Asia." We hope to agree on the policies needed to avoid a return to the sort of imbalances that contributed to this crisis and put in place a process for encouraging all countries to live up to their commitment to support a transition to a more balanced pattern of global demand growth. Many the policies that would support this transition would also strengthen the overall pace of global growth.
Whenever I hear the term "rebalancing", I am pervaded by a sense of déjà vu. We've heard of this hope for years [1] [2] (and I proposed some steps to promote exactly that process in 2005 [3]). Are such hopes any more likely to be fulfilled now?
The starting point in such discussions is usually China, partly because of its relatively rapid growth rate, and its large trade balances (although, as I've noted previously, China is small relative to developed economies [4] [5]), and accumulation of foreign exchange reserves.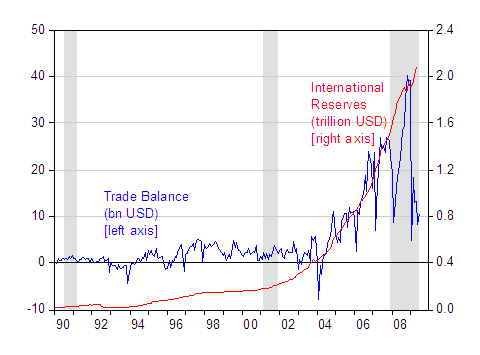 Figure 1: Chinese trade balance, in billion USD per month (blue, left axis) and Chinese international reserves, in trillion USD (red, right axis). NBER defined recessions shaded gray (assumes recession beginning 07M12 ends 09M06). Sources: IMF, International Financial Statistics, updated using ADB, ARIC database, and author's calculations.
From my own perspective, I've always thought it odd to interpret China as the driver (as discussed in this post on the Chinn-Frieden thesis). Much better to think of America engaging in spendthrift behavior (most importantly via tax cuts and tax breaks/distortions) enabled perhaps by East Asian economies.
But, returning to current events, first note that the US trade balance has adjusted radically since the onset of the crisis. I don't think anyone argues that this very sharp adjustment has been due primarily to Chinese factors. I'd say recession in the US (given high estimated income elasticities [6]) combined with credit crunch hitting US consumption and trade financing [7], are key.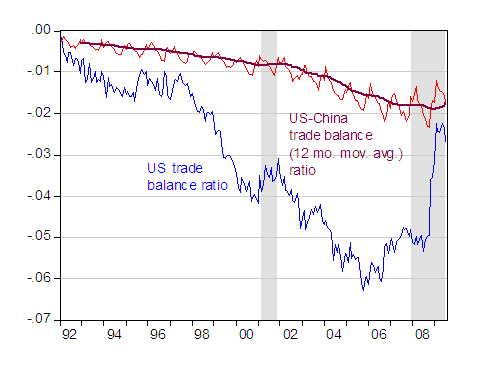 Figure 2: US goods and services trade balance (seasonally adjusted) to GDP ratio (blue) and US-China goods trade balance (nsa) to GDP ratio (red), and 12 month trailing moving average (maroon). NBER defined recessions shaded gray (assumes recession beginning 07M12 ends 09M06). Sources: BEA/Census, July trade release, Macroeconomic Advisers Sep. 17 release, and author's calculations.
Second, as shown in Figure 2, while the US-China trade deficit now accounts for a larger share of the total US trade deficit, even the bilateral trade deficit is shrinking as a ratio to GDP (I suspect the trade deficit will deteriorate somewhat as oil prices rebound, therebyreducing the China share).
So let me argue for, if not primacy at least equality, for US factors. And here I think the question is what will happen to consumption (and hence household saving). I think that there is a good chance that rebalancing will occur.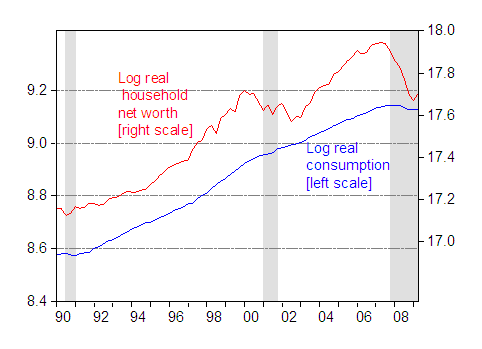 Figure 3: Log real consumption in Ch.2005$ (blue, left axis) and log real household net worth (red, right axis), 1990Q1-2009Q2. Household net worth deflated by PCE deflator. NBER defined recessions shaded gray (assumes recession beginning 07M12 ends 09M06). Sources: BEA, 09Q2 2nd release, and Federal Reserve Board, Flow of Funds, Sept. 17 release, and author's calculations.
My reasoning is that with household net worth down substantially from its peak, consumption growth is likely to remain lackluster for a substantial period, as households rebuild their balance sheets (see these posts: [8] [9]). In addition, the deleveraging of the financial sector is likely to make access to credit more difficult, further constraining consumption beyond the impetus to rebuild net wealth.
Of course, just because rebalancing occurs doesn't mean all is happy in the world. Given that consumption is 70% of GDP (in nominal terms), slow consumption growth suggests slow GDP growth, in the absence of some alternative source of aggregate demand (net exports, government spending).
I note that Simon Johnson is skeptical of this call for rebalancing in the medium run. I agree that it's hard to see any means of credibly precommiting to implement policies that would enhance rebalancing. But my thesis is that many of the forces in play -- deleveraging, higher household saving -- might very well accomplish a lot of what did not occur during the previous eight years. See also Justin Fox's and Martin Wolf's views.
Of course, a boom in domestic consumption in China wouldn't hurt...[10]