Profit and the Insurance Industry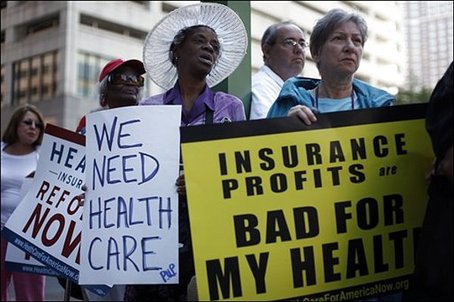 Marci Wheeler wonders why I don't talk more about insurance industry profits and the costs they impose on the system. So let me show my work on that at a little more length.
There are two basic ways that insurers could increase costs. One is by being inefficient and requiring huge administrative costs. Another is by sustaining huge profit margins. I've pretty much concluded that insurance companies don't do either, or don't have to do either.
The insurance industry is not a particularly profitable industry. To be more specific, they're the 86th most profitable industry, with an average margin of 3.3 percent. That's lower than drug manufacturers (16.5 percent), health information services (9.3 percent), home health care (8.4 percent), medical labs and research (8.2 percent), medical instruments and supplies (6.8 percent), biotech firms (6.7 percent), generic drug manufacturers (6.6 percent), and much else. That's not to pretend that 3.3 percent is nothing, but it's hard to see how that's a primary driver of health-care spending, much less the growth in health-care spending.
Even if they're not profitable, they might be very inefficient: maybe the profit motive, or some other incentive unique to the private insurance industry, is generating immense inefficiencies. Administrative costs are frequently named as the culprit here. When I looked into this, though, the primary determinant of administrative costs didn't appear to be whether an insurer was private or public, but big or small. Insurance plans covering large firms had administrative costs comparable to Medicare (which isn't a huge surprise, given that much of Medicare's administrative functions are outsourced to private insurers). Plans covering small businesses or the individual market had extremely high administrative costs. But those small plans will disappear into the health insurance exchange and become big plans instead, so that problem should largely be obviated.
What the profit motive does do is create an incentive for cruel practices such as rescission and risk selection. Those practices, it's important to note, almost certainly save the system money in the aggregate. They are not why costs grow. But they are bad practices and should be stopped. The insurance market regulations and risk adjustment provisions, however, pretty much take care of this problem.
That said, the current insurance market does drive cost growth in two main ways.
The first is that it's fractured among thousands of plans and competitors and business arrangements, and that fracturing is inefficient. Medicare negotiates better rates because Medicare has a large customer base, giving it power in those negotiations. An insurer covering a bunch of small businesses in Iowa does not.
The second is that the insurance market is broadly parasitic on the employer-based market, which as I've argued before, allows everyone to pass costs onto someone else and tricks individuals into thinking they're getting a good deal when they're really getting a terrible deal.
The answer to these problems, at least to my way of thinking, is not so much the public plan (though I think it would be a good inclusion) but the health insurance exchanges. And I do talk about them. Often. Loudly. In all different ways.
Expanding the exchanges is where insurers — both public and private — get the size for administrative efficiency and negotiated discounts. Expanding the exchanges moves us towards a system where people see how much of their money is being spent on health care and thus understand the need for cost control and the damage being done by the status quo. Expanding the exchange is even the key to a strong public plan, because the public plan is nothing without a large customer base to give it strength.
Obviously, I can't do much about how this post will be read. Marci wrote earlier that I'm engaged in "a struggle to talk about how cool insurance companies are," and my hunch is this will be filed in that category. For what it's worth, I don't think the private insurance industry should exist. But I don't think that fight will be won anytime soon, and at this point, I don't think assaulting it is the key to getting health-care reform right. In fact, I worry that it's become something of a distraction, and the relentless focus on whether the insurers are winning or losing in health-care reform has allowed the administration to skate by with some pretty bad compromises (closing down the exchanges to larger businesses, for instance) and permitted other industry players to escape the scrutiny they deserve.
Photo credit: By Matt Rourke — Associated Press