Global Warming and the Wildfire Problem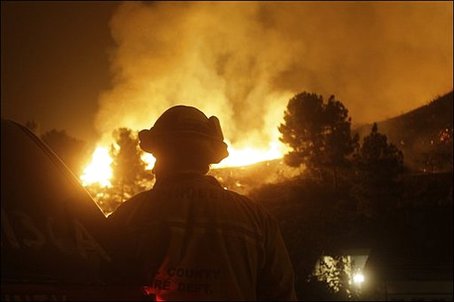 California's wildfires have been getting worse, larger, and more frequent over the past few decades. Estimates suggest that about half the reason is land-use decisions, but the other half is — wait for it — global warming. "The mechanism is pretty straightforward," writes Kevin Drum. "Higher temperatures lead to both reduced snowpack in the Sierra Nevadas and an earlier melt, which in turn produces a longer and drier fire season. Result: more and bigger fires." And then there's this whole other thing about warmer conditions encouraging a particular species of beetle that kills a lot of underbrush and creates the conditions for worse fires.
But this is also what makes the global warming issue a bit difficult. The relationship between being uninsured and having problems accessing or purchasing medical care are pretty straightforward. You don't need to spend a lot of time explaining causal mechanisms. Absence of insurance is the causal mechanism.
The rise in global temperatures is a bit different. Wildfires, for instance, have been around a lot longer than humans. They're a problem, but not a problem associated with carbon emissions. So too with drought. And malaria. And all sorts of other disasters that are worsened, but not intuitively caused, by global warming.
The case against global warming has a lot to do with the earth being a delicate ecosystem with infinite parts that interact in unknown ways and can be destabilized with destructive results, and we shouldn't put that in the microwave. But the nature of these arguments politically is that you have to point to discrete and specific and simple harms, preferably ones that are going to happen very soon, and even more preferably ones that seem like they'll be fixed if the policy problem is solved. But wildfires will never go away, and making them go away isn't even the point.
Photo credit: By LM Otero — Associated Press