Read What You Love, But You Should Love Moby Dick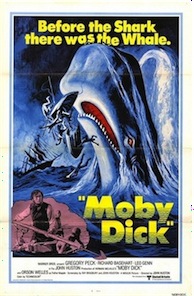 Motoko Rich had an interesting piece in the NYT about the "read what you love" approach to teaching kids to read. In essence, the idea is to let them pick whatever books they like rather than putting them through the paces of certain school classics. Diane Ravitch plays the curmudgeon:
What child is going to pick up 'Moby-Dick'?" said Diane Ravitch, a professor of education at New York University who was assistant education secretary under President George H. W. Bush. "Kids will pick things that are trendy and popular. But that's what you should do in your free time."
I'm with Kevin Carey in thinking that this is misguided. As he says "being well-read is the work of a lifetime; the most important thing schools can do is get that project started and heading in the right direction." And the necessary prerequisite for that is knowing how to read. There's a very big problem in the United States with people who have very limited literacy capabilities, so anything you can do to get young people actually knowing how to read books is valuable.
The other thing is that I think curmudgeons need to try to think more clearly about having realistic expectations for reading in one's free time. Between 1939 and 2009, human ingenuity has invented a lot of new things one can do with one's time. Human ingenuity has not, however, invented a method for stuffing more hours into the day. Consequently, if you look at just about anything that people could do in 1939—read for pleasure, take care of children, cook, etc.—they do somewhat less of it in 2009. People who are really into books, or cooking, or natalism, or what have you tend to interpret this inevitable crowding of the timespace as a sign of cultural crisis and decline but it's an inevitable result of heterogeneous preferences and innovation.
All that said, I love Moby Dick. Every American should read Moby Dick, it's our great national epic and you can't understand the country without it.