The Cause of Ted Kennedy's Life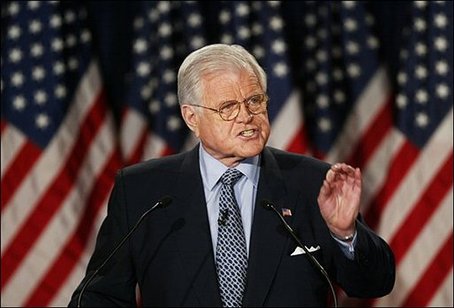 "This is the cause of my life," Ted Kennedy wrote. "For four decades I have carried this cause — from the floor of the United States Senate to every part of this country. It has never been merely a question of policy; it goes to the heart of my belief in a just society."
Kennedy was talking about health care. But then, Kennedy was always talking about health care. He was talking about it when he helped pass Medicare and Medicaid in the '60s. When he tried to reach a deal with Richard Nixon in the '70s. When he made it the center of his challenge to Jimmy Carter in the '80s. When he created the Children's Health Insurance Program in the '90s. When he directed his staff to begineducating senators and stakeholders for President Obama's effort late last year.
There is an impulse to honor the dead by erasing the sharp edges of their life. To ensure they belong to all of us, and in doing, deprive them of the dignity conferred by their actual choices, their lonely stands, and their long work. But Ted Kennedy didn't belong to all of us. He didn't even belong to all Democrats. He was not of the party that voted for more than a trillion in unfunded tax cuts but cannot bring itself to pay for health-care reform. He was not of the party that fears the next election more than the next failure to help America;s needy. Rather, he belonged to the party of Medicare and Medicaid, the Americans With Disabilities Act and the Children's Health Insurance Program, the Civil Rights Act and immigration reform. He belonged to the party that sought to advance the conditions and opportunities of the least among us. He was, as Harold Meyerson says, "the senior senator from Massachusetts and for all the excluded in American life."
And he still is.
In recent weeks, the illness that would lead to Kennedy's death was being invoked to stymie the work of Kennedy's life. "It's huge that he's absent," John McCain told George Stephanopoulos, "not only because of my personal affection for him, but because I think the health-care reform might be in a very different place today." But for Kennedy, there were no excuses. Year after year, decade after decade, he labored to pass health-care reform. He sought deals with Republican presidents, with Democratic presidents, and even pursued the office himself. He tried to cut out the health-care industry and bring them to the table, to move forward on a bipartisan fashion and on a Democratic platform, to pass single-payer and to promote incrementalist approaches. The process wasn't the point. Nor were the people. Nor, even, was Ted Kennedy. Universal health care was the point. Helping the excluded, and the endangered, was the point.
And there are still no excuses -- least of all his death. The loss of one man does not deny the moral urgency of achieving a "just society." Those who would use Kennedy's absence to explain their failure do terrible injury to his legacy. The cause of Kennedy's life was not, after all, praise or compliments. It was, as he said, to "guarantee that every American…will have decent, quality health care as a fundamental right and not just a privilege." That dream will never die. But by being realized, it can finally rest in peace.
Photo credit: AP/Manuel Balce Ceneta.