When Health Care Does Become a Negotiation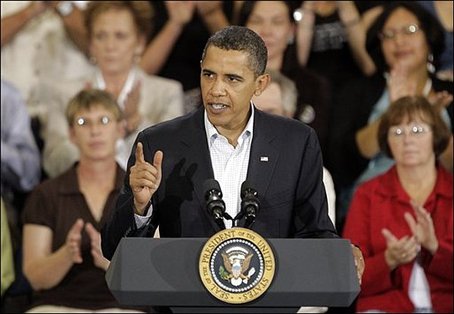 As long as we're talking strategy, it's also worth saying a bit about how these pieces fit together in the legislative process. There are three distinct phases left to complete: First, the bills have to clear the House and the Senate. That means going through committees, overcoming a filibuster and attaining a majority. Then they go to conference committee to be merged. Then they come back to each chamber for a final vote.
The White House has said that its primary goal is to get a bill through the Senate and through the House and to conference committee. This is where health-care reform stops being a campaign and actually does become a negotiation. It's a fairly safe bet that the House bill will include a public option and the Senate bill will have a weak public option or some version of a co-op plan. Then the two will meet. What happens then?
The members of the conference committee are chosen by the leadership. They include the relevant chairmen of the committees -- Max Baucus will be there, and Chris Dodd will probably serve in Ted Kennedy's stead, and they will meet with Henry Waxman and Charlie Rangel and George Miller -- and a handful of others. The final bill needs a majority of both the House and Senate negotiating teams. That will be no problem on the House side. If Harry Reid stacks the Senate team with enough left-leaning senators to ensure a majority for a liberal-leaning bill (this is where Jay Rockefeller, chairman of Finance's health care subcommittee, and Barbara Mikulski, chairwoman of HELP's retirement and aging subcommittee, could play a role), a liberal-leaning bill, with a public option, is a pretty good bet.
That bill would easily pass the House. The Senate is trickier. But the conference report can't be amended. It can't be changed, or held up in committee. It can be filibustered, and it can be voted against. Those are the options. If three Democrats opposed the legislation and wanted to kill it, they would literally have to filibuster it (this is assuming that Democrats have 60 votes, which is not certain given Kennedy's health). That would be a very hard thing to do at that stage in the game. It would isolate the obstructionists, ensuring funded primary challenges and the enduring enmity of the Senate leadership and the White House. Kent Conrad can say that there aren't enough votes for a public option and imply that he's just protecting the final bill from defeat. But is he willing to be one of those "no" votes? Is he willing to filibuster? That's a different game indeed.
The White House has worked hard to imply to its liberal supporters that they need to be patient with the disappointments of the Senate process but confident in the outcome of conference committee. On July 20, Obama spoke to a group of liberal bloggers on a conference call and articulated the strategy quite explicitly:
Conference is where these differences will get ironed out. And that's where my bottom lines will remain: Does this bill cover all Americans? Does it drive down costs both in the public sector and the private sector over the long term? Does it improve quality? Does it emphasize prevention and wellness? Does it have a serious package of insurance reforms so people aren't losing health care over a preexisting condition? Does it have a serious public option in place? Those are the kind of benchmarks I'll be using. But I'm not assuming either the House and Senate bills will match up perfectly with where I want to end up.
This strategy, of course, relies on a lot of trust, and that's not something the White House has these days. But that's the administration's argument: Phase one is not a negotiation, and you can't demand a perfect product out of both chambers. In this period, the White House will do whatever is necessary to clear a bill out of the Senate, and if that means bargaining away the public option, so be it. Phase two is a negotiation, and you should trust the White House to produce a good piece of legislation. And phase three, well, that's the easy part. That's passage. Hopefully.
Photo credit: AP Photo/Jae C. Hong