Health-Care Reform Doesn't End in 2009. It Begins.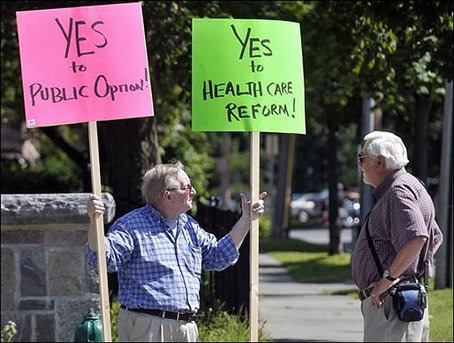 Jon Cohn delivers a thorough rebuttal to this morning's missive from Robert Samuelson, thus freeing up the chunk of my morning that would've otherwise been devoted to that task.
I did want to add one point, though: We have an unfortunate tendency to think of policy reform as episodic rather than continual. The process of reform is sold as a legislative Big Bang rather than an ongoing effort with lots of different policies all building on one another. This is as much the fault of reformers, who need to increase public support for their policies, as it is of reform's opponents.
But it doesn't make much sense. There's a lot of commentary about whether the health-care reform bills under consideration will do everything that's required to repair our health-care system. There's not a lot of commentary about whether the the bills under consideration will be a step forward in reforming our health-care system and thus make positive changes easier in 2013, and 2019, and 2022. But that's probably the more important question.
Samuelson's argument is that "fee-for-service medicine -- Medicare's dominant form of payment -- is outmoded." He wants us to move toward "coordinated care networks that take responsibility for their members' medical needs in return for fixed annual payments." That's the dominant payment system in countries like Britain. It is very rare in America. But there's one bright spot. Massachusetts. After its earlier raft of reforms expanded coverage and raised short-term spending, the state got serious about cost control. It formed the Special Commission on the Health Care Payment System, which just released a unanimous ruling urging that Massachusetts to abandon fee-for-service payment and adopt a coordinated care strategy based around fixed annual payments. In other words, the only example of a unit of American government following Samuelson's prescription came in the aftermath of a reform package much like the one being considered in the Congress. This was not an accident. Reformers in Massachusetts would have told you then, and will tell you now, that creating a near-universal right to coverage was a necessary first step in building the political will for true cost controls. For Samuelson to argue against a Massachusetts-style reform plan on the grounds that he would like us to move away from fee-for-service is to be truly hostile to the evidence. Of the 49 states that have not implemented a Mass-style reform plan, none of them are moving away from fee-for-service. Conversely, the one state that has passed a Mass-style plan is moving quickly to attack fee-for-service.
The larger point is that given that there is precisely zero chance that the bills moving through the Congress will solve all the problems of the health-care system, the relevant question is not just whether they are an improvement on the status quo -- they unquestionably are -- but how they contribute to the next set of reforms. Health-care reform doesn't end if we pass a bill in 2009. It begins.
Photo credit: AP Photo/Hans Pennink.