Mark Krikorian Fears a World in Which People Speak Multiple Languages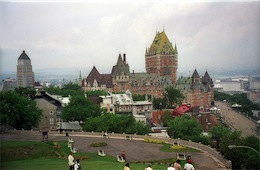 Chateau Frontenac, Québec City (cc photo by Joe Shlabotnik)
Mark Krikorian visits Québec City (lovely, as I recall) and comes back with some typically bizarre thoughts:
Quebecois are a distinct people, a nation, who should have an independent state (though, I hasten to add, it's none of our government's business one way or the other). But what they have now seems better than that — all the advantages of independence without any of the responsibility, kind of like Puerto Rico. And the destructive effects of efforts to keep Quebec in the Canadian confederation (official national bilingualism and the attendant rise of bilingual, deracinated elites) should be a warning of the disaster that would result were Puerto Rico to become a state. Vive le Quebec libre! Viva Puerto Rico libre!
So . . . bilingualism clearly creates a lot of practical problems and Canada's had various headaches around it. But the fact that many elite Canadians speak two languages hardly strikes me as a social and cultural crisis. The United States is a very big country and English is the world's dominant language, so it's totally viable for American elites to be monolingual. And good for us. But it's actually quite typical for people to have multiple language competencies without becoming "deracinated" in any troubling way.
Meanwhile, it's worth noting that it's hard to solve these issues through secession. Canada has a large Francophone minority. But if Québec were an independent country, it would be a country with a large Anglophone minority. Either way, human rights and a decent respect for the legitimate claims of minority groups winds up being indispensable. Krikorian's dream of slicing the world into neat, tidy, perfectly homogeneous political units just bears very little resemblance to reality.