Zillow plots singular IPO course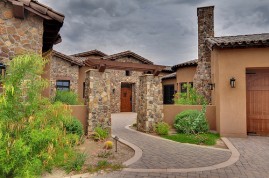 Could Zillow be the next American social media company to go public following LinkedIn? The Seattle-based real estate services website is gunning to price soon, and it has requested a rare single-letter ticker in the process: "Z."
Yes, the sign of Zorro. The company would reportedly be the first NASDAQ-listed firm with a single-letter ticker. While some IPO observers squabble over the merits of such a ticker, others are digging deep into Zillow's market timing.
But first, a little context: conceived by Expedia founder Rich Barton and former Expedia exec Lloyd Frink in 2004, Zillow provides a free estimated market value to homeowners and buyers using a proprietary formula it calls "Zestimate." Users simply enter an address, and Zillow zestimates its market value while overlaying the site on a satellite map. Pretty cool stuff right there.
Zillow — the name comes from "pillow," where you lay your head at night, and "zillions," the number of data points the company hopes to provide — also offers listings, neighborhood information, photos, purchase and sale data, and rental price estimates on more than 100 million American homes.
From a purely social media perspective, Zillow's market entrance timing seems appropriate. From a what-are-you-thinking-have-you-seen-the-current-state-of-the-real-estate-market??? perspective, however, its timing is questionable, to say the least. The housing downturn might have gotten a temporary boost in the form of a federal tax credit for first-time homebuyers in 2010, but demand has since slipped and this week's news confirming a "dreaded double-dip" in home prices only adds thunderheads to Zillow's IPO horizon.
But "Z" has a few things working in its favor. First, the company grew revenue by 74 percent to $30.5 million in 2010. And while it has yet to notch a profit, it has managed to narrow its losses and increase sales. Zillow has also diversified its revenue stream beyond display advertising through fees and subscription sales to lenders and agents. Its Zillow Mortgage Marketplace and Premier Agent programs also show revenue promise.
Multiple revenue streams plus a strong user base (12 million monthly unique visitors in fourth quarter 2010) are all things a potential social media investor likes to see. And having executive chairman Barton and new CEO Spencer Rascoff, a co-founder of Hotwire.com, at the helm indicate that this company is no also-ran. Zillow hopes to raise a comparatively modest $52 million through the offering.
Question marks remain, however. The company has never seen a profit. We have yet to see a market valuation. And a protracted real estate crisis sheds a harsh light on Zillow's value prop. The company even says so itself in its amended prospectus: "Our financial prospects are significantly dependent on real estate shoppers using our services. Real estate shopping patterns depend on the overall health of the real estate market, which has been in decline since 2007."
This could be a temporary market fluctuation, as I imagine Zillow's executive team must believe. But can its service bring value in boom times as well as a busted market? And can it please its shareholders under both scenarios? Time will tell.
~
Photo by Ben Freedman, used under a Creative Commons license.