The Yuan's Course
The debate over the yuan's value is heating up again. [Free Exchange/RA] [WSJ RTE/Talley] [WSJ RTE] Here is a plot of two relevant time series.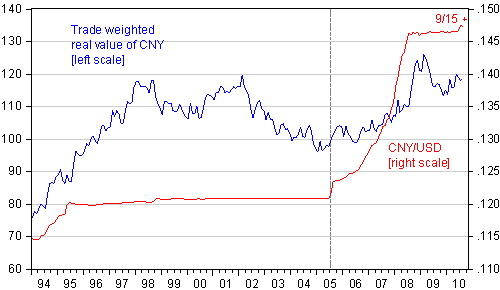 Figure 1: Real trade-weighted value of CNY from BIS (blue, left axis), and nominal CNY/USD exchange rate (monthly average of daily rates). + denotes 9/15/2010 observation. Dashed line at de-pegging in July 2005. Source: BIS, and St. Louis Fed FREDII.
Two quick observations. First, the Chinese trade weighted real exchange rate is the relevant one for the world economy; the USD/CNY nominal exchange rate has some importance for the US-China trade balance, but less so for the US overall trade balance -- which is the relevant aggregate.
Second, the trade weighted CNY was appreciating before the crisis, and the CNY has largely reverted to that trend over the past few months, after a detour associated with the dollar appreciation during the financial crisis and flight to safety. This observation, however, does not speak to whether the level of the rate is appropriate for moving the Chinese current account to a sustainable level.
Additional (relevant) graphs in this post.