WTI/RBOB Steady Despite Huge Gasoline Build, New Crude Production Record
Despite last night's surprisingly large API-reported crude draw, WTI/RBOB prices were sliding in early trading but as the DOE data printed prices stabilized despite a smaller crude draw than API and a much bigger gasoline builds than expected. Production surged on the week to a new record high.
Bloomberg's Mitch Martin noted that the Brent pipeline leak and another in Canada have U.S. refineries running hard to capture the widening crude differentials. That's leading to oversupply in the gasoline market, which has seen inventories build for three straight weeks; a fourth is expected, increasing supply by 1.8 million barrels. Distillates also are expected to build, rising 1.1 million barrels, even as crack spreads recovered to more than $20 a barrel.
API
Crude -7.382mm (-2.89mm exp) - biggest draw in 4 months
Cushing -2.704mm (-2.5mm exp)
Gasoline +2.334mm
Distillates +1.5384mm
"We're seeing U.S. inventories really continue to fall," Phil Flynn, senior market analyst at Price Futures Group, says. Investors will focus on whether we see large builds in gasoline and distillates, which may hold back crude from rallying strongly, "but I don't think you can underestimate the strong demand from the refiners."
DOE
Crude -5.12mm (-2.89mm exp)
Cushing (-2.5mm exp) - biggest draw since Sept 09
Gasoline +5.66mm (+2.3mm exp)
Distillates -1.37mm (+1.2mm exp)
A 5th weekly build in gasoline inventories (much larger than expected), and unexpected distillates draw, as crude (and Cushing) stocks are reduced...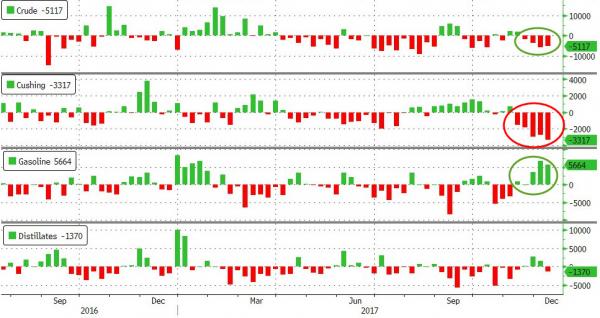 As Bloomberg notes, crude production topped 9.7 million barrels a day in last week's data for the first time since weekly records began in 1983. Even more importantly, the EIA's monthly assessment of crude production - seen as more accurate than the weekly figures - caught up with the more frequent data in September, after lagging for the previous 5 months.
The last week saw another surge to record highs...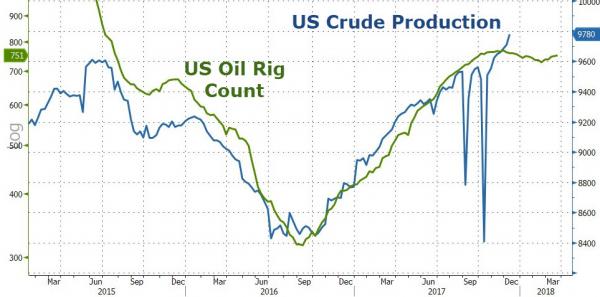 WTI/RBOB prices extended yesterday's losses ahead of the DOE data (despite API's big crude draw) but the algos managed gains after the print even as crude drew less than API and gasoline's build build...