WTI/RBOB Sink As Production Surge Trumps Inventory Drawdowns
API's surprise crude draw sparked a recovery off Saudi production lows overnight in WTI and RBOB, and DOE's data confirmed it with a 237k crude draw (against expectations for a 3.13mm build). Cushing saw the biggest build since the first week of December but Gaosline and Distillates saw big draws. However, yet another surge in US crude production appears to have trumped the inventory data and WTI/RBOB are fading for now.

API
Crude -531k (+3.13mm exp)
Cushing +2.06mm
Gasoline -3.875mm (-2mm exp)
Distillates -4.07mm
DOE
Crude -237k (+3.13mm exp)
Cushing +2.13mm (+500k exp)
Gasoline -3.055mm (-2mm exp)
Distillates -4.229mm (-1.5mm exp)
The 9 week streak of crude builds is over... However, despite the drop in crude stocks, Cushing, the storage hub that's a key pricing point, filled up last week, with inventories there climbing back to 66.5 million barrles (+2.1 million barrels) - Notably Genscape showed significant inflows into Cushing in the prior week. That's still below the all-time high set in May last year of 68.3 million barrels. Gasoline inventories have fallen four weeks in a row and five times in six weeks. Distillate inventories are down four weeks in a row.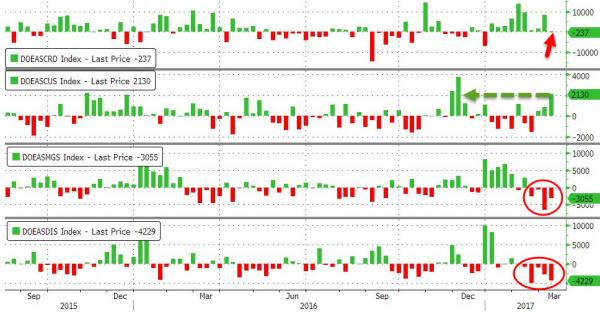 Bloomberg's Javier Blas points out that if seasonal trends hold, the peak of the refinery maintenance is behind us. Traditionally, turnarounds reach a high point in late February and early March, and if refinery intake starts to climb, products stocks should increase and crude inventories come down. With crude inventories hovering just shy of record highs. As Bloomberg's Bert Gilbert notes, the SPR drew by -251,000 barrels last week as barrels from the strategic reserve start to be delivered as part of a sale approved by Congress last year. These barrels will likely end up in commercial inventory. Data from the SPR suggest that this week we will see an SPR draw of roughly 800k barrels, all of which were sweet. The SPR is expected to drawdown by 3.6 million barrels in March so last week's pace is slightly below the more than 116k bbls/d needed to reach that target in March.
Bloomberg's Laura Blewitt notes that the strong Latin American demand that was pulling more than one million barrels a day of gasoline from the U.S. for export is fading fast. At 535,000 barrels a day, gasoline exports are now at about half the level they were in December, and reached the lowest level since August -- nearly a seven month low.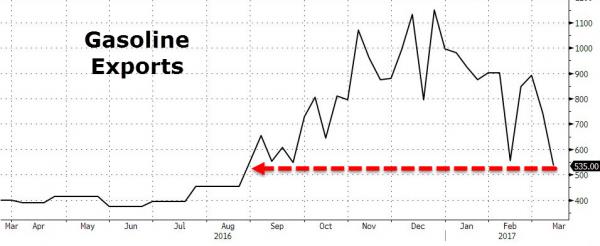 The bane of Saudi Arabia - US shale production - continues to trend notably higher with rising rig counts...up 0.23% to 9.109mm...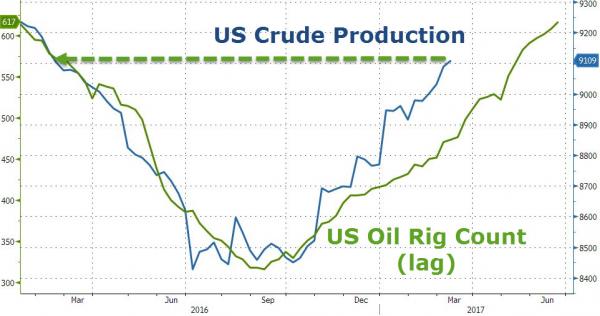 Interestingly, US crude imports declined notably from Iraq and Saudi Arabia and rose most from Venezuela and Colombia.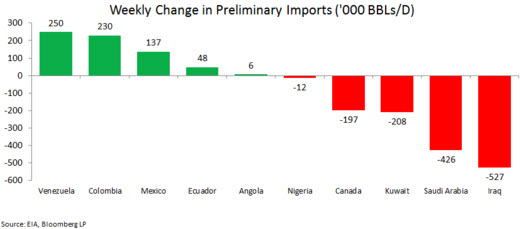 The overnight bounce in WTI/RBOB (after API) held into the DOE print (note - oil has fallen seven sessions in a row and 10 of the past 11). It appears slightly weaker data in DOE than API combined with production surge is taking the exuberance out of the enrgy complex...