WTI Holds Losses After 2nd Biggest Inventory Build In History, Production At New Cycle Highs
Following last night's shockingly massive crude build reported by API, DOE data confirmed the ugliness with a 13.83mm build (over 5 times larger than the expected 2.5mm build). Cushing also saw a major unexpected build but Gasoline and Distillates saw lower than expected builds (Gasoline draw). Production rose to a new cycle high.

API
Crude +14.27mm (+2.5mm exp)
Cushing +624k
Gasoline +2.903mm (+1.5mm exp)
Distillates +1.373mm
DOE
Crude +13.83mm (+2.5mm exp)
Cushing +1.143mm (-500k exp)
Gasoline -869k (+1.5mm exp)
Distillates +29k (+500k exp)
The 2nd biggest build in US history for crude stocks but Gasoline unexpectedly saw a drawdown...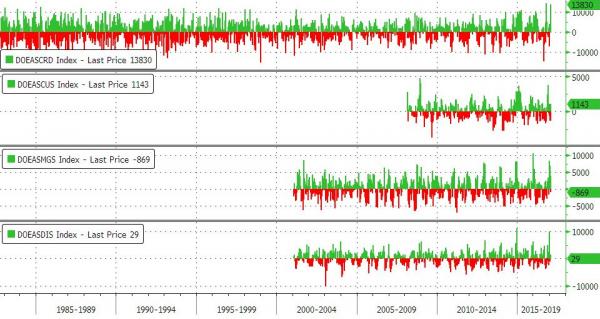 At 9.4 million barrels a day, Bloomberg reports U.S. crude imports were the highest since September 2012.
Total crude inventories are near record highs once again...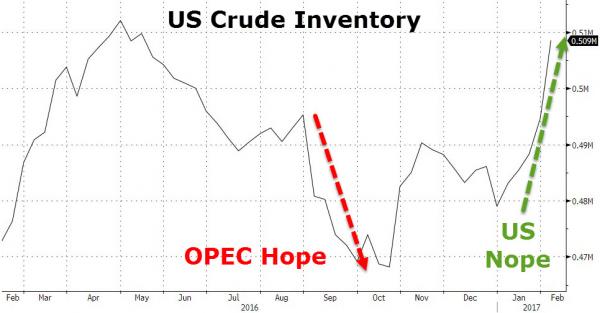 US Crude Imports surged at an extraordinary 9.37mmbps pace last week, the highest since September 2014.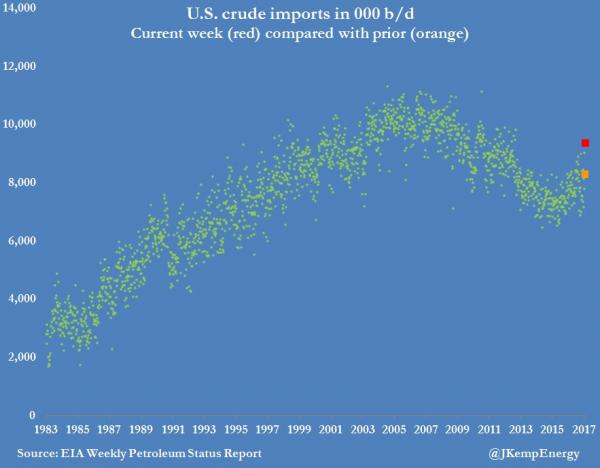 For some more context, Saxo's Ole Hanson shows the seasonal averages.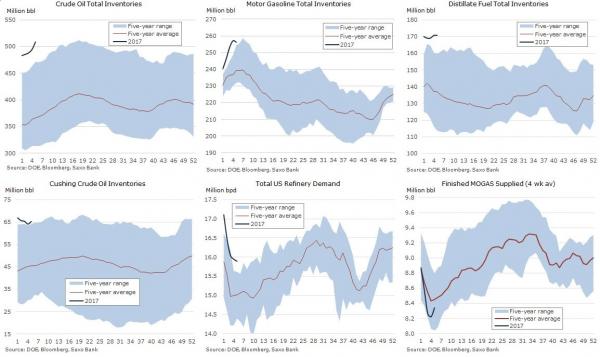 Notably, Goldman is gravely concerned at the plunge in gasoline demand, but gasoline demand did pick up modestly this week.
As rig counts continue to surge (and IEA forecasts major US shale output increases) so the general trend continues... This is the highest level fo crude production since April.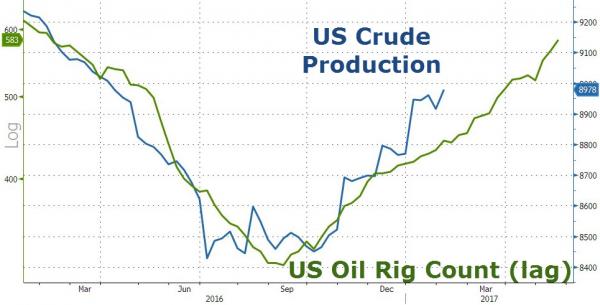 WTI and RBOB prices had plunged back to the lowest levels since November overnight after the API data. After the DOE data, RBOB rallied on the Gasoline draw but WTI is steady...