Worthwhile New England Initiative: Maine Considers Going Unicameral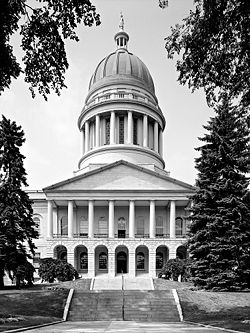 Maine state representative Linda Valentino (D-Saco) is pushing the excellent idea of amending the Maine constitution to eliminate its pointless bicameral structure and join Nebraska in the sweet light of unicameralism.
At the US federal level, I don't approve of bicameralism, but I at least understand what the point of it is. Several hundred years ago, politicians in low-population states said they wouldn't agree to form a country unless politicians from Virginia, Pennsylvania, and New York agreed to give them disproportionate power. So today politicians from low-population states continue to enjoy the fruits of the stubbornness of their predecessors and they don't want to give the power up. But ever since Baker v Carr state legislatures need to apportion their own districts along principles befitting an egalitarian democracy so bicameralism at the state level just introduces random additional veto points and takes up office space. But status quo bias is a powerful force in American politics, so 49 states stick with emulating the federal government in this regard.