The world is squeezing us more than Mr Osborne
Ministers complain that the commentariat is overstating the impact that coalition budget cuts will have on ordinary households in 2010-11. That is up for debate. But we are almost certainly under-estimating the squeeze being inflicted by the rest of the world.
The structural primary budget deficit is a fairly good indicator of how much a government is actively choosing to loosen or tighten policy in a given year, because it (theoretically) excludes the cost of debt interest, and purely cyclical changes in taxes and spending.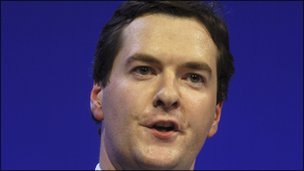 On that measure, policy is due to tighten by 2.2% of GDP in 2011-12. That's roughly 0.6% of GDP more than would have happened on Labour's pre-election plans, and more than most major advanced economies, but it's not much more than 2010-11, when the deficit is likely to have fallen by 1.9% of GDP.
On Tuesday I suggested that higher inflation - and other costs such as rising pension contributions - would probably have a larger direct impact on family incomes this year than the VAT rise and the like. Now I find that the economists at Goldman Sachs have conjured some numbers that make a similar point.
They calculate that the rise in VAT will cost households 1% of their disposable income in 2011. The public sector pay freeze may take another 0.3%.
Turning to prices, they reckon the lagged effect of recent big leaps in the price of energy and other commodities like wheat (up 60% in 2010) will increase household bills by nearly another 1% of income in 2011.
Assuming that other prices - "core" inflation (excluding VAT) - rise by around 2%, the average household would need to get a nearly 5% pay rise to keep their disposable income broadly the same. (Sharp-eyed readers will recognise that number: the Tax and Prices Index, a broad measure of the cost of living that includes taxes, rose by 5% in 2010 as well.)
Against that, the OBR is expecting average earnings in the UK to grow by just 2.2% in 2011: in other words, household income is unlikely to keep up.
You will also have noticed that the 'hit' from commodity prices is roughly the same as the hit from higher VAT. But that's forgetting the much bigger punch in the stomach that the global marketplace has already delivered to the UK consumer.
For much of the nineties and the first half of the noughties, the world - from a British household's standpoint - was getting cheaper. Outsourcing and the rise of cheap production in China meant the stuff we liked to buy as consumers became cheaper, relative to the things we made. If you were in work and had money to spend, it was a nice wave to ride. (In a later post I'll get into the crucial question of whether the Bank of England should have allowed inflation to come in below target more often during this period of adjustment, just as it is allowing inflation to go above the target now.)
In essence, companies can only shift their production overseas once. You can't generate these kinds of cost savings indefinitely. The Goldman Sachs economists suggest that the end of the great outsourcing boom, coupled with the rise in the pound and the jump in commodity prices, has now reversed nearly all of the gains that consumers made in that earlier period.
They reckon that this big change in the terms of trade for UK consumers has depressed household income by 4%, for a given amount of national output. In other words: it's not just that we've lost income thanks to the recession - it's also that the output we earn as employees now buys us less.
Oh yes, and they also think that the amount that we pay into company pension schemes (if we have them) has risen by about 2.5 % of wages since 2005, because very globally low bond yields have made the long-term funding gaps in these schemes even larger than they were before.
Putting it all together, the research suggests that, for any given level of GDP, UK households' real employment income had fallen by 6% in the last few years, even before the latest commodity price jumps. That might not make you feel any better about the increase in VAT - more likely the opposite. But when you're cursing Mr Osborne, you should also reserve some time to curse the global economy.