Workplace Safety
CAP is just about to wrap up an event on the fortieth anniversary of the Occupational Safety and Health Administration, which seems like an excellent time to revisit March's post on the improved safety of the American workplace over the years: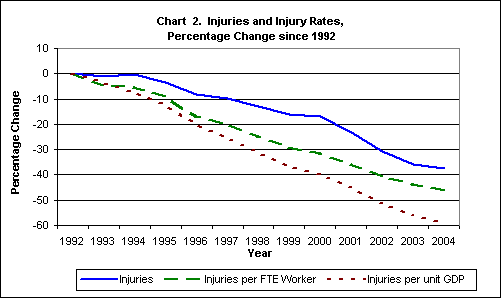 Part of that, obviously, is a structural shift in the American economy. People like to get nostalgic about the blue collar factory work of yore, but one advantage of the service sector is that it's considerably less deadly. Then of course there's direct regulation of the workplace. But something that I think gets neglected is the important role the federal government plays in the sphere of information. In an ideal-type market place, the wage premium paid to workers willing to undergo health risks in an unregulated market would be perfectly efficient. Over time as average wage levels increase, employers would become increasingly unwilling to shell out wage premiums and would simply invest in safety instead.
But of course this ideal-type marketplace is supposed to feature "perfect information" whereas in a real marketplace there are asymmetries between workers and management about safety and managers themselves aren't omniscient with regard to the costs and benefits of safety measures. If you can establish credible public agencies that track and disseminate information about the incidence of workplace injuries, that trains people in best practices, and helps inform people about often obscure health risks then you're helping bring us closer to that kind of world.