Why Wall Street is so fixated on Gary Cohn's position in the White House

Andrew Kelly/ReutersMarkets tumbled on Thursday after rumors swirled that Gary Cohn, President Donald Trump's top economic adviser and formerly Goldman Sach's number two, was resigning.
The S&P 500 slumped at around 10 a.m. ET, after the rumors began swirling on Twitter. Gold, a traditional safe haven trade, climbed as investors pulled into safety assets.The White House denied this was happening, and Cohn (as of the time this post was written) was still in. Still, Wall Street's jitteriness reflects fears that a Cohn departure would stifle some of the administration's business-friendly ideas.
"I don't want to be an alarmist, but there is a lot of faith that he is going to help carry through the tax reform that people are looking for," Yale School of Management's Jeffrey Sonnenfeld told CNBC on Thursday.
"I think if he steps away, it would crash markets."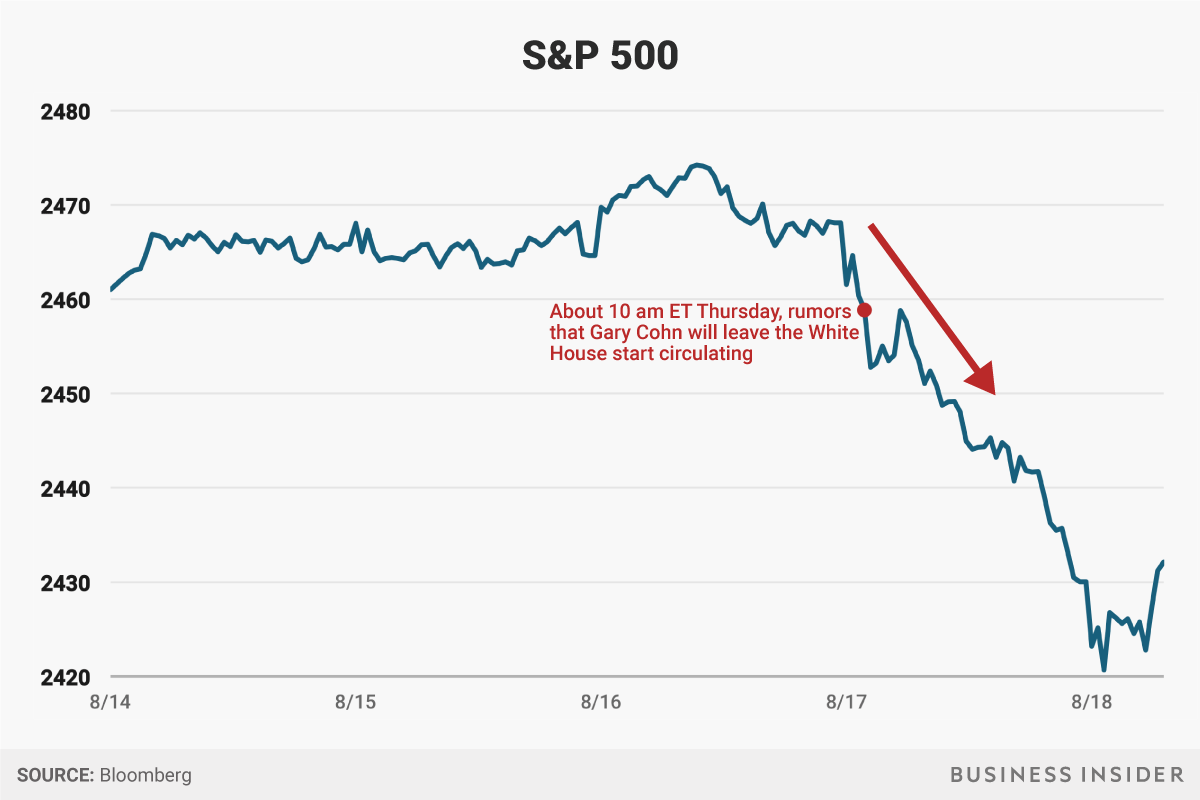 Andy Kiersz/Business Insider
Stocks rallied after Trump's November election as investors considered the possibility of deregulation, fiscal stimulus, and tax cuts. And they continued climbing, despite the nonstop scandals and political dramas pouring out of the White House.
But already by spring, Wall Street was starting to itch.
"The biggest disappointment of 2017 has been Washington DC. Hopes for transformative fiscal action have been dashed by the inability to find legislative consensus, despite single-party control of both Congress and the presidency," a Morgan Stanley team led by strategist Andrew Sheets wrote on April 20, after the original health care bill was pulled from the House in late March.
Now, several months later, the general business community appears to have somewhat cooled towards Trump. In recent days, Merck CEO Kenneth Frazier's decision to resign from the president's manufacturing council was followed by an exodus of other executives and led to the eventual disbanding of two panels mostly made up of business leaders.
Against this backdrop, early Cohn exit could be enough to break the market's confidence in the Trump administration's ability to pass pro-business agenda, Jaret Seiberg, an analyst at Cowen Washington Research Group, said in a note Thursday.
Isaac Boltansky at Compass Point echoed that sentiment in a note on Thursday: "We have no insight into Mr. Cohn's plans, but our sense from client conversations is that his departure would surely dampen Wall Street's already dwindling confidence in Washington's capacity to govern."NOW WATCH: THE BOTTOM LINE: New record highs for stocks and a deep dive into Apple's iPhone