Why Ben Nelson thinks we're ready to move on to the deficit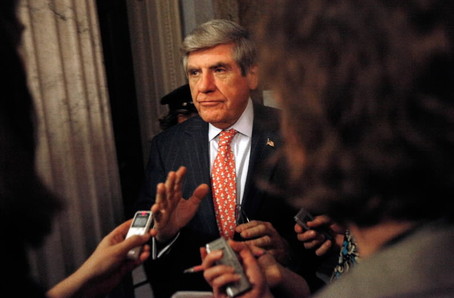 In a post late yesterday, I took aim at Sen. Ben Nelson's stated reason for voting against the latest jobs bill. "Seventy-seven billion dollars or more of this is not paid for," he said, "and that translates into deficit spending and adding to the debt, and the American people are right: We've got to stop doing that." I didn't agree. Today, Nelson's spokesman Jake Thompson sent along a fuller version of his boss's argument:
Certainly everyone's entitled to their own opinions, but let me share some facts related to your post on Sen. Nelson and why he believes additional deficit spending is not wise.
1. Nebraska's unemployment rate is 4.9%.
2. The federal debt ranks as the second most worrisome issue to Americans according to Gallup.
3. Leading economic index in US rises in sign of lasting rebound, according to a just posed Bloomberg story.
4. The estimated $1.4 trillion deficit is higher than any time since WWII as % of GDP, 10.64%.
5. In Nebraska, according to the state's recovery website, more than $1 billion of recovery money has yet to be spent, and likely many states are in a similar situation, so there's help still on the way.
6. To be sure, Sen. Nelson understands hardship continues for millions of Americans and might support additional borrowing to extend unemployment benefits. But there is much in the bill that is not a true emergency, should be paid for, and would potentially stall the recovery, he says.
7. Borrowing in an economic crisis is justified, borrowing in a recovery is risky, he believes.
Hope you'll consider these points.
First, I really appreciate Jake's e-mail on this. It's good for the political debate when commentators and voters have a fuller picture of what legislators are thinking.
I'd group Nelson's objections into three buckets. The first is that Nebraska's unemployment rate isn't that high, and so from their perspective, it's time to worry about the deficit rather than jobs. The second is that the public is very worried about deficits, and their feelings shouldn't be discounted. And the third is that recovery has taken a fairly firm hold, and so stimulus spending is no longer so necessary. It's worth taking each of these separately.In the first case, there's often some tension between the conditions of individual states and the conditions of the country. But given that we're talking about the federal deficit, that tension recedes a bit. There really is no way to imagine the federal budget coming into balance in a world of 9 percent, or even 8 percent, unemployment. That world has too little in tax revenue and too many people who need unemployment insurance, Medicaid and other social supports. The sooner we get unemployment down to manageable levels, the sooner we can realistically get started making our revenue and spending lines meet.
There is an argument, however, that Nelson is there to represent his constituents, even if their opinions don't make for good policy. I trust that the senator from Nebraska knows Nebraskans better than I do, so I won't attempt to argue about their preferences. As for national preferences, they're muddier than that Gallup survey suggests. A Pew poll conducted June 3-6 found that "the job situation" was far and away the top concern, with 41 percent. "The federal budget deficit" lagged with 23 percent. An AP/GfK poll (pdf) done June 6-14 found that 91 percent thought the economy extremely or very important, and 77 percent thought the federal budget deficit extremely or very important. Jobs beat deficits in most of the head-to-head matchups I've seen.
It's of course true that Americans are concerned about both the jobs picture and the deficit. But to some degree, that's a call for leadership, not poll reading. Repairing the economy might require a short-term increase in the deficit, and repairing the deficit requires long-term changes in spending. Nelson is one of the few with the credibility to explain that to Nebraskans, and one of even fewer who could propose such a compromise in the Senate. And I, for one, would gladly see a large stimulus paired with even larger long-term deficit reduction.
Finally, there's the question of economic recovery. I agree that the economy is recovering. But I don't agree that we're recovering with adequate speed. The Bloomberg article says that "the economy will expand 3.2 percent this year and 2.9 percent in 2011," which is far, far too slow to really dent unemployment, as the forecasts out of UCLA's Anderson School demonstrate. That growth will leave unemployment near 10 percent for many years, and that means we'll be dealing with millions of workers who've been out of the job market for some time, and are very difficult to reintegrate. Leaving the situation to sit could turn a bad recession into the new normal, where 7 and 8 percent unemployment simply become an accepted fact of life.
And that scares me. I understand Nelson's concern that borrowing during a recovery is dangerous. But I don't think we're far enough into the recovery for it actually to be dangerous. Interest rates remain historically low. That means that the effects you worry about -- higher interest rates, as federal borrowing crowds out private borrowing -- are entirely absent. As economist Bruce Bartlett said to me yesterday, we can think about ending our stimulus efforts when interest rates begin to rise back to normal levels again. But not before.
As a final word, I've invited Nelson's office to respond to this, and will post the reply in full as soon as it arrives.
Photo credit: Chip Somodevilla/Getty Images.





United States - Ben Nelson - Unemployment benefits - Government debt - Deficit spending