Why Americans hate (some of) their elites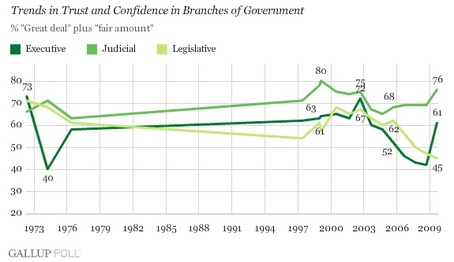 "As we've made our institutions more meritocratic," David Brooks muses, "their public standing has plummeted. We've increased the diversity and talent level of people at the top of society, yet trust in elites has never been lower."
Brooks offers a few sociological hypotheses to explain this trend -- maybe our definition of talent is too narrow or maybe our elites have become more insulated or maybe our government is attempting too many large projects -- but none of them really work. Government, for instance, was far more ambitious 50 years ago than it is today. Barack Obama's health-care reform plan is peanuts compared with what Bill Clinton, George H.W. Bush, Richard Nixon, Lyndon Johnson or Harry Truman proposed.
Oddly for Brooks, however, this column operates entirely outside the realm of human agency. After all, doctors and the military are very trusted, and we've turned massive amounts of responsibility over to new elites, like those out of Silicon Valley, with nary a peep. So it's not simply that Americans hate elites. It's that they don't like certain institutions. And there's a perfectly plausible explanation for why.
The institutions they don't like are the institutions that have been the subject of well-organized and extremely costly attack campaigns for decades now. The Republican Party's platform is one long attack on government. Peter Beinart offers a good account of that here. The media are the target of organized assault from both the left and the right. The financial sector was doing just fine until the global economy crashed, which Brooks fails to mention.
There's more to it than just that, of course. For one thing, the government and the media are locked in an odd relationship in which the media spend most of their time telling people why they should hate the government and the government spends a chunk of its time managing the news such that people learn to hate the media. Brooks also makes some good points on the damage that excess transparency can do to an institution. But we can't talk about the changing public standing of the government and the media without at least mentioning the decades-long effort to effect those very changes.