Where America Is Moving
The press is often transfixed by population growth rates which tend to be very high in places starting from a low base, but I looked at the new Census data on population growth by country and you see that the places that are adding people the fastest are often counties where a lot of people already lived: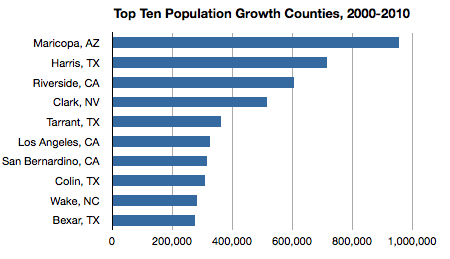 Maricopa County is Phoenix, Harris County is Houston, Riverside and San Bernardino are kind of far-flung suburbs of LA, Clark County is Los Vegas, Tarrant is Fort Worth, Collin is Dallas suburbs, Wake is Raleigh, and Bexar is San Antonio.
Obviously lots of folks moving to the Southwest, lots of folks moving to the US from Latin America, etc.
The problem here is that none of these are particularly good places for people to find economic opportunity. People come from Mexico to the US because the US is richer than Mexico and offers more job opportunities. By the same token, the best job opportunities in America should be found in-or-near our richest metropolitan areas. But the top ten metro areas are DC, San Francisco, Anchorage, Minneapolis, Boston, Hartford, Atlanta, Honolulu, Rochester, and Denver. The Raleigh/Durham/Cary metro area comes it at number 18—the highest rank of any metro area containing one of our top ten counties. Phoenix is 59th in household income. Greater Los Angeles is about ten percent poorer than Greater New York, but it contains three high-growth counties to New York's zero.
This is in part about the weather but it's largely about housing policy. People are moving to places that make it relatively cheap and easy to build houses.