When Poverty is a Step Up
Scott Winship runs through some historical public opinion data and finds that while people get more pessimistic about their children's future during recessions there's no overall trend toward greater pessimism when you ask parents whether their own kids will do better than they have. This reminds me of a point that I feel often goes missing from discussions of wage and income stagnation, namely that when we compare the US population in 2010 to the US population in 1970 we're not comparing the same group of people at two different points in time. Nor are we comparing a group of people to that group's parents. Lots of people in the United States in 2010 either lived in Mexico in 1970 or else have parents who lived in Mexico in 1970, and smaller-but-not-insubstantial numbers of people come from other countries.
In particular, a very large proportion of low-income people in the United States are immigrants. I think the spin which Heritage's Robert Rector puts on these facts in his "Importing Poverty: Immigration and Poverty in the United States" is fairly perverse, but facts like "First-generation immigrants and their families, who are one-sixth of the U.S. population, comprise one-fourth of all poor persons in the U.S." and "Minor children of first-generation immigrants comprise 26 percent of poor children in the U.S." are important to keep in mind when thinking about historical trends.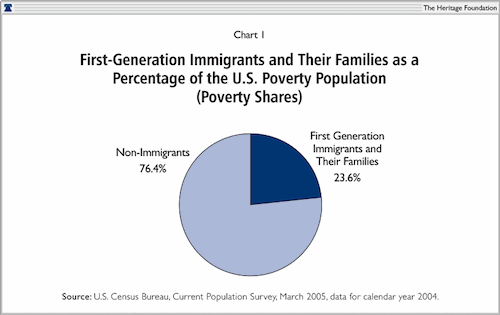 Rector seems to think the upshot of this is that we should kick all these people out, so they can be even poorer in developing countries, and then make our poverty statistics look better. That's nuts. The real upshot of this is that things aren't as bad as they sometimes seem—that many of the worst-off people in America are in fact engaged in upward mobility relative to where they started in life. That doesn't mean we should be complacent about the education, health care, nutrition, and infrastructure needs of poor people.