What Would You Say To A Bunch of Heavily Armed Men Who'd Seized Control Of Your Village?
I saw the following photo, with caption, on the DOD multimedia website yesterday under the headline "Grateful Man." Their Flickr page has a different title: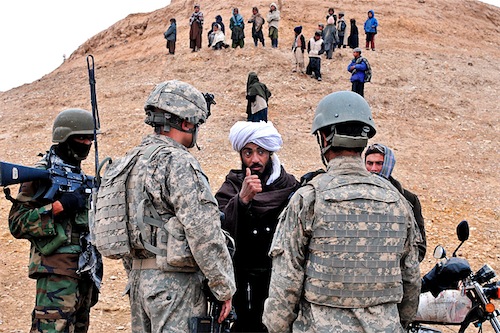 A local Afghan man from Nawbor Village, Bala Murghab District, Baghdis Province, Afghanistan, talks through an interpreter (right) to (left) U.S. Army Staff Sgt. Nicholas Lewis, a scout with White Platoon, Bulldog Troop, 7th Squadron, 10th Cavalry Regiment, 1st Brigade, 4th Infantry Division, at Fort Carson, Colo., Jan. 16, 2011. The Afghan thanked the Afghan National Army and U.S. Army scouts for ridding his village of insurgents and bringing a better life to the Nawbor children, who gathered on the hill. (U.S. Air Force photo/Tech. Sgt. Kevin Wallace)
Now maybe the man is grateful and maybe the man isn't grateful, but don't you have to be pretty naïve to take this statement at face value? I mean, suppose this guy is an America-hating insurgent-lover, what's he going to say to a bunch of armed soldiers who took control of the village? If the Taliban ever seized control of my neighborhood and rolls around to ask what I think, I'm going to try damn hard to convince them that I'm on their side.
That's not meant as a knock on Staff Sargent Nicholas Lewis or Technical Sargent Kevin Wallace or anyone else involved. But the fact of the matter is that it's inherently difficult for a bunch of well-armed foreigners to obtain accurate information about what people think of the well-armed foreigner they're talking to at the moment.