What makes NPR (and the Economist) so special?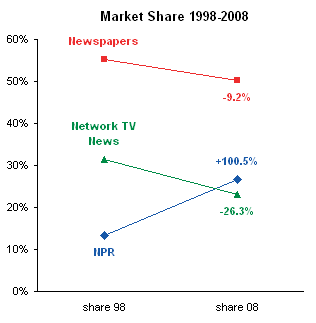 I've been thinking a bit about this NPR graph that's been floating around. I wish it included another data point: The Economist magazine. Their explosive growth over the last decade is well known, but consider that the publication had a record year in 2009. Would that we all enjoyed circulation booms amidst crippling global recessions.
So what do NPR and The Economist have in common? Two things jump to mind.
The first is that they both situate themselves firmly between news and opinion, in that netherworld I think of as analysis. This is a hobbyhorse for me, but my grand theory of the media right now is that the rise of online media made newsgathering an extremely crowded and quick marketplace. That's left a lot of publications that either aren't used to the competition (think newspapers) or aren't suited to the pace (think newsweeklies) a bit confused about their identity.
Some of them have responded by embracing opinion. That's also a bad move. The opinion marketplace is, if anything, more crowded than the news marketplace, and it's hard to really break through in it unless you're willing to travel pretty far along the partisan continuum. But because news stories move so much faster and opinion is so much louder, there's actually more demand for media that explains what those fast-moving stories are actually about. This is a need that is going largely unmet. Both the Economist and NPR are imperfect products, but that's fundamentally what they're doing. It's not quite newsgathering, and it's not straight opinion, though there's occasionally opinion in there. It's analysis. It's how to understand the stuff that other people are reporting and opining.
Meanwhile, both brands have morphed into statements. For better or worse, carrying the Economist is sort of like wearing a shirt that says "I'm smart and worldly and interested in knowing things about Ghana." But unlike a shirt saying all that, it actually works to convey that impression. An NPR bag, for its part, is a signal of a particular brand of non-confrontational, college-educated, sightly-crunchy liberalism. Is that a stereotype? Sure. But it's working for the station's merchandise department.
Speaking of which, I'll be on NPR's Diane Rehm show this morning. Check local listings and all that.