What are asset allocation numbers telling us?
Article written by Prieur du Plessis, editor of the Investment Postcards from Cape Town blog.The AAII Asset Allocation Survey polls its members on a monthly basis on their holdings among the principal asset classes. The results for December are as follows (with the long-term averages in brackets): stocks 62% (60%), bonds 20% (16%) and cash 18% (24%).Investors are therefore at the moment allocating money more or less in line with the historical averages. Considering the chart below, one can see that the allocation to stocks reached a peak of 78% in January 2000 and levels close to 70% were maintained from 2004 to 2007. Allocation to stocks hit bottoms in October 2002 (43%) and March 2009 (41%).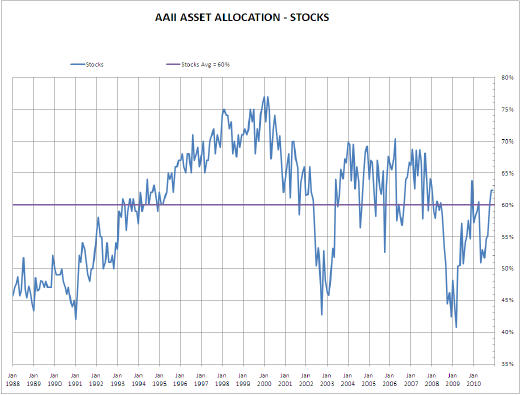 Source: AAII and Plexus Asset Management.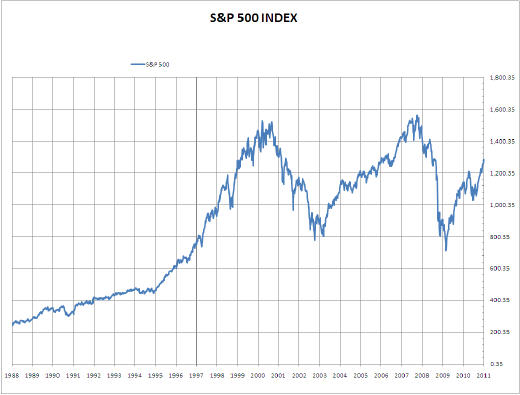 Source: AAII and Plexus Asset Management.Importantly, the extreme stock allocations all occurred at or close to major market turning points. The allocation statistics therefore serve as a useful contrarian indicator (although the 2004 to 2007 period probably would have taken one out of the market at quite an early stage). But one can unfortunately not conclude much from the current numbers besides the AAII group of investors being fairly neutral at this juncture.Did you enjoy this post? If so, click here to subscribe to updates to Investment Postcards from Cape Town by e-mail.What are asset allocation numbers telling us? was first posted on January 15, 2011 at 10:30 am.©2011 "Investment Postcards from Cape Town". Use of this feed is for personal non-commercial use only. If you are not reading this article in your feed reader, then the site is guilty of copyright infringement. Please contact me at wordpress@investmentpostcards.comFeed enhanced by the Add To Feed Plugin by Ajay D'Souza