Wells Fargo May Claw Back Millions From Carrie Toldstedt, John Stumpf As Soon As Today
If banking villain du jour Carrie Toldstedt thought she had managed to sneak away quietly into the night, with her recently topped off bank accounts intact before Wells Fargo's biggest consumer fraud scandal in years became front page news, she may want to think again... and the same goes for CEO John Stumpf, who while not quitting just yet, may find himself departing quite soon. According to the WSJ, Wells Fargo's board is actively considering whether to claw back pay from former retail-banking head Carrie Tolstedt as well as from Chief Executive John Stumpf.
Following the recent kangaroo court in the Senate, in which Elizabeth Warren Stumpf almost accused Stumpf of being a criminal and urged him to quit, the Wells board could make a decision as soon as Tuesday on whether to clawback compensation from the two disgraced executives. The board wants to take action before Mr. Stumpf returns to Capitol Hill; he is scheduled to testify Thursday before the House Financial Services Committee.
As we reported at the time, clawbacks, or rather their absence, was a key focus of the Senate Banking Committee hearing last week, in which Stumpf and the bank were roundly criticized for firing 5,300 employees over five years yet taking no action against top executives.
But while Stumpf took the heat, it was the recently departed Carrie Tolstedt, head of the infamous "sandbagging" group within Wells, who became a point of focus at the Senate hearing because she oversaw the bank's retail banking operations during the time in which regulators allege "widespread illegal" practices took place. She stepped down from her role in July and is set to retire at the end of the year. Her total compensation, including accumulated stock and options earned over her 27 years at the bank, could run about $90 million, according to a letter Wells Fargo sent senators last week.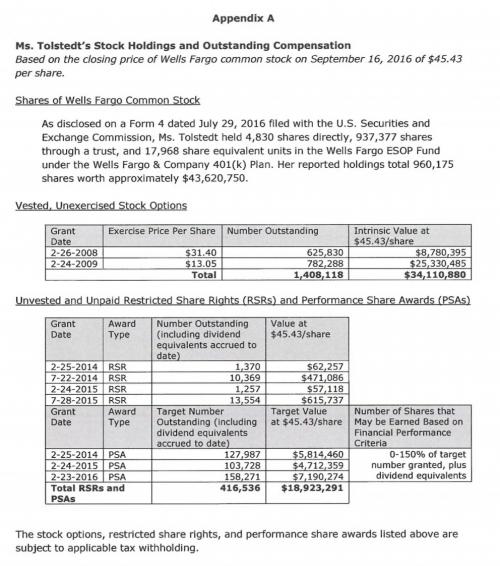 It remains to be seen how much of Toldstedt's pay is up for clawback. As for Stumpf, his total pay package for his 35 years at the bank adds up to about $160 million, according to an independent analysis by human resources consultancy Overture Group LLC. That includes stock awards, stock options and performance shares, among other aspects of his pay package, based on the bank's Sept. 26 share price of $45, according to Mark Reilly, a managing director of Overture.
Ultimately, the fate of Stumpf's retroactive pay will be in the hands of Lloyd Dean, president and chief executive of Dignity Health, a San Francisco-based not-for-profit health-care system, who is chair of Wells' human-resources committee.
Sadly for the two embattled executives, repaying back pay may be just the start of their troubles: overnight, Bloomberg reported that the Department of Labor agreed to conduct a review of Wells Fargo & Co. requested by lawmakers including Elizabeth Warren, who said the bank may have put undue pressure on employees to meet sales quotas. Lawmakers had asked the agency in a letter last week to investigate after the San Francisco-based lender was caught creating legions of sham accounts for customers over half a decade. They said they want to know whether the company violated wage and overtime rules while pushing branch workers to meet aggressive targets.
"Given the serious nature of the allegations, the recent actions of our federal partners, and recent media reports, I have directed enforcement agencies within the department to conduct a top-to-bottom review," Labor Secretary Thomas Perez responded Monday in a letter obtained by Bloomberg. The agency established a working group to carry it out, he said.
Meanwhile, the lawsuits against Wells keep piling on. After the bank was sued last week by disgruntled, laid off former employees, yesterday a class action complaint lawsuit was filed on behalf of shareholders from Feb. 26, 2014, to Sept. 15, 2016, in federal court in northern California. The lawsuit includes allegation that when CEO announced in July that head of community banking unit was retiring, he "concealed the fact that the company had made substantial findings of the unlawful activity and actual fraud in its Community Banking segment as part of its investigation, which not only exposed millions of customers to unlawful fees and potential identity theft, but put the company in the crosshairs of federal investigations."
And somehow throughout all of this, Wells Fargo's largest shareholder, Warren Buffett has not said a word, something he has vowed won't change until after the election. One wonders why he is so afraid to wage into what has become the biggest banking scandal of the year.