Weekly Unemployment Claims "Unexpectedly" Rise; Claims in Recession Pattern?
Weekly unemployment initial claims unexpectedly rose to 348,000 this week. The number of Americans filing new claims for unemployment benefits unexpectedly rose last week, but the underlying trend suggested no shift in labor market conditions.Initial claims for state unemployment benefits increased 14,000 to a seasonally adjusted 348,000, the Labor Department said on Thursday. Claims for the prior week were revised to show 2,000 fewer applications received than previously reported.Economists polled by Reuters had forecast first-time applications for jobless benefits slipping to 335,000 in the week ended Feb. 22, which included the Presidents Day holiday.While last week's increase pushed them to the upper end of their range so far this year, it probably does not signal labor market weakness as claims tend to be volatile around federal holidays.Weekly Claims Since 1967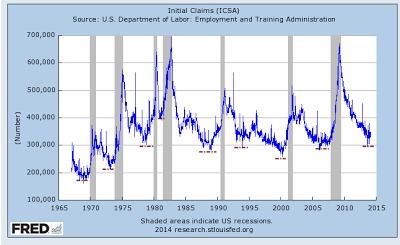 Recession Pattern?Once claims bottom then start to rise, the above chart shows a recession usually follows. The only exception was 1993, smack in the middle of an internet boom.It's impossible to know if claims have indeed bottomed, but a secondary pattern shows this is an area in which claims bottomed five out of the last six times. If claims bottomed again now, it would make six out of seven.This "unexpected" event coincides with numerous other "unexpected" events, nearly all of them weaker than expected.String of Unexpected Events
The unexpected rise in initial unemployment claims follows the
The unexpected decline in industrial production (the most since May of 2009), which followed
The unexpected decline in retail sales which in turn followed
The unexpectedly weak jobs report in February
Which followed a Huge Miss in ISM; Largest Decline in New Orders in 4 Years
Which followed a Big Miss: Nonfarm Payrolls +74,000 vs. 205,000 Expected in January
Reuters said this "probably does not signal labor market weakness". I suggest it does. Mike "Mish" Shedlockhttp://globaleconomicanalysis.blogspot.comMike "Mish" Shedlock is a registered investment advisor representative for SitkaPacific Capital Management. Sitka Pacific is an asset management firm whose goal is strong performance and low volatility, regardless of market direction.
Visit http://www.sitkapacific.com/account_management.html to learn more about wealth management and capital preservation strategies of Sitka Pacific.