Weekender: Forget Bernanke, Think Nikkei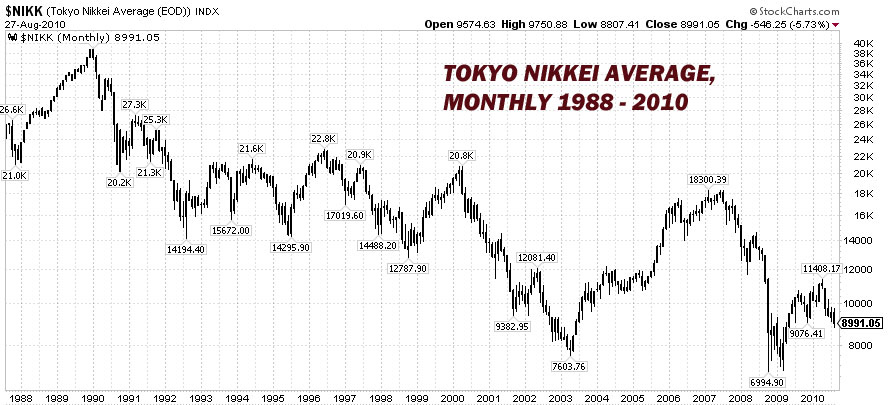 The big news for the week that was? Ben Bernanke's Jackson Hole Speech.
It's all a bit silly, really. The Fed Chairman waffled and hedged and said pretty much what was expected of him: "We'll support the recovery, yadda yadda, unconventional measures, blah blah blah."
To the extent Wall Street reacted, it was a light day in an exceptionally light month in a market feeling short-term oversold. It's looking more and more like the Fed is running out of ammo and "QE" is a bust… investors are just dragging their feet in slowly coming round to that realization.
My two cents? Forget Ben Bernanke — who is growing more irrelevant by the day — and start paying more attention to narratives like this:
In the United States, there has been considerable debate about whether the U.S. economy faces a similar deflationary risk [to Japan] and whether the Federal Reserve should be doing more to guard against falling into the same trap.
Some of those fears may well be overblown, but a widely read paper by James Bullard, the Fed's regional bank president from St. Louis, has warned that the U.S. economy faces a risk of becoming "enmeshed in a Japanese-style deflationary outcome in the next several years."
- NYT, Pressed to Act, Bank of Japan Sees Few Ways to Lift Demand
No matter what happens, the action in the Nikkei may well prove instructive for the next few years.
A long-term Nikkei chart (click to enlarge) is posted this week to make a point: During extended periods of credit writedowns and private sector deleveraging, markets can experience EXTREME swings… in both directions.
As the Nikkei went about shedding more than 75% of its value (!!) in two decades time, it did not do so straightaway. Instead there were numerous fantastic multi-month rallies of 60% to 100% or more, followed by grueling, gut-wrenching declines.
Just try to imagine the hope, greed, fear, and general stomach lining erosion of Japanese investors in those years. Just try to imagine how many "false dawns" and "all clears" were proclaimed after months and months of upside — just before the roller coaster took another sickening lurch downward once again.
We could be facing the same — which, on the bright side, could be great news from a trading perspective. (Paul Tudor Jones on his five year outlook, as noted in 2008: "The macro space will be great. I think we're going into one of those slow or zero-growth periods in the U.S., which will give us a lot of volatility.")
And now, to the links!

Turning Japanese
Pressed to Act, Bank of Japan Sees Few Ways to Lift Demand (NYT). "Copter cash may not yet be among the tools considered by the Japanese central bank in its quest to lift the country out of a long deflationary slump. But pressure is mounting on the Bank of Japan for more drastic action."
Fed Ready to Dig Deeper to Aid Growth (NYT). "The Federal Reserve chairman, Ben S. Bernanke, signaled once again on Friday that the central bank was prepared to act if the economy continued to weaken, as yet another economic report confirmed that the recovery had slowed to a crawl.'
Fed Split on Move to Bolster Sluggish Economy (WSJ). "The Aug. 10 meeting of top Federal Reserve officials was among the most contentious in Ben Bernanke's four-and-a-half year tenure as central bank chairman."
Nightmare on Wall Street
S&P 450? Rude shock awaits equity investors (FT). "Sell-side analysts claiming the situation in the US is unlike Japan a decade ago are right – things are much, much worse, says Albert Edwards, global strategist at Société Générale."
Rosenberg: "The Last Time The 10 Year Was Here, The S&P Was At 805″ (ZRH). "The consensus has certainly taken down its numbers on profits and on the economy, but by not nearly enough."
'Hindenburg' Creator Sticks to Guns (WSJ). "Jim Miekka has never worked on Wall Street and doesn't hold any financial degrees. But he has suddenly developed a cult-like following among some investors."
In Striking Shift, Small Investors Flee Stock Market (NYT). "Investors withdrew a staggering $33.12 billion from domestic stock market mutual funds in the first seven months of this year…"
Investors Pull $7.1 Billion From Stock Funds Globally (Bloomberg). "Investors withdrew a net $7.1 billion from equity funds tracked worldwide in the week to Aug. 25 and put some $5.2 billion into bonds…"
Bullish Sentiment Drops to Lowest Levels Since March 2009 (Bespoke). "Bearishness is definitely not the contrarian view at the moment."
Capitulation? Not Even Close (TPC). "We have seen nothing in the fear gauges that convinces me that people believe in a sustained downturn in the economy."
Truly a Dead August (Bespoke). "Through the first 16 trading days of this month, the S&P has averaged about 820 million shares traded per day.  This is the lowest reading since 1999!"
Long Bugattis, Short Fuld
Beware of Leveraged Short ETFs (Barrons). "In the course of one five-day trading week, three days of losses offset by two days of gains can wreak havoc on the value of a leveraged short ETF."
The Myth of M&A (SmartMoney). "A look at the numbers suggest that deal volume is, if anything, a reverse indicator of market direction."
Bugattis Sell for `Crazy Money' as Classic Cars Beat S&P 500 (Bloomberg). "This is the finest car ever made," Mullin says. "At 100 miles an hour, you couldn't even tell the engine was on."
Dick Fuld in exile (Fortune). "Ever since Lehman Brothers imploded and filed for the largest bankruptcy in history nearly two years ago, the firm's former chairman and CEO, Dick Fuld, has been a little on edge."
No Jobs, No Sales, No Recovery
No Jobs Means No Sales Means No Recovery (CWS). "In other words, profits generate sales. But this time around, it just doesn't seem to be working."
American Trucking Association: "The Economy is Slowing" (TPC). "More signs of weakness from this month's ATA report on trucking…"
U.S. Has 'Realistic Possibility' of Stagnation, S&P's Wyss Says (Bloomberg). "I think there is still a realistic possibility in the U.S. that it's slipping into this pattern like Japan has — 10, 20 years of stagnation…"
U.S. restaurants starved for business (LAT). "The number of restaurants operating nationwide dropped this year for the first time in more than a decade, a survey shows, with California accounting for almost a third of the losses."
10 Leading Retailers Close Stores; Exodus of Small Retailers Amidst Signs of "Free Rent"; 700,000 Drop Cable TV Subscriptions (Mish). "Signs of weak consumer discretionary spending are popping up in multiple places."
With consumers slow to spend, businesses are slow to hire (WP). "Corporate profits are soaring. Companies are sitting on billions of dollars of cash. And still, they've yet to amp up hiring or make major investments — the missing ingredients for a strong economic recovery."
Wall Street Hiring Spree Gets Long in the Tooth (WSJ). "Wall Street employees about to return from the summer doldrums have something new to worry about: their jobs."
Housing Hell
Existing Home Sales: An Awfully Bad Number (Bespoke). "Expect plenty of calls for new federal intervention in the housing market in the near future."
Real Estate Expectations: Prices drop, but hopes never do (Boston). "Not even a 30 percent drop in housing prices can shake the idea that prices always go up…"
Foreclosures Fall, but Early Delinquencies Rise (NYT). "The foreclosure crisis might have finally peaked in the first half of this year, but with the continued weakness in the economy and the recent deterioration of the housing market, the gains may prove fleeting."
Housing Slide in U.S. May Drag Economy Into Recession (Bloomberg). "Housing led the U.S. out of seven of the last eight recessions. This time, it may kill the recovery."
Housing Fades as a Means to Build Wealth, Analysts Say (NYT). "…many real estate experts now believe that home ownership will never again yield rewards like those enjoyed in the second half of the 20th century, when houses not only provided shelter but also a plump nest egg."
U.S. Home Sales at Lowest Level in More Than a Decade (NYT). "Housing sales in July plunged to their lowest level in more than a decade, exceeding even the grimmest forecasts."
Bond Bubble, or a Bubble in Calling Bubbles?
How Low are Bond Yields Really? (Bespoke) "While one could make the argument that Treasuries are unattractive…, it is hard to argue that their current valuation fits the criteria for a bubble."
Treasurys advance on robust auction results (Marketwatch). "Treasury prices advanced Thursday on the back of solid results for a sale of 7-year notes, offsetting the pressure from a surprisingly better report on jobless claims."
For a Change, U.S. Debt Is Staying in the U.S. (NYT). "Budget deficits have ballooned again, but the story is different this time. Americans are buying most of the new Treasuries being issued."
Bond Funds Gain Cash Like Stocks in Dot-Com Era (Bloomberg). "The amount of money flowing into bond funds is poised to exceed the cash that went into stock funds during the Internet bubble, stoking concern fixed-income markets are headed for a fall."
Do Bond Markets Fund Our Spending? (TPC) "Unlike a household, the United States does not require revenue or debt to fund itself.  The United States government simply credits bank accounts."
Mort Zuckerman: The Most Fiscally Irresponsible Government in U.S. History (USNews). "On the national debt, the money the government has spent without the tax revenues to pay for it has produced mind-numbing numbers so large as to be disconnected from reality."
Vacuous Bond-Bubble Talk (Barrons). "All the hype about a bubble in Treasuries is just that."
Mortgages, Credit and Default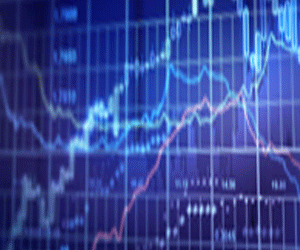 Commercial Property Owners Choose to Default (WSJ). "Like homeowners walking away from mortgaged houses that plummeted in value, some of the largest commercial-property owners are defaulting on debts and surrendering buildings worth less than their loans."
Nearly 50 percent leave Obama mortgage-aid program (Breitbart). "Nearly half of the 1.3 million homeowners who enrolled in the Obama administration's flagship mortgage-relief program have fallen out."
Mortgage Fraud Is Rising, With a Twist (WSJ). "New data suggests that mortgage fraud—which got tougher to pull off after the collapse of the U.S. real estate market—is returning in a big way."
Credit-Card Rates Climb (WSJ). "…for a large portion of 381 million U.S. credit-card accounts, borrowing rates have been moving only one way: up."
Credit-Card Issuers Scramble for Profits (WSJ). "The golden age of credit cards may be over."
Illinois Teachers' Retirement System Enters The Death Spiral (ZRH). "…due to its derivative exposure, liquidations now become self-reinforcing, as more cash needs to be pledged as collateral in a declining market, and the AIG death spiral we all know and love, follows."
Corporate debt "wall of maturity" crumbling (Reuters). "Financial markets are knocking down a wall of debt maturity that has endangered the U.S. economic recovery and threatened to push more companies into bankruptcy, according to an investment firm report on Tuesday."
Struggling Cities Shut Firehouses in Budget Crisis (NYT). "Fire departments around the nation are cutting jobs, closing firehouses and increasingly resorting to "rolling brownouts" in which they shut different fire companies on different days as the economic downturn forces many cities and towns to make deep cuts that are slowing their responses to fires and other emergencies."
Macro Malaise
Michael Pettis: The last chance to avoid a global trade war (FT). "The world seems to be marching inexorably towards trade war."
Deflation: the Neutron Bomb of Balance Sheets (Barrons). "According to a new report from Fitch Ratings, ultra-low interest rates will exacerbate the underfunding of many U.S. corporations' pension plans."
El-Erian: There Now May Be More Than A 25% Chance Of Deflation (BizInsider). "This economy has to achieve "escape velocity." There is deleveraging and new regulation going on. We have to navigate this "new normal" of high unemployment and stagnation."
Morgan Stanley Analyst Says Governments to Default (Bloomberg). "Investors face defaults on government bonds given the burden of aging populations and the difficulty of increasing tax revenue, according to a Morgan Stanley executive director."
Economist Shiller Sees Potential for 'Double Dip' Recession (WSJ). "With the U.S. economic recovery losing steam, the chances of a second phase of a slowdown are increasing, according to a leading economist."
The Case for Hyperinflation(?!?)
How Hyperinflation Will Happen (SA). "Most people dismiss the very notion of hyperinflation occurring in the United States as something only tin-foil hatters, gold-bugs, and Right-wing survivalists drool about."
Hyperinflation, Part II: What It Will Look Like (ZRH). "The disproportionate attention my post garnered is indicative of people's current fears. As I've said before, people aren't blind or stupid, even if they often act that way."
When Irish Mouths Are Cursing
Irish Bonds Slump After S&P Cuts Rating One Step on Banks (Bloomberg). "Irish bond yields jumped to the highest since May after Standard & Poor's cut the country's credit rating one step to AA- on concern the rising cost of supporting its struggling banks will swell the budget deficit."
Irish 'Vicious Circle' Leaves Banks With Higher Costs (Bloomberg). "Raising money just got a whole lot tougher for Ireland's cash-strapped banks."
S&P: Austerity Doesn't Work in Europe (TPC). "S&P  has cut Ireland's sovereign debt rating to AA- from AA based on the continuing economic woes that have been magnified by their harsh austerity measures and foolish involvement in a single currency system…"
Two-Speed Europe
Stiglitz Says Europe at Risk of Double-Dip Recession (Bloomberg). "Nobel Prize-winning economist Joseph Stiglitz said the European economy is at risk of sliding back into a recession as governments cut spending to reduce their budget deficits."
Debt Fears Slink Back in European Markets (NYT). "As Europe's long summer vacation nears its end, investors appear reluctant to take on additional debt from "peripheral" economies like Spain, Portugal, Ireland and Greece, economists and analysts say."
German Business Confidence Reaches 3-Year High (NYT). "Germany's business confidence rose in August to its highest level in three years, according to a key survey Wednesday, suggesting Europe's biggest economy continues to grow…"
Swedish Consumer Confidence Hits 10-Year High (WSJ). "Swedish consumer sentiment soared to its highest level in nearly 10 years in August, a survey showed Wednesday."
Trichet Says Failure to Cut Government Debt Risks 'Lost Decade' (Bloomberg). "European Central Bank President Jean-Claude Trichet said governments risk a "lost decade" of weak economic growth if they delay reversing the surge in public debt triggered by the financial crisis."
Mexico Under Siege
The men with the golden guns: Mexican museum displays 'narco bling' weaponry confiscated from drug lords (MailOnline). "The confiscated items, which include several guns and high-precision rifles lavishly decorated with gold, jewels and even religious symbols, feature in a Mexican military museum."
Mexican Police Help Murder Their Own Mayor (Yahoo). "The killers came for Mayor Cavazos in the early hours of Aug. 16 when seven SUV's rolled up and men in police uniforms descended on his palatial home."
Shootout Near School Shocks Mexico (WSJ). "Two security guards working for Mexican beverage giant Femsa SAB de CV were buried Sunday after their deaths at the hands of presumed drug gunmen."
Mexico bleeding to death (UKIndep). "The discovery on Tuesday afternoon marked a new low in a brutal conflict that has taken the lives of an estimated 28,000 Mexicans since the President, Felipe Calderon, declared "war" on the nation's wealthy and extraordinarily well-armed drug cartels in 2007."
3 Colombian teens on Facebook hit list killed in past 10 days (CNN). "Three teens who were on a 69-name hit list posted on Facebook have been killed in the past 10 days in a southwestern Colombian town, officials say."
Bodies hung from bridge in Cuernavaca, Mexico (BBC). "The four men had been decapitated and mutilated before being hung by their ankles from the bridge outside Cuernavaca, in the state of Morelos."
Mexican Military Finds 72 Bodies Near Border (WSJ). "Gunmen from a drug cartel appear to have massacred 72 migrants from Central and South America who were on their way to the U.S., a grisly event that marks the single biggest killing in Mexico's war on organized crime."
The Dragon and the Tiger
Foot Massage Price Doubles With Chinese Doubting Inflation Data (Bloomberg). ""There has been a jump in prices that isn't reflected in the numbers," said Chinese Academy of Social Sciences economist Yu Yongding, a former adviser to China's central bank."
World's Fastest-Growing Megalopolis Hides in Fog (Wired). "China's Chongqing municipality with a population now at 32 million is the fastest-growing urban center on Earth."
China Railway in $30 Billion South Africa Train Talks (Bloomberg). "China Railway Group Ltd., the world's second-largest publicly traded heavy construction company, said it is in talks with South Africa's government for a $30 billion high-speed rail project between Johannesburg and the eastern port city of Durban."
Inside the Knockoff-Tennis-Shoe Factory (NYT). "…in corporate-footwear and intellectual-property-rights circles, Putian has become synonymous with high-end fakes, shoes so sophisticated that it is difficult to distinguish the real ones from the counterfeits."
China's Banks Face Hangover as Lending Slows (WSJ). "China's big banks are starting to cut back lending to local-government projects, walking a delicate line between addressing risks to the financial system and keeping up the flow of money to the infrastructure boom that supports the nation's economy."
Rio Tinto Strives to Repair Its Relations With China (NYT). "Analysts say Mr. Albanese's comments are the strongest indication yet that Rio Tinto… is trying to change the way it does business here and repair its relations with the Chinese government. "
China bank property stress test finds risk (Reuters). "A 50-percent drop in China's property prices will lead to a surge in bad real estate loans for Chinese lenders, a local newspaper reported, citing the results of the latest round of a Chinese bank stress test."
India: A High-Tech Titan Plagued by Potholes (NYT). "Despite this nation's rise as a technology titan with some of the world's best engineering minds, India's full economic potential is stifled by potholed roadways, collapsing bridges, rickety railroads and a power grid so unreliable that many modern office buildings run their own diesel generators to make sure the lights and computers stay on."
Commodity Corner
Straw theft is omen for the future of food (Telegraph). "Mining giant BHP Billiton has made its bid for Canadian group PotashCorp of Saskatchewan because it sees a bright future for agricultural commodities."
USDA Sees Tame Food-Price Inflation  (WSJ). "The U.S. Agriculture Department expects unusually tame food-price inflation this year despite a broad rally in agricultural commodity prices this summer, the agency said Wednesday."
What's the Beef? Food-Inflation Fears (WSJ). "Cattle prices are soaring toward records, pushing up the cost of beef in grocery stores and adding to the risk of a broader wave of food inflation."
Heart of Iowa as Fault Line of Egg Recall (NYT). "The authorities said nearly 1,500 illnesses since May might be tied to tainted eggs, making this the largest outbreak associated with this type of bacteria, Salmonella enteritidis, since the federal government began closely tracking foodborne disease in 1973."
Nestlé Plans Ground Attack Over Coffee Beans (WSJ). "From the lush Veracruz forests in Mexico all the way to Indonesia, Nestlé SA is cultivating a new investment: a $487 million global push to increase the quantity and quality of its coffee."
Cocoa's Drop Pressures a Big Wager (WSJ). "Mr. Ward's Armajaro Holdings Ltd. shook up the commodities market in July by buying a $1 billion cache of cocoa… But since Mr. Ward made his audacious bet, cocoa prices have dropped 26%."
Forex Focus
Japan may consider unilateral yen-selling (Reuters). "Japan's Ministry of Finance may consider unilateral yen-selling market interventions if speculators drive up the currency, Nikkei Business Daily reported on Tuesday."
Yen strength a dilemma for Tokyo (FT). "Verbal assurances from Japanese officials are starting to wear thin."
Swiss franc at record high against euro (FT). "The Swiss franc rose to a record high against the euro on Wednesday as fears over the global economy drove haven demand for the Swiss currency."
A Chinese Challenge for Rand (WSJ). "As South African President Jacob Zuma visits China this week, he will be acutely aware of how important the world's largest country is to his own nation's currency."
Why the Euro is Doomed (TPC). "In a recent note UBS analysts eloquently described why a single currency system such as the EMU must make dramatic changes or perish."
Banks back switch to renminbi for trade (FT). "A number of the world's biggest banks have launched international roadshows promoting the use of the renminbi to corporate customers instead of the dollar for trade deals with China."
Russia Then and Now
Photo Essay: Russia in color, a century ago (Boston.com). "Collected here are a few of the hundreds of color images made available by the Library of Congress, which purchased the original glass plates back in 1948."
Hacker's Arrest Offers Peek Into Crime in Russia (NYT). "The seizing of BadB provides a lens onto the shadowy world of Russian hackers, the often well-educated and sometimes darkly ingenious programmers who pose a recognized security threat to online commerce — besides being global spam nuisances — who often seem to operate with relative impunity. "
Say What?
Incredible Fire Tornado Sweeps through Brazil (Youtube). Dude. Fire tornado!! What else is there to say?
WHO calls for monitoring of new superbug (Breitbart). "The World Health Organisation… called on health authorities around the globe to monitor a multi-drug resistant superbug that surfaced in South Asia and spread to Britain."
The age of nations is over. The new urban age has begun (ForeignPolicy). "In an age that appears increasingly unmanageable, cities rather than states are becoming the islands of governance on which the future world order will be built."
Philly requiring bloggers to pay $300 for a business license (WE). "To [Marilyn] Bess, her website is a hobby. To the city of Philadelphia, it's a potential moneymaker, and the city wants its cut."
Planets Weighed Using Pulsar Flashes (Wired). "By carefully timing radio blips from spinning stellar leftovers called pulsars, astronomers have measured the masses of all the planets from Mercury to Saturn, plus all their moons and rings."
How To Raise A Superstar (Wired). "This is when they discovered something peculiar:  the percent of professional athletes who came from cities of fewer than a half million people was far higher than expected."
Digital Devices Deprive Brain of Needed Downtime (NYT). "…when people keep their brains busy with digital input, they are forfeiting downtime that could allow them to better learn and remember information, or come up with new ideas."
Strippers' earning potential affected by hormone cycle (MindHacks). "A study… found that lap dancers in their most fertile phase of the menstrual cycle earned much more than dancers in the least fertile phase."
http://mercenarytrader.com/wp-content/uploads/2010/08/nikkeimonthly2.jpg