Wall Street's amazing, hard-to-defend, profits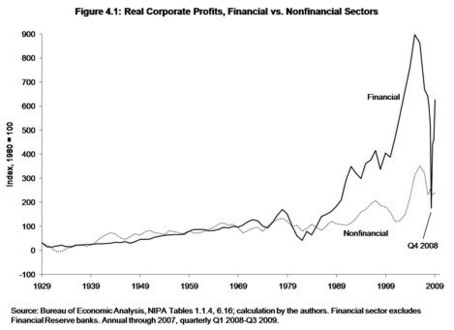 The important thing to remember about Wall Street's profits isn't how big they are. It's how big they are in in comparison to revenues. Annie Lowrey runs through the numbers:
Last week, J.P. Morgan announced that it made a first-quarter profit of $3.3 billion on revenue of $28.2 billion, meaning for every dollar of business the bank did, it kept 12 cents as profit. This morning, Goldman Sachs — the Wall Street giant charged by the Securities and Exchange Commission with defrauding customers with mortgage-backed financial products last week — released its first-quarter earnings statement as well. It made $3.46 billion in profit from $12.78 billion of revenue — meaning for every dollar of business it did, it kept 27 cents.[...]
Consider another high-profit company in a competitive industry — say, Exxon Mobil. Last year, it made about $19 billion in profit on $300 billion in turnover, giving it a margin of six percent. WalMart? It is in the low-margin grocery and retail business, and managed a profit margin of around 3.5 percent. In the first quarter, Goldman's margin was just two percentage points below Google's — and consider how dominant Google is in its industry.
In short, the profits point to a lack of competition. That is one thing the Dodd bill — via derivatives regulation — attempts to fix. Right now, Wall Street firms do not bid for big derivatives contracts — they simply quote a price and work over-the-counter. For that reason, derivatives are wildly profitable for the companies. The Dodd bill will force derivatives pricing to become public to the market, driving down margins as companies compete.
As Ryan Avent noted the other day, it's very difficult to get a straight, convincing answer about the good all this is doing for the rest of the country. "If financial sector growth is so good for the real economy," he wrote, "it ought to be easier for its defenders to demonstrate this empirically. ...The costs of a large financial sector are extremely apparent while even the most ardent backers of financial innovation have a difficult time explaining how economic performance would have been harmed by restrictions on financial activity."
By comparison, you may not like pharmaceutical companies, but no one is confused about the potential upside of their profits. Lifesaving drugs are a good thing. Wall Street, however, tends to fall back on the word "liquidity." And it's true: During the boom times, we had a ton of liquidity. But it was fake liquidity. The $500,000 loans we were handing to underemployed folks so they could by big homes was not real.
A neat comparison here would be Canada: We know that Canada has a more staid banking sector than the United States. We know that they're not as engaged in the "innovation" that Wall Street busies itself with. We also know that Canada's banks survived the financial crisis without too much trouble. So here's the question: Does Canada's economy -- which certainly doesn't seem like a credit-starved hellhole -- suffer from a terrible absence of liquidity? Is there any measurable effect at all? And if not, remind me again of the benefits of financial innovation and the sector's sky-high profit margins?
Graph credit: Simon Johnson and James Kwak.