Wall Street Breakfast: Must-Know News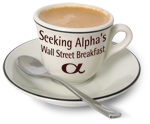 Google blinks in China showdown. Google (GOOG) said it will change how Chinese users access its search engine, three months after Google stopped self-censoring its search results in China. Instead of automatically redirecting users to Google's Hong Kong based site, an approach that Chinese officials called "unacceptable," visitors to the China site will be able to click on an icon that transports them to the newly revamped Hong Kong site, which includes some services that don't require self-censoring. Though the change is a relatively minor one, it represents a loss of face for Google, which is backing away from its commitment to provide censor-free search in China or no search at all. It's also unclear whether the Chinese government will even approve the change and renew Google's license, which expires tomorrow.
Bidding war erupts for Chloride Group. Emerson Electric (EMR) offered to buy U.K.-based Chloride Group for £997M ($1.5B) in an effort to block ABB's (ABB) planned £860M takeover of the British firm. ABB said it will consider its options before making a further statement.
Buyers try to book ITA Software deal. Several companies are reportedly considering a purchase of ITA Software, the privately-held company that provides software for airline and online travel companies. ITA has been in exclusive talks with Google (GOOG) for more than three months, but sources said a deal hasn't yet materialized because of antitrust concerns and because ITA wanted a bid of around $1B and Google's offer was closer to $700M. Expedia (EXPE), Kayak.com and Travelport were also said to be bidders, and some of them have already made unsolicited cash-and-stock offers.
Abbott looks to sell flu-vaccine business. Abbott Laboratories (ABT) is looking to sell the flu-vaccine business it picked up in its 2009 purchase of Solvay's (SVYSY.PK) pharmaceutical unit. A sale could be worth as much as €500M ($619M) and would continue a recent wave of consolidation in the pharmaceutical industry. Potential bidders include such heavyweights as GlaxoSmithKline (GSK) and AstraZeneca (AZN).
Supreme Court rules on Sarbox. The Supreme Court struck down part of the Sarbanes-Oxley Act that created the Public Company Accounting Oversight Board [PCAOB] to police auditors of public companies, saying it violates the constitution; Congress had created the PCAOB to replace the accounting industry's own regulators after the damaging scandals at Enron and WorldCom. Though the ruling that part of Sarbox is unconstitutional sounds serious, the Court took issue with a very limited aspect of the law. Sarbox, as a whole, remains "fully operative" and Chief Justice Roberts dispensed with the status of the rest of the law in a single paragraph.
Supreme Court won't consider tobacco case. The Supreme Court refused to review a landmark ruling that found the tobacco industry had engaged in a conspiracy to deceive the public about the dangers of smoking. Both cigarette makers and the government had appealed the ruling; cigarette makers, for obvious reasons, wanted the racketeering charges overturned, while the government was trying to revive its rejected attempt to get the tobacco industry to forfeit up to $280B in profits. The ruling is "a surprising and favorable industry development," said one analyst, removing the possibility of a large-scale financial decision against tobacco firms. In yesterday's trading, MO +3.25%, RAI +4.05%, LO +2.5%, PM +0.85%.
ECB plays down risks of lending program expiry. The ECB is trying to reassure markets that the expiry of its €442B ($547.5B) bank-lending program this Thursday won't destabilize the financial system. The 12-month lending facility was introduced last year to encourage private-sector lending and ensure the region's banks had sufficient liquidity. The program has since become a lifeline for banks in highly-indebted countries like Greece and Spain, and Spanish banks have called it "absurd" that the ECB isn't renewing the program. Euro borrowing costs in the interbank market rose to an 8-month high yesterday ahead of the program's expiry, and the euro is falling on concerns Europe's financial system will now be more susceptible to threats. Euro -0.7% vs. the dollar.
NY Fed measures systemic risk of BP collapse. The Federal Reserve Bank of New York has reportedly been examining major financial firms' exposure to BP (BP) to ensure that Wall Street and the global financial system won't be at risk in the event the oil giant buckles under the costs of the Gulf spill. Sources said the Fed found no systemic risk, and didn't ask banks to alter their credit relationships with BP. However, some banks, of their own initiatives, are changing the terms of their business with BP. Credit Suisse (CS) has reportedly lowered is collateral requirement threshold to $10M from $30M, while Bank of America (BAC) has shorted the time frame of oil trades with BP to one year. Premarket: BP +0.8% (7:00 ET).
Oil rivals may team up on Alaskan project. A joint venture between BP (BP) and ConocoPhillips (COP) planning to build a massive natural gas pipeline from Alaska to Canada and the 48 states is said to be in early talks to join a competing project by TransCanada (TRP) and Exxon Mobil (XOM). The BP-ConocoPhillips project, known as Denali, would likely be tabled as the companies worked on the $36B TransCanada project. TransCanada denied talks were underway to merge the pipeline projects.
Tesla prices above IPO expectations. Electric car maker Tesla priced shares above the expected range in its IPO yesterday, reported a market source, selling 13.3M shares at $17 each vs. initial plans of 11.1M shares at $14-16 each. Tesla CEO Elon Musk told investors the IPO was more of a technology play than a traditional car maker stock, saying "we are a Silicon Valley company. Closer to an Apple or Google than to a GM or Ford in the way we operate the company." However, analysts remain skeptical, and say shares of money-losing Tesla may not appreciate until the company rolls out its second car, the Model S, in 2012. Shares begin trading on the Nasdaq today under the ticker TSLA.
Siemens to set up its own bank. Siemens (SI) plans to set up its own bank, a move highlighting how major industrial groups are trying to reduce their reliance on banks post-crisis. The company will use a banking license primarily to expand its sales finance business, but also to be able to deposit some of its current €9B ($11B) of cash at the Bundesbank and to broaden its sources of financing. Premarket: SI -2.9% (7:00 ET).
Growing concerns on Glaxo's Avandia. Two studies released yesterday said the GlaxoSmithKline (GSK) diabetes drug Avandia is unsafe, adding to the controversy over a drug linked to an increased risk of heart attack and heart failure. A vote on whether to withdraw the drug from the market will likely come at a two-day meeting next month of outside advisers to the FDA.
Japan's recovery may be slowing. Japan's industrial production slipped in May, as did household spending, and the unemployment rate unexpectedly increased. The data points suggest Japan's economic recovery is slowing down, and may serve as a warning to politicians that it's too soon to tighten fiscal policy in favor of deficit reduction.
Earnings: Monday After Close
Barnes & Noble (BKS): FQ4 EPS of -$0.89 misses by $0.08. Revenue of $1.3B (+17.6%) in-line. Shares -3.1% AH. (PR)
Micron Technology (MU): FQ3 EPS of $0.92 may not be comparable to EPS of $0.43. Revenue of $2.3B (+106.9%) vs. $2.1B. Shares -6.1% AH. (PR, earnings call transcript)
Today's Markets
In Asia, Japan -1.3% to 9571. Hong Kong -2.3% to 20249. China -4.3% to 2427. India -1.2% to 17557.
In Europe, at midday, London -2.0%. Paris -2.5%. Frankfurt -2.2%.
Futures: Dow -1.1%. S&P -1.3%. Nasdaq -1.4%. Crude -1.9% to $76.78. Gold -0.2% to $1236.20.
Tuesday's Economic Calendar
7:45 ICSC Retail Store Sales 8:55 Redbook Chain Store Sales 9:00 S&P Case-Shiller Home Price Index 10:00 Consumer Confidence 10:00 State Street Investor Confidence Index 12:00 PM Tsy Krueger: 'Access to Capital for Small Businesses and Entrepreneurs Summit' 3:00 PM USDA Ag. Prices 5:00 PM ABC Consumer Confidence Index
Notable earnings after Tuesday's close: GIS
Seeking Alpha's Market Currents team contributed to this post.Complete Story »