Wall Street Breakfast: Must-Know News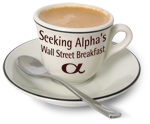 Resolution buys AXA's U.K. ops. Resolution Ltd. agreed to buy AXA's (AXAHY.PK) U.K. life insurance operations for £2.75B ($4.1B). Resolution is trying to bulk up its U.K. life insurance by merging several companies, and AXA plans to use the deal's proceeds to fund growth in other areas, including its U.K. wealth management business.
Reliance invests in shale gas assets. India's Reliance Industries will invest $1.15B in the U.S. shale gas assets of Pioneer Natural Resources' (PXD), marking Reliance's second such deal this year. Reliance will pay $266M for a 49.9% stake in Pioneer's Eagle Ford shale acreage in Texas, and will contribute $879M towards drilling costs over the next four years.
Hasbro toys with going private. Private equity firm Providence Equity Partners has reportedly held preliminary talks with Hasbro (HAS) about taking the toy company private. Talks could still fall apart, and may possibly be on hold at present because of market uncertainty, but a leveraged buyout of Hasbro, with its $6B market cap, would be the year's largest private equity deal.
Blackstone in talks with South Korea's Woori. Blackstone Group (BX) is said to be in talks to take a stake in South Korea's Woori Finance Holdings. The Korean government, which owns a 57% stake in Woori worth around $6B, is expected to lay out a detailed sales plan in coming weeks. The stake likely won't be sold as a single block, but Woori has asked Blackstone to participate in the auction.
BP's bad luck. BP's (BP) oil containment efforts hit a snag yesterday when an underwater robot collided with the containment cap. Oil gushed unchecked from the leaking well for most of the day until the cap was put back in place late last night. The House Judiciary Committee approved legislation that would remove the liability cap for BP and Transocean (RIG), and has sent the bill to the full House for consideration, while New York state's pension fund has decided to move forward with a lawsuit against BP in what is likely to be just the beginning of a long string of litigious actions against the firm. Separately, Interior Secretary Ken Salazar introduced a new, more flexible drilling moratorium after the previous deepwater drilling ban was overturned in court. Finally, though it may be too little, too late to help BP's public image, it turns out that BP and other oil majors based their response plans to a potential Gulf spill on government data that was faulty; government models had put very low odds on oil hitting shore, even in a spill much bigger than the current one.
FOMC shows warier Fed. The FOMC kept its target rate at 0-0.25%, as expected, and maintained its "extended period" language. The point of interest came from the tone of the Fed's statement, which was both more cautious than the last meeting and more straightforward than usual: "Housing starts remain at a depressed level. Financial conditions have become less supportive of economic growth on balance, largely reflecting developments abroad. Bank lending has continued to contract in recent months." The FOMC also noted that "underlying inflation has trended lower."
Financial reform clips along. With a deadline to finish financial reform negotiations by today, lawmakers are sprinting ahead to wrap up key parts of the legislation. The House has agreed to drop its $150B up-front fund to unwind failed financial firms, and has adopted the Senate's plan to use taxpayer funds as needed and recoup the money from institutions after the fact. Lawmakers must still find a middle ground on proposals to limit banks' swap desks and to limit their investments in private equity and hedge funds.
GM gears up for IPO. General Motors is reportedly preparing to file as soon as next week for an IPO that could raise as much as $20B, making it one of the largest U.S. IPOs ever. As part of the IPO, the Treasury would offload around 20% of its stake in GM, making it a minority owner in the automaker. The company is also said to be in talks with JPMorgan (JPM) and Wells Fargo (WFC) about deals to improve consumer access to auto loans at its dealerships.
YouTube wins infringement case. YouTube (GOOG) won its copyright infringement case with Viacom (VIA), in which Viacom was seeking at least $1B in damages from Google. Viacom said YouTube built its business by using the internet to "willfully infringe" on copyrighted material, and has promised to appeal.
Aussie PM quits. Australia's prime minister, Kevin Rudd, stepped down just before a leadership vote he was likely to lose, paving the way for Julia Gillard to become the country's first female prime minister. On the whole, Australian stocks took the news in stride, gaining 0.6% before closing -0.1%. Analysts expect changes to be made to Rudd's controversial mega-mining tax, giving miners a lift. In Australian trading, Rio Tinto closed +1.7%, BHP Billiton +1.3%. (In U.S. premarket trading, however, RTP -3%, BHP -1.6% at 7:00 ET).
New home sales dive. May's new home sales plunged 33% to 300,000, falling short of 400K consensus and April's 446K. The months' supply of homes jumped to 8.5 from 5. The expiring tax credit and continued overhang of existing homes contributed to the record low, and the drop would have been even worse if not for the significant downward revision of April's figure. The report raised fears that continued housing weakness could dampen a broader economic recovery.
Earnings: Thursday Before Open
Lennar (LEN): FQ2 EPS of $0.21 beats by $0.21. Revenue of $814M (-8.7%) vs. $836M. (PR)
McCormick & Company (MKC): FQ2 EPS of $0.49 beats by $0.04. Revenue of $798M (+5.4%) vs. $788M. (PR)
Earnings: Wednesday After Close
Bed Bath & Beyond (BBBY): Q1 EPS of $0.52 beats by $0.04. Revenue of $1.9B (+13.5%) in-line. Shares -5.4% AH. (PR, earnings call transcript)
Darden Restaurants (DRI): FQ4 EPS of $0.81 misses by $0.07. Revenue of $1.9B (-5.7%) in-line. Shares -0.2% AH. (PR)
Nike (NKE): FQ4 EPS of $1.06 in-line. Revenue of $5.1B (+8.5%) in-line. Shares -2.3% AH. (PR, earnings call transcript)
Paychex (PAYX): FQ4 EPS of $0.32 beats by $0.01. Revenue of $496M (+0.1%) vs. $490M. Shares -4.3% AH. (PR)
Today's Markets
In Asia, Japan +0.1% to 9928. Hong Kong -0.6% to 20733. China -0.1% to 2567. India -0.1% to 17730.
In Europe, at midday, London -0.7%. Paris -1.1%. Frankfurt -0.6%.
Futures: Dow -0.5%. S&P -0.7%. Nasdaq -0.8%. Crude flat at $76.35. Gold flat at $1235.20.
Thursday's Economic Calendar
8:30 Durable Goods 8:30 Initial Jobless Claims 10:30 EIA Natural Gas Inventory 4:30 PM Money Supply 4:30 PM Fed Balance Sheet
Notable earnings before Thursday's open: CAG, DFS, LEN, MKC
Notable earnings after Thursday's close: ACN, HRB, ORCL, RIMM, TIBX
Seeking Alpha's Market Currents team contributed to this post.Complete Story »