Wall Street Breakfast: Must-Know News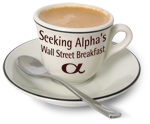 SEC pushes fraud charges for mortgage-debt overseer. The SEC filed a lawsuit yesterday against ICP Asset Management, affiliates of the firm and CEO Thomas Priore, accusing the money manager of fraud related to the pricing of $11B in CDOs. In a series of mortgage-bond transactions in 2007-2008, ICP allegedly caused some clients to "overpay" for bonds to protect other clients from realizing losses or to make money for itself. The suit is significant, as it opens a new kind of target for the SEC as it tries to unravel mortgage-related wrongdoing.
Intel nears FTC settlement. Intel (INTC) and the FTC appear to be nearing a settlement of the antitrust case against the chip giant. Lawyers for Intel and the FTC submitted a proposed consent decree asking for a suspension of the case proceedings until July 23 while the potential settlement is reviewed by the five FTC commissioners. Terms of the agreement were not disclosed, but analysts believe the FTC won't agree to a settlement unless it has some "teeth," including concessions from Intel that will impact the market. Intel has faced ongoing antitrust proceedings in Europe, Japan and South Korea, and by the FTC and New York Attorney General.
All eyes on the yuan. The yuan declined against the dollar today, reversing some of yesterday's gains and providing a dose of reality to those who believed the yuan's moves would be unidirectional following China's recent pledge of increased currency flexibility. However, China's central bank also raised the daily reference rate against the dollar by 0.43% in a sign that additional appreciation may be allowed this week. The lack of predictability could serve an important role in deterring short-term investors from placing one-way bets on a yuan appreciation and in curbing overly large fund flows into China.
India's Reliance eyes U.S. shale gas expansion. India's Reliance Industries is close to announcing a $1.35B deal for a stake in a shale gas field controlled by Pioneer Natural Resources (PXD). The deal would be Reliance's second U.S. shale gas deal this month, as international firms show increased interest in the sector.
Aegon may sell Transamerica Reinsurance. Dutch insurer Aegon (AEG) said it will "explore strategic options" for the life reinsurance arm of its Transamerica business in the U.S., including a possible sale. The insurer also wants to slim down its U.K. operations in order to focus on life insurance and pensions and asset management services. Premarket: AEG -2.1% (7:00 ET).
Court nears ruling on drilling ban. A federal judge will decide by tomorrow whether the government's temporary ban on deepwater drilling can continue. The lawsuit was originally brought by Hornbeck Offshore Services (HOS), which has since been joined by over a dozen offshore service firms. Hornbeck said the moratorium is "arbitrary and capricious" and could decimate the offshore labor force.
G-20 gears up for spending showdown. Going into the G-20 summit this week, nations are bringing with them starkly different viewpoints of the road to recovery. The U.K. is pressing for prosperity through austerity, and nations like China, Canada and Japan are heading in that direction as well. The U.S. would like to see nations scale back the pace of their austerity plans and is pushing for more stimulus measures, not less, to provide continued support for economic growth.
Fed, retailers win in reform bill. Rep. Barney Frank, the lead House negotiator on the financial reform bill, agreed to accept the Senate's version of consumer financial protection, placing a bureau inside the Federal Reserve as opposed to creating a stand-alone agency. Retailers also scored a win, as the bill will slash the "swipe fees" that credit-card companies charge merchants for every debit-card transaction. The financial industry had lobbied hard against the measure, which could cost credit card firms at least $10B annually.
Final rules for bank pay plans. Federal regulators published final compensation rules yesterday, saying current bank pay plans are still "deficient" and fail to sufficiently discourage "imprudent risk." Regulators won't set compensation but will review, and have veto power, over pay policies that encourage too much risk, and will conduct additional reviews to make sure banks are following up on deficiencies.
Barclays defends Lehman deal. Barclays' (BCS) president Bob Diamond testified in court yesterday over the firm's 2008 purchase of Lehman Brothers (LEHMQ.PK) assets, defending the deal and its price. "The markets were depressed and what was important to us was the price in the context of the turmoil in the financial markets," said Diamond. "Bear Stearns had been rescued at a price low relative to trading prices for securities firms. The single most important thing for Barclays was the right value of the deal that would be capital accretive."
E-reader price wars. Barnes & Noble (BKS) cut the price of its Nook e-reader to $199 and unveiled a new Wi-Fi only model that costs just $149, as it tries to grab a larger slice of the growing e-reader market. In response, Amazon (AMZN) confirmed it will lower the price of its Kindle e-reader to $189 from $259. Both firms are feeling threatened by the success of Apple's (AAPL) iPad.
White House budget chief to step down. White House Budget Director Peter Orszag reportedly plans to step down from his job in July, with sources saying Orszag had never planned on staying for more than two years. Orszag was instrumental in crafting the economic stimulus bill, and was part of Obama's inner circle of advisers during the peak of the financial crisis.
Today's Markets
In Asia, Japan -1.2% to 10113. Hong Kong -0.5% to 20819. China +0.1% to 2589. India -0.7% to 17750.
In Europe, at midday, London -1.4%. Paris -1.3%. Frankfurt -0.8%.
Futures: Dow -0.3%. S&P -0.4%. Nasdaq -0.2%. Crude -1.3% to $76.80. Gold -0.4% to $1235.80.
Tuesday's Economic Calendar
FOMC Meeting, Day 1 7:45 ICSC Retail Store Sales 8:55 Redbook Chain Store Sales 10:00 Existing Home Sales 10:00 FHFA Housing Price Index 10:00 Richmond Fed Mfg. 10:00 Hearing: Geithner Testifies on TARP 5:00 PM ABC Consumer Confidence Index
Notable earnings before Tuesday's open: CCL, CMC, JEF, WAG
Notable earnings after Tuesday's close: ADBE, JBL, RHT
Seeking Alpha's Market Currents team contributed to this post.Complete Story »