Wall Street Breakfast: Must-Know News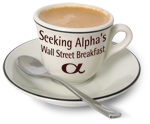 SEC restricts short selling. After nearly a year of debate, the SEC voted 3-2 to curb short selling for securities that drop 10% in a single day. Short sales would then face a test for that day and the next in which they would only be allowed if the price is above the national best bid. Chairman Mary Schapiro acknowledged that short selling can benefit the market, but said it can also "destabilize our markets and undermine investor confidence in our markets." The rule takes effect in six months and is estimated to cost the industry $1B to implement and $1B annually.
Everyone wants a piece of General Growth. General Growth Properties (GGWPQ.PK) plans to split itself in two to exit bankruptcy, creating one company with around 200 high-quality malls and a smaller company with high-risk, high-return holdings. To do so, GGP is relying on $2.63B pledged by Brookfield Asset Management (BAM), and may also sell new stock and issue new debt. Yet even as GGP unveiled its plan, various deal maneuverings continued. Westfield Group has reportedly signed a nondisclosure agreement with GGP to begin discussions about a possible offer, while Simon Property Group (SPG), whose $10B bid was rejected, slammed GGP's new plan but reportedly signed a nondisclosure agreement as well.
Senate passes jobs bill. The Senate approved a $15B jobs bill in a 70-28 vote, an unusual show of bipartisan support as lawmakers try to breathe some life into the job market. The bill allows companies to write off certain expenses and provides tax breaks for hiring workers. Democratic senators say the bill will save or create 1.3M jobs, though some economists expect that number to be significantly lower.
Coke may snap up its largest bottler. Coca-Cola (KO) is said to be nearing a deal to buy the bulk of its largest bottler, Coca-Cola Enterprises (CCE). Coke would buy the bottler's North American operations in a deal that could be valued at around $15B, including debt. The move would be an about-face for Coke, which has spent decades setting up large, independent bottlers, and comes as PepsiCo (PEP) prepares to complete the acquisition of its two largest independent bottlers. Premarket: KO -1.1%, CCE +3.6% (7:00 ET).
Apologetic Toyoda grilled in Congress. Toyota (TM) President Akio Toyoda apologized in Congress for his company's safety lapses, but still faced a series of hostile questions from lawmakers. A Senate committee also asked a government watchdog to broaden its review of how regulators have handled Toyota's recalls in order to include how regulators have dealt with other automakers as well. Shares of Toyota rose nearly 4% in U.S. trading yesterday, as investors seemed to feel Toyoda's testimony was a potential turning point in the automaker's long road to recovery. Shares -0.4% premarket (7:00 ET).
Smaller loss at Freddie. Freddie Mac (FRE) reported a Q4 net loss of $2.39 per share, or $6.5B, including a $1.3B dividend payment to the Treasury. Its full year net loss was $21.6B, an improvement from 2008's loss of $50.1B. Though the mortgage giant said it wouldn't need additional bailout funds for the quarter and noted "some early signs of stabilization in the housing market," Freddie warned conditions could worsen as foreclosures accelerate later this year. Meanwhile, Geithner said the government would prepare a reform plan for Freddie and Fannie Mae (FNM) for 2011, a major real-estate trade group wants Fannie and Freddie turned into federally-owned non-profit organizations, and some critics say the two mortgage giants are so firmly ensconced in Washington that they're beyond reform.
No surprises from Bernanke. There were no surprises in Bernanke's testimony before the House of Representatives yesterday. In delivering his semi-annual testimony on the economy and monetary policy, he stressed that the federal funds rate "is likely to remain exceptionally low for an extended period." Despite the Federal Reserve's substantial balance sheet growth, "we are confident that we have the tools we need to firm the stance of monetary policy at the appropriate time." The job market is still quite weak, though "recent indicators suggest the deterioration in the labor market is abating." Inflation will "likely will be subdued for some time." Bernanke will testify today on the same topic before the Senate.
Bummer for Hummer. As previously rumored, Chinese regulators blocked the sale of GM's Hummer brand to Sichuan Tengzhong Heavy Industrial Machinery. As a result, GM will wind the brand down over the next several months. Chinese regulators provided limited details on the rejection, but said Sichuan Tengzhong failed to provide a reasonable purchase plan and the deal would have run counter to government efforts to encourage environmentally-friendly energy consumption.
Swiss look for solution on UBS deal. The Swiss government will turn to the country's Parliament for retroactive approval of a tax settlement reached between the U.S. government and UBS (UBS). The decision to bring the deal before Parliament follows a court ruling that called the deal illegal. The government also said it will bill UBS 1M Swiss francs ($928K) to cover part of its costs related to the case. Shares -0.5% premarket (7:00 ET).
Nearing compromise on financial reform. Legislators are making progress on a financial regulation bill, inching closer to compromise as the White House signals it's ready to agree that an existing agency, rather than a new one, can oversee consumer protection. Geithner met last night with the two senators leading the negotiations to try to arrive at a bipartisan bill.
Blockbuster on the chopping block? Blockbuster (BBI) posted a wider-than-expected loss yesterday (see details below), raising fresh concerns about its viability as a business. The company blamed its poor showing on a weak holiday season, and said it aims to reduce costs by $200M, shut down around 500 underperforming stores and raise liquidity by selling international assets. Shares fell 3.9% in after hours trading.
Greece update. As the Greek government considers new austerity measures, tens of thousands of citizens took to the streets in protest and S&P threatened to downgrade the country's long-term rating to near-junk status. Sources say Greece is getting ready to issue a 10-year bond next week, after it announces the details of its new €2B-2.5B ($2.7B-3.4B) austerity package. Despite the drama in Greece, some observers believe it's the troubles in Spain that will determine whether the eurozone stands or falls.
New home sales fall. New home sales fell 11.2% in January to 309K, a record low and short of both the 355K expected and the 342K from December. The supply of homes rose to 9.1 months from 8.1 months. Poor winter weather was partly to blame for the drop in sales, but this also marks the third consecutive month of falling sales despite sweeping government support.
Earnings: Thursday Before Open
CapitalSource (CSE): Q4 EPS of $0.76 beats by $1.07. (PR)
Ensco International (ESV): Q4 EPS of $1.24 beats by $0.01. Revenue of $500M (-17.4%) vs. $472M. (PR)
Fortress Investment Group LLC (FIG): Q4 EPS of -$0.58 misses by $0.64. Shares -1.7% premarket. (PR)
Iron Mountain (IRM): Q4 EPS of $0.27 beats by $0.03. Revenue of $779M (+3.5%) vs. $777M. (PR)
MetroPCS Communications (PCS): Q4 EPS of $0.09 beats by $0.03. Revenue of $930M (+28.6%) vs. $895M. (PR)
Mylan Laboratories (MYL): Q4 EPS of $0.33 beats by $0.03. Revenue of $1.3B (+12.2%) vs. $1.2B. (PR)
Newmont Mining (NEM): Q4 EPS of $1.13 beats by $0.34. Revenue of $2.5B (+90%) vs. $2B. (PR)
Earnings: Wednesday After Close
Avago Technologies Limited (AVGO): FQ1 EPS of $0.36. Revenue of $456M (+24%). Shares +0.3% AH. (PR)
Blockbuster (BBI): Q4 EPS of -$0.24 misses by $0.12. Revenue of $1.08B (-18%) in-line. U.S. same-store sales down 15.9%. Shares -3.9% AH. (PR, earnings call transcript)
Brandywine Realty Trust (BDN): Q4 FFO of $0.34 in-line. Revenue of $147M (-2%) vs. $139M. Shares +0.2% AH. (PR)
Brigham Exploration Company (BEXP): Q4 EPS of $0.04 beats by $0.01. Revenue of $22.7M (-13%) vs. $22.2M. Shares +2.6% AH. (PR)
Express Scripts (ESRX): Q4 EPS of $0.97 beats by $0.07. Revenue of $8.2B (+49.0%) vs. $7.4B. Guides FY10 EPS above consensus. Shares +9.5% AH. (PR)
Flowserve (FLS): Q4 EPS of $1.96 beats by $0.09. Revenue of $1.2B (+14.1%) vs. $1.11B. Shares -1.8% AH. (PR)
Health Care REIT (HCN): Q4 FFO of $0.75 in-line. Revenue of $147M (+4%) vs. $145M. (PR)
Helix Energy (HLX): Q4 EPS of -$0.04 misses by $0.08. Revenue of $180.1M (-66.3%) vs. $238M. Shares -7.9% AH. (PR)
Limited Brands (LTD): Q4 EPS of $1.01 beats by $0.03. Revenue of $3B (+2%) in-line. Same-store sales up 1%. Sees 2010 EPS of $1.40-1.60 vs. $1.41. Shares +3.9% AH. (PR)
Netease.com (NTES): Q4 EPS of $0.64 beats by $0.05. Revenue of $189M (+47.9%) vs. $179M. Shares +0.2% AH. (PR)
Salesforce.com (CRM): Q4 EPS of $0.16 beats by $0.01. Revenue of $354M (+22%) vs. $342M. Shares +2.5% AH. (PR)
TriQuint Semiconductor (TQNT): Q4 EPS of $0.14 beats by 0.01. Revenue of $193M (+11.7%) vs. $188M. Guides Q1, FY10 revenue above consensus. Shares +4% AH. (PR)
Weingarten Realty Investors (WRI): Q4 FFO of $0.42 beats by $0.01. Revenue of $142M (-2%) vs. $139M. (PR)
Today's Markets
In Asia, Nikkei -0.9% to 10102. Hang Seng -0.3% to 20400. Shanghai +1.3% to 3061. BSE -0.0% to 16254.
In Europe at midday, London -0.1% to 5338. Paris -0.3% to 3704. Frankfurt -flat at 5615.
Futures: Dow -0.36% to 10318. S&P -0.45% to 1099. Nasdaq -0.45%. Crude flat at $82.96. Gold -0.26% to $1170.90.
Thursday's Economic Calendar
8:30 Durable Goods 8:30 Initial Jobless Claims 8:35 Fed's Pianalto: Federal Economic Update 9:00 Fed's Bernanke: 'Monetary Policy and State of Economy' 10:00 FHFA Housing Price Index 10:30 EIA Natural Gas Inventory 12:30 PM Fed's Bullard: Economic Forecast Luncheon 1:00 PM 7-Yr Note Auction 4:30 PM Fed Balance Sheet 4:30 PM Money Supply
Notable earnings before Thursday's open: ARCC, BVF, BX, CDE, CSE, CTL, DPS, DT, DYN, ESV, FIG, FTO, FWLT, GNA, HNZ, IRM, KBR, KG, KSS, LINE, ME, MYL, NEM, NIHD, OCR, PCS, PXP, RRI, SIRI, SRE, SWY, TRW
Notable earnings after Thursday's close: AGO, BVN, DRYS, GPS, LEAP, LYV, NOVL, NUVA, SBAC, SD, SWN, UHS, WYNN
Seeking Alpha editors Eli Hoffmann and Jason Aycock contributed to this post.Complete Story »