Wall Street Breakfast: Must-Know News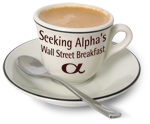 EU rolls out euro mega-fund. The European Union unveiled a staggering €750B ($966B) plan to save the eurozone from a debt contagion crisis, including €440B in loans from eurozone nations, €60B from EU emergency funds, and €250B from the IMF. The money will be available to rescue eurozone countries that become financially distressed. Additionally, the ECB will take the step of buying government bonds, previously considered the "nuclear option" of the euro defense measures under consideration, and the Federal Reserve has reopened a credit line to send dollars to Europe. The news is lifting markets globally and the euro is +0.5% against the dollar (7:00 ET), but some worry this is only a temporary fix as root causes of instability remain.
Peabody lowers Macarthur bid, mining tax worries firms. Peabody Energy (BTU) lowered its takeover bid for Macarthur Coal following Australia's proposal of a 40% mining tax. Peabody is now offering A$3.8B ($3.4B), a 6% reduction from its earlier offer. It's unlikely that Macarthur's board will accept the reduced bid, and a 2% fall in Macarthur's share price suggests investors don't believe the deal will go through. Separately, Xstrata (XSRAF.PK) has suspended copper exploration in Queensland, citing the impact of the mining tax, and BHP Billiton (BHP) warned the tax would make it difficult to approve key expansion projects. BHP +8.1% premarket (7:00 ET).
OECD points to slowdown. The global economy may be slowing down, said the OECD this morning, amid early signs that a surge in growth in China and Brazil is coming to an end. "In most OECD countries signs of slowing growth are tentative, but stronger signals have appeared in France and Italy, and some evidence of a potential halt in expansion is emerging in China and Brazil."
JPMorgan target of silver probe. Federal officials have reportedly launched dual criminal and civil investigations into whether JPMorgan (JPM) acted improperly to depress the price of silver. JPMorgan is a top derivatives holder in silver, and the probes cover the firm's trades on the London Bullion Market Association's exchange, which is a physical delivery market, and the New York Mercantile Exchange (Nymex) for future paper derivative trades. Sources said the CFTC is handling the civil charges and the Justice Department's Antitrust Division is overseeing the criminal probe. JPM +5% premarket (7:00 ET).
Lawmakers push ban on banks' betting against clients. Lawmakers are considering legislation that would prevent investment banks from betting against their own clients in many circumstances. The goal is to reduce conflicts of interest, though some industry experts warn the prohibition will be easily side-stepped unless the language used is very carefully drafted.
Costs mount as BP searches for leak solutions. The first of three containment domes that BP (BP) lowered to the ocean floor to try and stem the oil leak had to be removed after it became encased in ice crystals. "I wouldn't say it's failed yet," said one BP executive, but efforts to use the larger dome have been suspended while a second, smaller dome is being readied. Some federal officials and industry analysts have noted this isn't BP's first safety lapse, and the company continues to lag its rivals on safety matters despite repeated promises to reform. To date, the Gulf of Mexico oil spill has cost the company $350M, suggesting the final price tag may be much higher than some analysts previously forecast. BP +1.7% premarket (7:00 ET).
Safety lapses and paper profits at Transocean. Apparently, Transocean (RIG) has made a $270M profit from insurance payouts on the oil rig that exploded in the Gulf of Mexico. The $560M insurance policy Transocean took out on the Deepwater Horizon rig was greater than the value of the rig itself, and the profit more than covers the $200M Transocean is expected to pay out over the disaster. Meanwhile, while it touts its safety record, a closer look shows that Transocean has been involved with nearly 75% of deepwater rig incidents that prompted federal investigations since 2008. RIG +3.8% premarket (7:00 ET).
Moody's may face SEC action. In its quarterly report, released late Friday, Moody's (MCO) disclosed it received a Wells Notice from the SEC in March, and may face enforcement action for misleading regulators in a 2007 license application to remain an officially recognized credit-rating firm. The SEC's allegations that Moody's failed to adhere to the policies listed in its application is just the latest setback for Moody's, which has dealt with heavy criticism over its failure to properly rate mortgage-related securities.
China returns to surplus. China returned to a trade surplus in April after posting a deficit in March, but the surplus is down 87% from the year before as imports grew faster than exports. Though the return to surplus happened more quickly than many analysts had expected, the 79% decline in the trade surplus in the first four months of the year vs. the same period in 2009 may reduce the pressure on China to allow the yuan to appreciate.
Prudential may boost capital for AIA deal. Prudential (PUK) may boost its capital reserves by around £1B ($1.5B) to get U.K. regulators to approve its purchase of AIG's (AIG) Asian unit. Sources said Prudential is likely to get regulatory approval in the next few days, allowing the firm to move forward on the $21B rights offering it delayed last week. Premarket: PRU +4.25%, AIG +5.9% (7:00 ET).
Goldman nears Extended Stay financing deal. Goldman Sachs (GS) is reportedly close to a deal to provide $2.2B in financing to a group bidding for hotel chain Extended Stay, with around $1B coming from Citigroup (C), Goldman's partner in the deal. If it goes through, the financing package will be the latest reflection of how big banks are trying to get back into commercial real-estate lending, and would be an unusually large sum for this early in the market recovery cycle. GS +3.9% premarket (7:00 ET).
Sony may bid for EMI. Sony Music (SNE) may make a bid for British rival EMI Group, because it's "in a position that allows us to seize every opportunity in the market - including EMI." The asking price for EMI is reportedly around £360M ($557M). Sony Corp. said this morning it expects to post a net loss of ¥41B ($441M) for the fiscal year ended in March, an improvement from an earlier forecast of a ¥70B loss.
Friday's failures. Four more banks were closed on Friday, bringing this year's failures to 68 so far. The closures in Florida, Minnesota, Arizona and California will cost the FDIC's insurance fund an estimated $213.7M. If this pace continues, 2010 will comfortably surpass the 140 closures of 2009.
Earnings: Monday Before Open
Broadridge Financial (BR): Q3 EPS of $0.22 beats by $0.01. Revenue of $491M (+5.8%) vs. $512M. (PR)
DISH Network (DISH): Q1 EPS of $0.52 beats by $0.02. Revenue of $3.1B (+5.2%) in-line. (PR)
Dynegy (DYN): Q1 EPS of $0.24 may not be comparable to cnosensus of -$0.10. Revenue of $858M (-5.1%) vs. $584M. (PR)
NRG Energy (NRG): Q1 EPS of $0.22 misses by $0.09. Revenue of $2.2B (+33.6%) in-line. (PR)
Watson Pharmaceuticals (WPI): Q1 EPS of $0.81 beats by $0.07. Revenue of $857M (+28.3%) vs. $829M. (PR)
Today's Markets
In Asia, Japan +1.6% to 10530.7. Hong Kong +2.5% to 20427. China +0.4% to 2699. India +3.4% to 17331.
In Europe, at midday, London +4.8%. Paris +8.6%. Frankfurt +4.4%.
Futures: Dow +3.7%. S&P +4.3%. Nasdaq +4.3%. Crude +3.3% to $77.59. Gold -1.45% to $1192.90.
Monday's Economic Calendar
7:00 BoE Announcement 10:00 Employment Trends Index
Notable earnings before Monday's open: ARCC, BR, DF, DISH, DYN, HPT, IDC, KWK, LPX, NRG, SHO, TSN, WPI
Notable earnings after Monday's close: AGO, FLR, LM, MBI, MDR, NUAN, PAAS, PCLN, PSYS, SLXP, TWTC, WRC
Seeking Alpha editors Eli Hoffmann and Jason Aycock contributed to this post.Complete Story »