Wall Street Breakfast: Must-Know News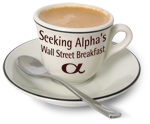 BHP subject of corruption probe. BHP Billiton (BHP) said today that following an information request from the SEC the company has found "possible violations of applicable anti-corruption laws involving interactions with government officials." The company didn't disclose the location of the projects in question, but said it wasn't related to business in China and that the firm is cooperating fully with authorities. The SEC couldn't "confirm or deny the existence or non-existence of any investigation," but sources said an investigation began in August 2009. BHP -1.6% premarket (7:00 ET).
TARP watchdog probes Goldman role in AIG losses. Neil Barofsky, the special inspector general for TARP, plans to investigate whether securities sold by Goldman Sachs (GS) led to losses at AIG (AIG) and, by extension, if U.S. taxpayers were the victims of fraud. Barofsky is in touch with the SEC and may coordinate with the Justice Department as well. Separately, Barofsky said he may also launch a broader audit of BlackRock's (BLK) role in TARP. Premarket: GS -0.3%, AIG +0.2% (7:00 ET).
Regulators may rethink repo accounting. The Financial Accounting Standards Board, which is in charge of setting U.S. accounting rules, may change repo accounting methods after the SEC finishes its examination of the accounting practices at the 19 largest U.S. banks. In a letter to the House Financial Services Committee, FASB Chairman Robert Herz said the board will "work closely" with the SEC on determining whether any changes are necessary. Repo accounting has recently been in the spotlight after a bankruptcy examiner said the accounting trick led to the collapse of Lehman Brothers (LEHMQ.PK).
SEC could bring Lehman charges. Former SEC chairman Christopher Cox said the SEC could potentially file charges against Lehman Brothers (LEHMQ.PK) after a bankruptcy examiner's report showed the firm "filed misleading financial reports and failed to disclose material accounting information." Cox, who was chairman of the SEC when Lehman filed for bankruptcy in September 2008, also said that neither the SEC nor the Federal Reserve were aware of Lehman's use of Repo 105 transactions.
SEC may create new debt rules for banks. Testifying before lawmakers yesterday, the SEC's Mary Schapiro said the agency is considering new rules that would prevent financial firms from temporarily lowering their debt levels immediately before quarterly reporting deadlines as a way to mask their true risk exposure. If done intentionally, the practice violates existing guidelines, but the SEC may require stricter disclosures, and could extend the rules to all companies instead of just to banks. Recent media reports have shown that 18 large banks lowered a specific kind of debt at the end of each of the past five quarters by an average of 42% from quarterly peaks.
Banks boost lobbying ahead of reform legislation. Banks are spending more money on donations and lobbying as lawmakers prepare to vote on financial reform legislation as soon as this week. Six of the top ten U.S. banks, including Goldman Sachs (GS), JPMorgan (JPM) and Morgan Stanley (MS), increased their donations to lawmakers in the last month. Goldman, Bank of America (BAC) and U.S. Bancorp (USB) were among seven banks that increased their lobbying in the first three months of the year, and the U.S. Chamber of Commerce doubled its lobbying spending in the first quarter.
IMF calls for taxes on banks. The IMF advised G-20 nations to tax the balance sheets, profits and compensation of financial firms in order to reduce the likelihood of another financial crisis and to cover the costs should a crisis occur. The IMF recommended that the tax, called a "Financial Stability Contribution," seek to raise between 2-4% of GDP over time, or roughly $1T-2T if all G-20 nations adopt the tax. Additionally, the IMF revised its forecast for global bank losses from the financial crisis. It now expects losses to total $2.28T, a drop of $533B from the estimate it made in October.
Live Nation faces breach-of-contract claim. In an 8-K filing, Live Nation Entertainment (LYV) disclosed that it faces a breach-of-contract claim by German ticketing firm CTS Eventim. Live Nation said the claims are "without merit and inconsistent with the terms of the CTS agreement," but warned that if the matter is resolved in CTS' favor, it could prevent the recently merged company from realizing "the full operational efficiencies that the combined company might otherwise obtain." LYV shares closed -3.15% in after hours trading.
EADS takes on Boeing in tanker bid. Airbus parent EADS (EADSF.PK) plans to compete directly against Boeing (BA) for a $50B U.S. military refueling plane contract. Ralph Crosby, chairman of EADS North America, called it "a hell of an opportunity," but analysts warn it will likely be an uphill fight for EADS, as "Boeing has put significant political capital into securing this win."
Google may buy travel software firm. Google (GOOG) is said to be in talks to acquire airline IT and services provider ITA Software Inc. in a deal that could cost as much as $1B. Negotiations may still fall apart, but a successful purchase would allow Google to use ITA Software's tools to help users find online flight information, helping Google compete with travel-search features offered by Microsoft (MSFT).
Hedge fund assets back on top. Assets managed by the global hedge fund industry are just 2% below their previous all-time high reached in October 2007. Hedge funds collectively manage around $1.67T of assets, and the average hedge fund saw compounded gains of 24.55% last year, making 2009 the industry's best year in a decade.
Volcano flight ban draws to an end. London's Heathrow airport became the last major European terminal to re-open after a six-day flight ban following the eruption of a volcano in Iceland. The ash cloud that shut down air travel has cost airlines an estimated $1.7B in lost revenue, and more than 100,000 flights were canceled.
Confidence dips down. ABC's Consumer Comfort Index dropped 3 points to -50, matching a 2010 low and not far above its all-time low of -54. Positive ratings of the national economy held steady at 8%, but those who think it's a good time to buy things slipped to 24% and positive ratings of personal finances slipped to 43% from 47%.
Earnings: Wednesday Before Open
Covidien (COV): Q1 EPS of $0.88 beats by $0.05. Revenue of $2.7B (-4.9%) in-line. (PR)
Elan (ELN): Q1 EPS of $0.00 beats by $0.04. Revenue of $310.5M (+26.7%) vs. $298.6M. (PR)
EnCana (ECA): Q1 EPS of $0.39 beats by $0.07. Revenue of $3.5B (-3.7%) vs. $1.7B. (PR)
Huntington Bancshares (HBAN): Q1 EPS of $0.00 beats by $0.15. (PR)
KeyCorp (KEY): Q1 EPS of -$0.11 beats by $0.19. (PR)
Knight Capital Group (NITE): Q1 EPS of $0.30 misses by $0.04. Revenue of $284.2M (+15.8%) vs. $302.1M. (PR)
Lockheed Martin (LMT): Q1 EPS of $1.45 beats by $0.11. Revenue of $10.6B (+2.5%) in-line. (PR)
Earnings: Tuesday After Close
Altera (ALTR): Q1 EPS of $0.50 beats by $0.10. Revenue of $402M (+52.0%) vs. $397M. Guides Q2 revenue above consensus. Shares +0.1% AH. (PR)
Apple (AAPL): FQ2 EPS of $3.33 beats by $0.88. Revenue of $13.5B vs. $12B. Sees Q2 EPS of $2.28-2.39 vs. $2.70, on revenue of $13B-13.4B vs. $12.97B. Sold 2.94M Macs (up 33%), 8.75M iPhones (up 131%), 10.89M iPods (down 1%). Shares +5.4% premarket (7:00 ET). (8-K)
Fulton Financial (FULT): Q1 EPS of $0.13 in-line. Net interest income of $138.5M (+12%). Shares +0.2% AH. (PR)
Gilead Sciences (GILD): Q1 EPS of $0.99 beats by $0.03. Revenue of $2.09B (+36%) vs. $2.07B. (PR)
Juniper Networks (JNPR): Q1 EPS of $0.27 beats by $0.01. Revenue of $913M (+19.4%) vs. $906M. Shares -6.6% AH. (PR)
Nabors Industries (NBR): Q1 EPS of $0.21 in-line. Revenue of $906M (-20.1%) vs. $878M. (PR)
NuVasive (NUVA): Q1 EPS of $0.21 in-line. Revenue of $109M (+36.4%) vs. $108M. Shares -3.5% AH. (PR)
South Financial (TSFG): Q1 EPS of -$0.40 beats by $0.09. Non-performing loans down; potential problem loans up to $944M from $936M Q/Q, $554 Y/Y. Shares -27.6% AH. (PR)
Synovus Financial (SNV): Q1 EPS of -$0.47 beats by $0.02. Net charge-offs down $46M, non-performing assets up $11.5M from Q4 2009. Shares -8.4% AH. (PR)
Today's Markets
In Asia, Nikkei +1.7% to 11090. Hang Seng -0.5% to 21511. Shanghai +1.8% to 3033. BSE +0.1% to 17473.
In Europe at midday, London -0.9% to 5730. Paris -0.8% to 3996. Frankfurt -0.3% to 6244.
Futures: Dow -0.3%. S&P -0.2%. Nasdaq +0.3%. Crude +0.4% to $84.16. Gold +0.5% to $1144.50.
Wednesday's Economic Calendar
7:00 MBA Mortgage Applications 10:30 EIA Petroleum Status
Notable earnings before Wednesday's open: AAI, ABT, AMB, BA, CMA, COV, DGX, ECA, ELN, EMC, FCX, GENZ, HBAN, KEY, LH, LMT, MAN, MCD, MCO, MO, MS, NITE, NYB, STI, STJ, T, TIN, UTX, WFC
Notable earnings after Wednesday's close: ACF, ADS, AFFX, AMGN, CPX, CTXS, CVA, CYH, EBAY, ETFC, FFIV, FNF, HCBK, ISIL, LEG, LRCX, MEE, NE, NFLX, NVLS, PLCM, PTV, QCOM, SBUX, SLM, SNDK, TER, TEX, URI, VRTX
Seeking Alpha editors Eli Hoffmann and Jason Aycock contributed to this post.Complete Story »