Wall Street Breakfast: Must-Know News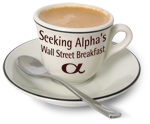 Fed surprises with discount rate hike. Late Thursday, the Fed unexpectedly raised the discount rate to 0.75% from 0.5%, a move it hopes will encourage banks to borrow from the private market. The Fed said the increase, the first in the discount rate in over three years, doesn't reflect a change in monetary policy and is "not expected to lead to tighter financial conditions for households and businesses." Despite those assurances, the news sent stock futures and bond prices down, and the dollar rose against the euro. Economists noted that the announcement of the move ahead of the normal Fed meeting reinforces how separate this spread normalization is from monetary policy.
Schlumberger looks to buy Smith International. Schlumberger (SLB) is said to be in advanced talks to acquire Smith International (SII), with an announcement possible in the coming days. A deal, which could be worth around $9B, would create an oil-services giant with twice as much revenue as nearest rival Halliburton (HAL).
General Growth snubs Simon bid. General Growth Properties (GGWPQ.PK) turned down Simon Property Group's (SPG) $10B bid, saying its "objectives are not aligned with ours." Sources say Simon is now in talks with Blackstone (BX) and sovereign wealth funds to raise the stakes in a new bid, while General Growth is reportedly looking to raise $1B-2B from public markets to fund an independent exit from bankruptcy.
MSFT, Yahoo search deal gets approved. U.S. and European regulators approved Microsoft's (MSFT) plan to buy Yahoo's (YHOO) search business, noting the tie-up wouldn't lessen competition and would "enable more rapid improvements in the performance" of Microsoft's search technology. The deal was approved without any restrictions, allowing the companies to put many of the deal's features in place within days and paving the way for Microsoft to accelerate its showdown with Google (GOOG).
Zenith gets a fair deal. Canadian insurer Fairfax Financial Holdings agreed to buy the shares of Zenith National Insurance (ZNT) it doesn't already own for $38 per share, a 31% premium to Wednesday's close. The deal values Zenith, which provides workers' compensation insurance, at about $1.4B. Zenith's shares rose 31% in trading yesterday.
Lewis testimony bolsters NY AG's claims. In an October 2009 deposition, former Bank of America (BAC) CEO Ken Lewis told the SEC that he was briefed twice about legal decisions not to disclose Merrill Lynch's growing losses ahead of a shareholder vote on the acquisition. This could strengthen New York Attorney General Andrew Cuomo as he tries to prove Lewis committed securities fraud by not disclosing the losses even though he was aware of them. Lewis said in the deposition that he didn't feel qualified at the time to decide what would or wouldn't be disclosed.
Capital One settles fees complaint. Capital One Financial (COF) reached an agreement with U.S. regulators to reimburse around $775,000 to consumers. The settlement covers complaints that Capital One charged fees on accounts with no outstanding balances after consumers asked for the accounts to be closed.
Icahn far from blue over hotel deal. Carl Icahn took ownership of the Fontainebleau hotel in Las Vegas yesterday and paid its bankrupt owner around $104.6M in cash. Icahn also forgave around $49M of debtor-in-possession financing. The unfinished 3,800-room casino resort has already cost $2B, and some estimate it will cost another $1.6B to complete the project. Icahn also commented yesterday on his tender offer for shares of Lions Gate Entertainment (LGF), saying he's not trying to take control of the company and just wants to have more say when it comes to the studio's potential acquisitions.
Google goes electric. The Federal Energy Regulatory Commission approved Google's (GOOG) request to become an electricity marketer, allowing it to buy and sell bulk power like a utility. Google has said it has no plans to sell energy management services or speculate in energy markets, but a spokeswoman acknowledged the company isn't completely sure how it will proceed. Separately, a federal judge delayed his ruling on Google's amended settlement to digitize millions of books, saying he first wants to hear oral arguments from as many as 28 parties. A ruling may still be several months away.
Toyota chief to testify in Congress. Toyota (TM) President Akio Toyoda reversed his earlier position, agreeing to appear before Congress next week in order to explain matters "in all sincerity." Separately, lawmakers issued a subpoena for all the Toyota safety-related documents in the possession of Dimitrios Biller, a former in-house lawyer. Biller is suing Toyota and its executives for conspiring to "unlawfully withhold and conceal evidence from plaintiffs and obstruct justice in lawsuits against Toyota throughout the United States."
New financial reform bill coming. Senate Banking Committee Chairman Christopher Dodd will introduce a new financial reform bill next week, which may bridge the bipartisan divide on financial rules and speed up a system overhaul. Among other things, the bill establishes a council of regulators to monitor emerging risks to the economy, creates a new banking regulator to oversee nationally chartered financial firms, requires increased transparency for certain financial products and creates a mechanism to break up troubled financial firms without bailing them out.
China eyes new oil acquisitions. CNOOC (CEO) and China Petroleum & Chemical Corp., also known as Sinopec (SNP), may bid as much as $3B for a Devon Energy (DVN) stake in an Azerbaijan oil field, say sources close to the matter. A Chinese purchase would be the latest in an $18B string of energy acquisitions since December 2008.
Dell beats, sees improved corporate spending. Dell (DELL) narrowly beat estimates when it released its Q4 earnings results yesterday (see details below), amid early signs that businesses are getting ready to start buying new computers again. Consumers buying low-cost laptops and netbooks helped increase Dell's PC shipments by 29%, but Dell's profit margin was lower than expected. Shares traded down 5.9% in after-hours trading.
Philly Fed improves. The Philadelphia Fed Business Outlook improved in February to 17.6 vs. 15 expected and 15.2 in January. New orders rose to 22.7 vs. 3.2 prior. Inventory turned positive, registering 3.2 vs. -1.6 prior. Shipments increased to 19.7 vs. 11 prior. Firms expect continued growth through the first half of 2010.
Jobless claims rise. Initial jobless claims rose +31K to 473K, higher than the 445K expected. Continuing claims were unchanged at 4,563,000. Emergency unemployment claims spiked by 305K to 5.8M - another new high for the current economic downturn. While standard benefit recipients are down about 350K from a year ago to 5.5M, emergency claimants are more than triple the year-ago level of 1.9M - a sign of just how hard it is for the jobless to find work.
Earnings: Friday Before Open
Huntsman (HUN): Q4 EPS of $0.27 beats by $0.39. Revenue of $2.1B (+2.3%) vs. $1.97B. (PR)
Earnings: Thursday After Close
Bucyrus International (BUCY): Q4 EPS of $1.07 beats by $0.15. Revenue of $646M (-11%) vs. $624M. Shares -2.6% AH. (PR)
CBS (CBS): Q4 EPS of $0.25 in-line. Revenue of $3.5B (flat) in-line. Each quarter in '09 improved on the last, says CEO Les Moonves; "The good news is, the rising revenue trends are continuing into 2010." TV network is No. 1 and up in key demos; national and local ads improving. (PR, earnings call transcript)
Dell (DELL): Q4 EPS of $0.28 beats by $0.01. Revenue of $15B (+11%) vs. $13.9B. Commercial business returned in Q4, especially enterprise IT solutions. Cash flow from operations $1.3B; product shipments up 16% (+18% in small and medium business; +29% in consumer). Gross margin (non-GAAP) 17.4% of revenue. Shares -2% AH. (PR, earnings call transcript)
Developers Diversified Realty (DDR): Q4 FFO of $0.31 misses by $0.02. Revenue of $209.5M (-4%) vs. $201M. Shares -0.1% AH. (PR)
Energy Transfer Partners L.P. (ETP): Q4 EPS of $0.91 beats by $0.16. Revenue of $1.5B (-16%) vs. $1.7B. Shares +0.1% AH. (PR)
First Solar (FSLR): Q4 EPS of $1.65 beats by $0.13. Revenue of $641M (+47.9%) vs. $581M. Guides FY10 EPS, revenues in-line. Shares -7.2% AH. (PR, earnings call transcript)
Ingram Micro (IM): Q4 EPS of $0.61 beats by $0.09. Revenue of $8.81B (+1.4%) vs. $8.35B. Shares -1.5% AH. (PR, earnings call transcript)
Intuit (INTU): FQ2 EPS of $0.38 beats by $0.06. Revenue of $837M (+8%) vs. $814M. Sees full-year EPS of $1.97-2.04 vs. $1.95. Shares +6% AH. (PR, earnings call transcript)
Senior Housing Properties Trust (SNH): Q4 FFO of $0.41, in-line. Revenue of $87M (+19.7%) vs. $83M. (PR, earnings call transcript)
Today's MarketsOverseas markets were mostly lower Friday.Complete Story »