Wall Street Breakfast: Must-Know News
SA Editor Eli Hoffmann submits: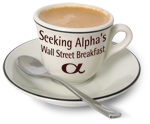 Fed's foot still on the brakes. Minutes from the most-recent FOMC meeting suggest the Fed could keep target interest rates near zero for even longer than investors anticipate if the outlook worsens or inflation drops. Minutes from the March 16 meeting indicated most board members were in no hurry to raise rates, and still have some concerns over the U.S. economic recovery. KC Fed's Hoenig again dissented, advocating for a more flexible commitment to keep rates low "for some time" rather than the "for an extended period" formulation that appeared in the Fed's statement.
Eurozone recovery hits a snag. Eurozone growth came to an unexpected halt in Q4 on weak consumer spending stagnated and investment spending. Eurostat had previously pegged Q4 growth at 0.1%, but in its final estimate said output was unchanged from Q3, while output in seven of 16 member nations actually fell. Looking forward, recent business surveys indicate that the eurozone economy grew in Q1, with private sector growth at its strongest rate in 31 months, fueled by a surge in Germany.
Macarthur snubs Peabody bid. Macarthur Coal rebuffed Peabody Energy's (BTU) second bid to acquire the company, saying the A$14/share offer was unattractive. Macarthur recommended its shareholders back an alternative plan to take over smaller rival Gloucester Coal, and give a 25% stake in Macarthur to Gloucester's main shareholder, Noble Group. A Peabody spokesman said the company will continue to attempt to engage the Macarthur board "in what we feel is a far superior bid to the Noble bargain basement price that is under consideration right now," but would not say whether Peabody would make another offer before Monday, when shareholders meet to vote on the Gloucester plan.
Goldman: We didn't bet against clients. In its annual report released this morning, Goldman Sachs (GS) denied it bet against clients in the mortgage-derivatives market, adding that most of its successful bets against residential mortgage-related products only helped the firm lose less money in the collapse, but did not generate profits. Goldman also gave thanksgiving to world governments for stepping in and protecting the global financial system from complete collapse, "and we recognize that our firm and our shareholders benefited from it."
China appears to be preparing for yuan rise. Treasury Secretary Geithner will hold talks in Beijing tomorrow amid new signals that Beijing might be paving the way to let the yuan rise. China's top economic planner, the National Development and Reform Commission (NDRC), said China would monitor exchange rate risks facing exporters, and suggested keeping the yuan "basically stable at a balanced and reasonable level." An economist from the agency also said Beijing should edge towards a more flexible yuan.
SEC to mull ABS clampdown. An SEC open-meeting this morning will consider whether to propose new rules to force issuers of asset-backed securities to retain 5% of the credit risk, and to disclose in-depth information on every loan in a mortgage-backed security. The proposal comes as regulators try to revive a securitization market that dried up during the financial meltdown. The FDIC is expected to provide "safe harbor" protection to securitized assets for which issuers provide better disclosure and underwriting.
Comcast deals FCC Net Neutrality blow. Comcast (CMCSA) won a key verdict against the FCC after a federal appeals court ruled the government agency does not have the authority to force Comcast to refrain from constraining the bandwidth allotted to traffic-intensive downloads like movies. The court said the FCC failed to show that it had the necessary authority to impose such restrictions. The ruling is a blow to the so-called Net Neutrality initiative, which believes all internet traffic should be treated equally.
Putting HFT on a leash. Sources say the SEC may formulate a plan to improve oversight of high-frequency trading by keeping track of executed transactions by giving firms unique identifiers that would tag every trade. Regulators are trying to get a better handle on so-called HFT, which is currently estimated to account for about 40% of all U.S. futures trading.
Time to buy a house? Nearly two-thirds of Americans think the time is right to buy a house, and that prices will be the same or higher over the coming year, according to a Fannie Mae survey. The 64% of respondents that said it's a good time to buy is just shy of the 66% that said the same thing in 2003. But most also said that it would be tougher for them to get a loan than it was for their parents. The survey notes most Americans still "strongly believe" in upholding their financial commitments, though that weakens once people know someone who is defaulting.
Chicago Fed manufacturing slips. Midwest manufacturing tapered off in February, largely due to a decline in auto production, the Chicago Fed reported Tuesday. The Midwest Manufacturing Index fell 0.8% to 82.6, paring back a 2% gain in January. Compared to a year ago, the index was -0.5% in the midwest, and 2% higher nationwide.
Fisher sees no price pressures. Dallas Fed President Richard Fisher - previously known as an inflation hawk - believes the global economy is burdened by such large amounts of unused industrial capacity and idle labor that consumer prices face little risk of shooting higher. "Because of the enormous slack in the system, and as you know I tend to be very vigilant about inflation, we're just not seeing price pressures right now," Fisher said in an interview yesterday. "If anything, the tail risks are on the deflationary side."
FTC may challenge Google/AdMob combo. Sources say the FTC is preparing to challenge Google's (GOOG) proposed $750M acquisition of mobile-ad provider AdMob on antitrust grounds. The FTC reportedly sent letters to AdMob's competitors asking them to testify about the potential impact of the purchase, and has assembled an internal team of litigators if it decides to block the deal. Many analysts believe that mobile search will eclipse traditional search traffic in coming years. "It is therefore of vital importance to be wary of any transaction that would create undue market dominance of search- or application-based advertising on mobile devices such as smart phones," Sen. Herb Kohl, a vehement opponent of the deal, wrote in a letter to the FTC Tuesday.
Earnings: Wed. Before Open
Family Dollar Stores (FDO): FQ2 EPS of $0.81 beats by $0.03. Revenue of $2.1B (+4.9%) in-line. (PR)
Today's MarketsAsian markets rose Wednesday. European stocks are marginally lower, and U.S. stock futures indicate a soft open.Complete Story »