Wall Street Breakfast: Must-Know News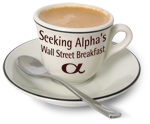 Toyota may recall Corolla, faces new probe. U.S. regulators began investigating the power steering on Toyota's (TM) Corolla, prompting Toyota to say it may recall the world's top-selling car if a safety issue is found. The National Highway Traffic Safety Administration investigation is expected to cover around 500,000 vehicles from 2009 and 2010.
BofA merger discrepancies delay settlement. Judge Jed Rakoff will rule on a $150M settlement between Bank of America (BAC) and the SEC on Monday, instead of tomorrow, as he tries to reconcile "striking" differences in events leading up to the Merrill Lynch merger. Rakoff has asked New York Attorney General Andrew Cuomo to provide testimony by five people involved in the merger, and in particular is trying to determine whether Timothy Mayopoulos, BofA's former general counsel, was pushed out because of his concerns over Merrill's losses. If the amended settlement is rejected, a trial will begin March 1.
Simon says speed it up to General Growth. Simon Property Group (SPG) heightened the pressure on General Growth Properties (GGWPQ.PK) to accept its $10B bid, threatening to walk away or go hostile unless General Growth starts discussing the offer soon. "Our offer is not open-ended," wrote Simon Property CEO David Simon in a letter to General Growth, "and we have a number of other opportunities under consideration. We sincerely hope you will engage seriously with us without further delay" rather than simply "pay lip service to time being of the essence."
Apple, RIM face patent infringement probe. The U.S. International Trade Commission has opened an investigation of Research In Motion (RIMM) and Apple (AAPL) smartphones with digital cameras, following a complaint by Eastman Kodak (EK). Kodak, which says the phones are a patent infringement, filed a complaint with the ITC on Jan. 14.
Bubbling approval for PepsiCo merger. Shareholders of both Pepsi Bottling Group (PBG) and PepsiAmericas (PAS) overwhelmingly approved a merger with PepsiCo (PEP), with 81% and 86.5% of voters in favor of the $7.8B deal, respectively. The merger consolidates PepsiCo's control over North American sales, and could put some pressure on Coca-Cola (KO) to follow suit with a similar move.
Blockbuster gets downgraded. S&P downgraded Blockbuster (BBI) two notches to CCC yesterday, calling the company "vulnerable to default," though it has adequate near-term liquidity. S&P assigned the company a negative outlook, indicating another rating cut is possible in the next 12-18 months, on their view that "performance will remain very challenged and our concern that Blockbuster will not be able to transform its business model over the near term, as we had expected."
Walgreen picks up Duane Reade. Walgreen (WAG) announced yesterday that it plans to buy drugstore chain Duane Reade in an all-cash deal valued at $1.075B, including debt. The deal will lift Walgreen, the largest U.S. drugstore operator, into the top spot in New York City, and puts pressure on rival CVS Caremark (CVS) to make an acquisition that will accelerate growth. Rite Aid (RAD), which lags a distant third behind Walgreen and CVS in terms of marketshare, could be a possible target of a CVS bid.
AIG to keep part of derivatives portfolio. AIG (AIG) plans to keep up to a quarter of a derivatives portfolio from its AIG Financial Products, the unit responsible for the insurer's near collapse. A spokesman said AIG decided it no longer wanted to sell these derivatives, which have $300B-$500B in notional value, because they have been de-risked and have potential upside as the markets improve. Shares -1.2% premarket (7:00 ET).
Sticking up for the middlemen. New York City Comptroller John Liu will propose today a partial lifting of the ban on placement agents, which will allow middlemen registered with the SEC or Finra to do business with city pension funds. The ban was implemented last year following a kickback scandal. Placement agents will also have to show they raised $500M in at least two of the previous three years from outside New York City.
FOMC debates how, when to sell assets. The Federal Reserve released minutes from the FOMC meeting in January, showing general agreement on a moderate growth forecast despite a weak labor market. There was less consensus on asset sales; a majority of the Fed's voting members favored gradual sales, but some felt sales should begin sooner. The committee considered raising the discount rate by 25 basis points as part of an effort to normalize liquidity. The spread between primary credit and the top of the federal funds rate range had narrowed from 100 bp to 25 as the crisis emerged, and the Fed considered extending it back to 50 bp at this meeting.
Barnes & Noble burns Burkle. In a letter included in its 8-K, Barnes & Noble (BKS) rejected a request by activist investor Ron Burkle to waive poison-pill provisions created in November, preventing Burkle from nearly doubling his stake in the company to 37%. The provisions, which kick in at 20%, were instituted following Burkle's rapid accumulation of an 18.7% stake.
American Eagle faces safety fine. AMR (AMR) is facing a $2.9M civil penalty from the Federal Aviation Administration on allegations of maintenance violations at American Eagle, its commuter unit. American Eagle said the issue is over the technical wording of a directive and is "not a safety of flight issue." Two weeks ago, the FAA proposed a fine of nearly $2.5M against American Eagle for flights that took off despite exceeding weight limitations, and AMR's American Airlines is also at risk of a FAA civil penalty of as much as $10-20M because of maintenance lapses.
Nuclear power project moves forward. A nuclear-power joint venture owned by NRG Energy (NRG), Toshiba (TOSBF.PK) and a Texas utility ended a legal dispute yesterday, paving the way for one of the first new U.S. nuclear-power projects in decades to move forward. The Texas utility had filed a $32B lawsuit in December to reduce its stake in the project; under the new settlement, the utility will hold a 7.6% stake, down from 50%, while the joint venture will keep a 92.4% stake.
SocGen posts profit. Societe Generale (SCGLY.PK) reported a Q4 net profit of €221M ($303.4M) this morning, up from €87M a year earlier and beating estimates of €150M. The bank expects to see improved results in 2010 with lower bad-risk writedowns. The dividend was cut to €0.29 from €1.2.
IMF starts major gold sale. The IMF plans to start selling 191.3M metric tons of gold in the open market as part of a plan announced last year to diversify its sources of income and increase its resources. To avoid disrupting the gold market, the sales "will be conducted in a phased manner over time." The IMF has already sold 212 metric tons of gold to central banks in private deals, and didn't rule out additional direct sales to central bank and other official holders.
Weather hurts retail sales. ICSC retail store sales were down 1.6% from the previous week, vs. +1.4% the week before. Sales were down 0.7% Y/Y, vs. +1.8% the week before. The declines were partly due to heavy weather. According to Redbook, sales were up 1.8% Y/Y vs. +2% last week. Heavy weather hurt these sales too, especially in the run up to Valentine's Day, but led to strong demand for basic supplies and cold weather goods.
Housing starts rise. Housing starts were up 2.8% in January to 591K, beating the 590K expected and the 557K registered last month. However, permits fell 4.9% to 621K vs. 633K expected and 653K last month.
Earnings: Thursday Before Open
Barrick Gold (ABX): Q4 EPS of $0.61 beats by $0.04. Revenue of $2.3B (+12.6%) in-line. (PR)
Incyte (INCY): Q4 EPS of -$0.41 misses by $0.05. Revenue of $6.8B (+632%) vs. $2.5B. (PR)
Nexen (NXY): Q4 EPS of $0.49 misses by $0.01. Revenue of $1.5B (+22%) vs. $1.4B. (PR)
Patterson Companies (PDCO): FQ3 EPS of $0.47 in-line. Revenue of $820M (+1.1%) vs. $832M. (PR)
Earnings: Wednesday After Close
Advance Auto Parts (AAP): Q4 EPS of $0.39 misses by $0.07. Revenue of $1.14B (-4.0%) vs. $1.15B. Doubles share buyback to $500M. Shares -6.1% AH. (PR)
Agnico-Eagle Mines (AEM): Q4 EPS of $0.32 beats by $0.07. Revenue of $232M (+537%) vs. $244M. Shares -0.8% AH. (PR)
Analog Devices (ADI): FQ1 EPS of $0.43 beats by $0.05. Revenue of $603M (+5.5%) vs. $575M. Guides Q2 EPS, revenues above consensus. Shares +2.2% AH. (PR, earnings call transcript)
Applied Materials (AMAT): FQ1 EPS of $0.13 in-line. Revenue of $1.85B (+39%) vs. $1.75B. Sees Q2 EPS of $0.17-0.25 vs. $0.15. Shares +0.9% AH. (PR, earnings call transcript)
Avis Budget Group (CAR): Q4 EPS of -$0.25 beats by $0.03. Revenue of $1.16B (-8.0%) vs. $1.18B. Shares -7.6% AH. (PR)
Career Education (CECO): Q4 EPS of $0.36 beats by $0.03. Revenue of $508M (+19.4%) vs. $497M. Shares +1.1% AH. (PR, earnings call transcript)
Chesapeake Energy (CHK): Q4 EPS of $0.77 beats by $0.07. Revenue of $2.2B (-26%) vs. $2B. Shares -0.9% AH. (PR)
Cliffs Natural Resources (CLF): Q4 EPS of $0.82 may not be comparable to estimate of $0.39. Revenue of $821M (-10%) vs. $873M. Sees fiscal 2010 capex of about $200M. Shares +1.3% AH. (PR)
Community Health Systems (CYH): Q4 EPS of $0.70 beats by $0.01. Revenue of $3.09B (+11.1%) vs. $3.08B. Shares +0.6% AH. (PR)
Hewlett-Packard (HPQ): FQ1 EPS of $1.10 beats by $0.04. Revenue of $31.2B (+8%) vs. $30B. Raises 2010 EPS outlook to $4.37-4.44 vs. $4.37. Sees Q2 EPS of $1.03-1.05 vs. $1.03, on revenue of $29.4B-29.7B vs. $29B. Revenue was up 9% in Americas to $13.6B. Europe/Middle East/Africa: up 1% to $12.1B. Asia Pacific: up 26% to $5.4B. Revenue from outside U.S. was 65% of total; BRIC revenue (up 41% Y/Y) was 10% of total. CEO Mark Hurd: "The strength of our portfolio, leaner cost structure and accelerating market momentum give us the confidence to raise our full-year outlook." Shares +1.1% AH. (PR, earnings call transcript)
Key Energy (KEG): Q4 EPS of -$0.11 beats by $0.02. Revenue of $268M (-44%) vs. $242M. Shares +2.1% AH. (PR)
Kinross Gold (KGC): Q4 EPS of $0.21 beats by $0.05. Revenue of $699M (+44%) vs. $663M. Shares -1% AH. (PR)
Las Vegas Sands (LVS): Q4 EPS of $0.03 in-line. Revenue of $1.3B (+17%) vs. $1.2B. Shares -5.3% AH. (PR, earnings call transcript)
Nationwide Health Properties (NHP): Q4 EPS of $0.53 misses by $0.01. Revenue of $98M (+2.8%) vs. $94M. Shares -2.4% AH. (PR)
NetApp (NTAP): FQ3 EPS of $0.40 beats by $0.02. Revenue of $1B (+36%) vs. $955M. Shares +3.5% AH. (PR, earnings call transcript)
NVIDIA (NVDA): Q4 EPS of $0.23 beats by $0.03. Revenue of $983M (+104%) vs. $957M. Shares -3.9% AH. (PR, earnings call transcript)
O'Reilly Automotive (ORLY): Q4 EPS of $0.52 beats by $0.01. Revenue of $1.2B (+5%) in-line. Shares -5.1% AH. (PR)
Priceline.com (PCLN): Q4 EPS of $1.99 beats by $0.31. Revenue of $542M (+33.4%) vs. $530M. Shares +7.1% AH. (PR, earnings call transcript)
Questar (STR): Q4 EPS of $0.81 beats by $0.09. Revenue of $891M (+1.4%) vs. $772M. (PR)
Synopsys (SNPS): FQ1 EPS of $0.41 beats by $0.02. Revenue of $330M (-2.8%) vs. $329M. (PR, earnings call transcript)
Terex (TEX): Q4 EPS of -$1.32 may not be comparable to estimate of -0.49. Revenue of $1.06B (-36%) vs. $1.24B. Shares -4.8% AH. (8-K)
Today's Markets
In Asia, Nikkei +0.3% to 10336. Hang Seng -0.5% to 20422. Shanghai +1.1% to 3018. BSE -0.6% to 16328.
In Europe at midday, London +0.5% to 5303. Paris +0.3% to 3737. Frankfurt +0.3% to 5664.
Futures: Dow -0.09% to 10287. S&P -0.16% to 1098. Nasdaq +0.1%. Crude flat at $81.20. Gold -0.26% to $1170.90.
Thursday's Economic Calendar
8:30 Producer Price Index 8:30 Initial Jobless Claims 10:00 Leading Indicators 10:00 Philly Fed Business Outlook 10:30 EIA Natural Gas Inventory 11:00 EIA Petroleum Inventories 4:30 PM Fed Balance Sheet 4:30 PM Money Supply 7:00 PM Fed's Lockhart: Economic Outlook 8:30 PM Fed's Bullard: U.S. Economy
Notable earnings before Thursday's open: ABX, AEE, APA, DTV, GT, INCY, MGM, NBL, NXY, PDCO, PDE, PEG, TRA, VTR, WIN, WMB, WMT
Notable earnings after Thursday's close: BUCY, CBS, DDR, DELL, ETP, FSLR, IM, INTU, SNH
Seeking Alpha editors Eli Hoffmann and Jason Aycock contributed to this post.Complete Story »